I said before that I won't want to do Ohmibod on cam because there are so many people out there thinking and believing it's fake. (see my previous post about Ohmibod) Lovense makes me change my mind. While Ohmibod activates and vibrates based on sound, Lovense for camming is based on tip level although it can react to sound too.
What is Lovense?
Lovense has sex toys that cater for playing on webcam and for couples who are physically apart but still maintain being sexy and naughty.
Lush and Nora are the toys for women, with Lush being an egg-shaped remote-controlled vibrator and Nora, a teledildo.  Here's a picture of Lush.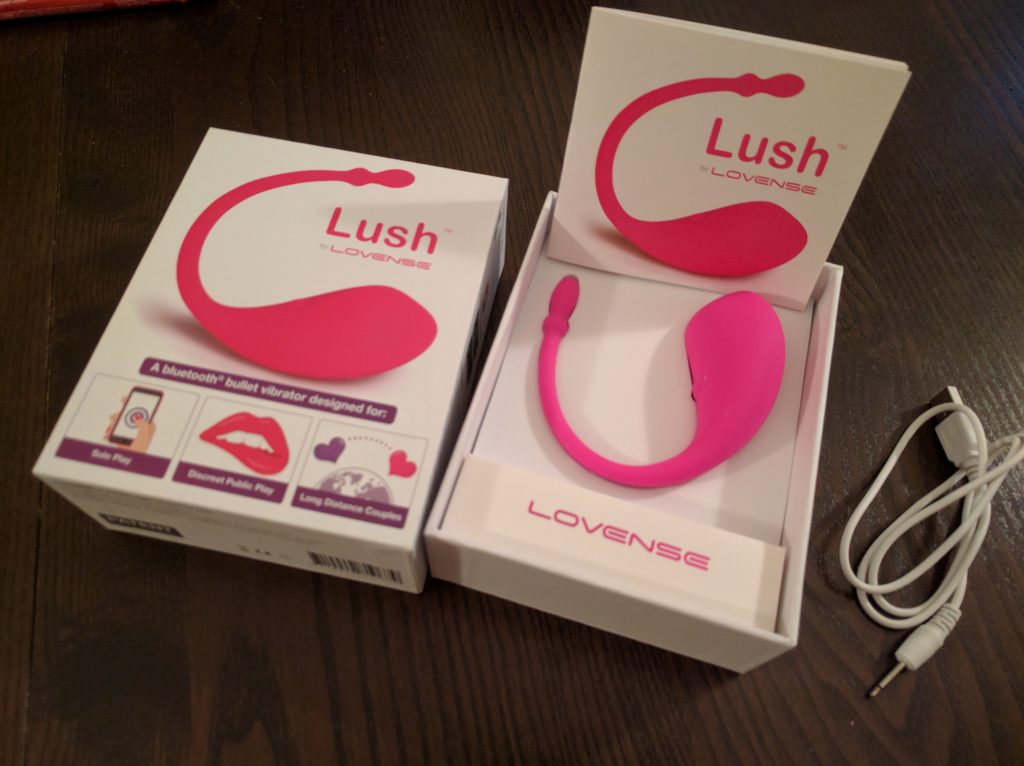 It arrives as a small box so it fits into most post boxes. The packaging is simple and nice. Inside, there is the Lush toy, a charging cable, and an instruction manual underneath, so don't forget to look for the manual. You will need the manual to set up the toy.
How to set up the Lovense Lush for cam
First of all, you should charge your toy.  There is a tiny hole in your Lush. Just plug it into the charger. You should see the red light on the toy comes on.  When it's fully charged, the red light will go out.
Secondly, download the "Bodychat" app to your phone. You will need this app, together with Bluetooth to control your sex toy.  After you have downloaded the app, make sure the Bluetooth setting is on for your phone. If not, turn it on now.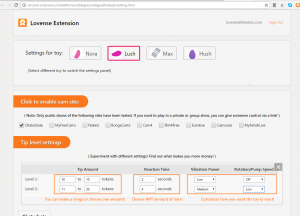 Thirdly, open Google Chrome on your PC or laptop, go to "Extension" and download "Lovense" extension to your Chrome instance. Make sure it's enabled. You shall see an orange icon on the top right-hand corner at Chrome. Click that icon and start to set up the connection with your toy and tip levels.
Choose the model of toy you have, what cam sites you will use it on, and the reaction and duration of vibration when someone tipped.
Once set up, go to the webcam site that you broadcast, make sure it's included in the "Scan these sites for tips" setting on the Chrome extension, you can send a test tip to yourself and see the whole thing work.
It's a bit tedious and requires you to know a bit about your phone settings and knowledge about Chrome extension but it's certainly doable.  You don't really need an IT guy to help with this. haha.  If you have encountered any problem, please share it here and let everybody aware of it.  🙂
How to take care of your Lovense toys
Lovense Lush's antenna and charging port are the main weaknesses.  Read my guide on how to look after your Lovense Lush so that it will last much longer. If you use it for camming and don't take care of it properly, the Lush may break in a few months.
How does the Lovense toy work?
Want to see how it work?  Come to my Chaturbate room or Flirt4free chatroom to experience it!
How to cam with Lovense
See me @Chaturbate
See me @Flirt4free
Remote control her toy @DxLive