Why is free video chat bad?
You may ask, "Who on earth won't want free webcam chat?".  "Do you mean someone actively trying to pay so as to chat instead of getting it free?"
The answer is:  Yes, there ARE people in this world would rather have no free video when chat.  These are the arguments for it:
"because some of us rather be alone with a host rather then have 2000 members watching for free."
So, having 2,000 people in the same chatroom, all trying to get a share of the attention of the same girl is not a nice feeling.  It's true.  Not to mention she will only pay attention to her big tippers and ignore any potential big fans.
Another one:
"plus the majority of persons are rude and belligerent and demand free show.".  
I will say, some and some, but it's true that there is no shortage of people who just turn up in a free chat room and ask the model to flash or do something to arouse him with a as-a-matter-of-fact attitude.  I presume their mentality is that, if she gives good service, he will tip her.  It's like you tip the waitress after she serves you.  You don't tip her beforehand.  Having said that, there are all kinds of people around. You just need one to two people agree to tip afterwards but don't, for the models to learn their lesson.
Another one said something similar:
"that's why I love this site the best, no free video chat, other sites have them and all the host wants to do there is show off in front of everyone or has their favorite members and focus just on them, this site I can go and watch and chat with whom I every please to in 121 and have to myself, but first have to ask her to shut down the other site she is on when I video here, and I agree with Mike, don't have to watch 100 other members and guests chatting in the room."
You may say, you can always pay for the private 1-2-1 show in ANY cam sites and have her all for yourself.  Why making a fuss about having free video chat or not?  But I can see the argument is that, while there are hundreds and thousands of people in her room, it's hard enough to get her attention, let alone find out what she likes and whether she will like to do the things that you ask.  No free videos get rid of lots of freeloaders and the model is by comparison more available for chatting to serious viewers.
Where to find "No Free Video Chat" sites?
It is getting rare for sites to not provide free video chat for they have to compete with many others that DO provide this feature.  Camcontacts is probably the last one which stays this way.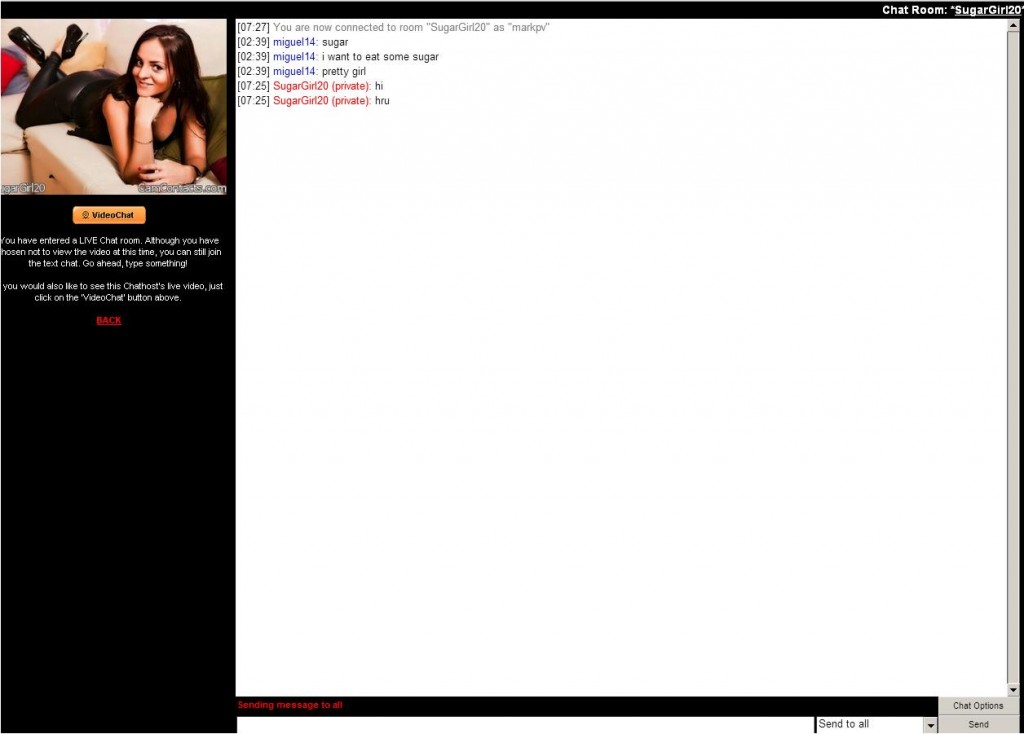 Another site that does have video chat but not nude, and therefore, attracts less freeloaders and have less people in the chatroom, is Cams.com (used to be CumTV).   Check them out and see if they are of your liking!