What is MyTubeCams (MTC)?
[Update: Jul 2023] Mytubecams.com does not exist anymore. It is not even a white label of Bongacams or any other big cam sites. It is completely dead.
Sorry to disappoint you but MyTubeCams is now a front for Bongacams only. When you click on any girls online, you will be sent to Bongacams straight.
Don't know about Bongacams? Read my review here. Or you can go straight to Bongacams here.
Go to Bongacams
Would you like to try other cams?
---
27 Oct 2015: Mytubecams is up and running again and has around a dozen models online at the moment.  I hope whatever stopped them before has been resolved so everyone can have more choices, no matter for watching, modeling, or flirting.
---
MyTubeCams was down for a while.  When I checked again in April 2015, the site is up though there is no model online.  A quick check on the net and I have seen some bad feedback from both models and customers so I'll steer away from them myself.  If you haven't joined them, please do look around before you do.  If you have any news and experience with MyTubecams, please leave a message here to share with everyone.  Thanks.
Looking for European cams? How about XLoveCam or Camcontacts? Check them out!
*****************************************************************************
In Jan 2015, I could not access Mytubecams anymore.  It's either their server is down or more likely, it's dead.  I shall check it a few more times and keep you updated.
Meanwhile, you may try the remote-controlled toys at the girls at DxLive if you haven't tried so.  And you can also check out the tags in Chaturbate to find the niche you want.  🙂
*****************************************************************************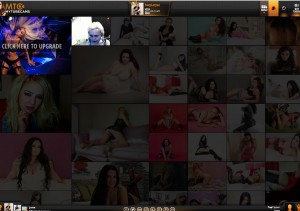 MTC was launched in early 2014. Up till June, it has a few cam girls online and viewers are rare. So, if you find someone you like here, you can have her all for yourself. :))
It is still too quiet and too early to see if they survive or not. I will go back and check it out another time. Till then, drop me a message if you know of anything about this cam.
Meanwhile, I found a model called Impish here.  She is a good sport. Her room has one basic member and two not registered guests but she is still chatting cheerfully.  It's hard to stay lively when no one seems to appreciate it.  Good luck Impish!  Maybe we should join and tip her our free credits as a token of appreciation.  What free credits?  Read my post about their promotion.