We have Skype girls since Skype was popular as a tool to communicate with friends and families 10 years ago.  Now, most people use Zoom to work at home due to the COVID-19, many people have become very familiar with Zoom.  Is there going to be Zoom girls?
Is Zoom the next new platform for camgirls? Now that lots of people have to install Zoom and learn how to use Zoom, it seems obvious that camgirls should at least try if not move from Skype to Zoom to host the sex shows.
Is Zoom better than Skype?
Can we have nudity on Zoom despite of the terms and conditions about no sexually explicit material? I'm going to find out.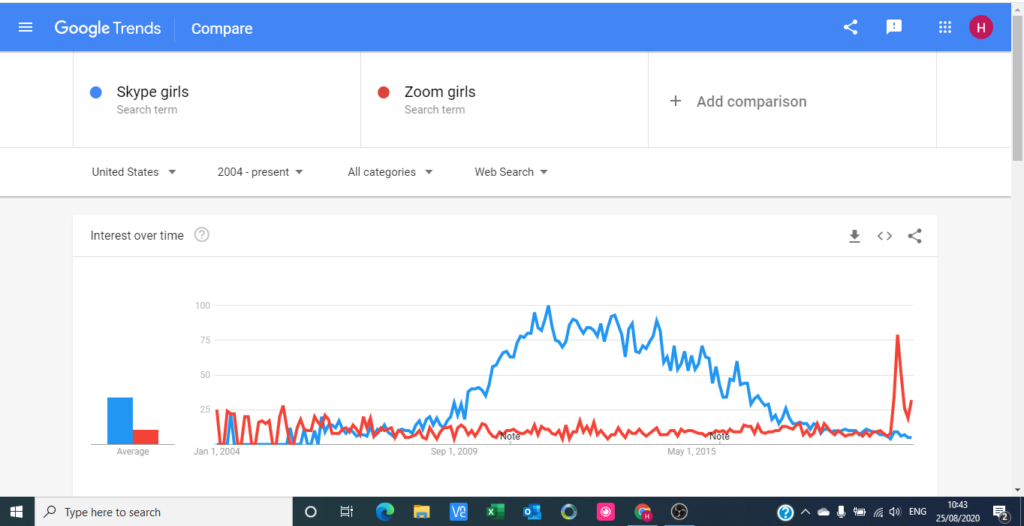 My nudity test on Zoom
I am going to host a Zoom meeting to find out what will happen when I show my bare bum on the screen.  I created a Zoom account and set it up. I did a test meeting to make sure it's running. Then I set up another meeting and include the meeting URL in my Twitter feeds and see how many people will join me.
I have the normal view I use in CB or Stripchat – my bare ass and legs in high heels (see screenshot above).
At first, I thought I may get banned within the first 10 to 15 minutes because Zoom talked about having machine-learning to detect nudity to prevent virtual sex parties.  If their algorithm has successfully detected my bum then I presume the meeting will be forced closed and my account may be suspended.
My ass is not nude enough
Zoom stated clearly in their acceptable use policy that nudity, porn and sexually explicit material is not allowed especially if it's of business nature:
Engage in any activity that is harmful, obscene, or indecent (particularly as such would be understood in the context of business usage). This includes, for example, displays of nudity, violence, pornography, sexually explicit material, or criminal activity.
My ass is not "nude" enough apparently. Nothing happened after half an hour. And before long, someone came into my Zoom room. The first one seems to be a guy who searched around Twitter to find Zoom parties or any entertainment from any Zoom rooms.  We had a brief chat and he moved on.
Some people came in and asked, "what is this?"  Apparently they don't read anything when they clicked the link I provided in Twitter, even my tweet is full of #camgirl #camshows tags.
My nude ass Zoomed for 2 hours
Okay, I didn't zoom in to my ass.  I mean I have broadcasted for about 2 hours in Zoom. I had about half a dozen people came in.  Some chatted briefly, some babbled for a while and disappeared.
Conclusion
Despite the nudity, my room was not reported to Zoom once. Their algorithm for detecting nudity doesn't work.  No one reports it.  And my account wasn't suspended or banned the next day.
If you are interested in knowing the details of how I set up the meeting, read on.
Testing my nude Zoom
As a test, I set up a new account with Zoom.  Once your email address is verified you can start to host a meeting.
Click on "Host a meeting" on the top menu bar. Choose "with video on", that's the whole point.
If you do not have the Zoom client installed on your laptop before it will automatically download and run it. Just wait for it to download and give you the prompt to click Open Zoom Meeting.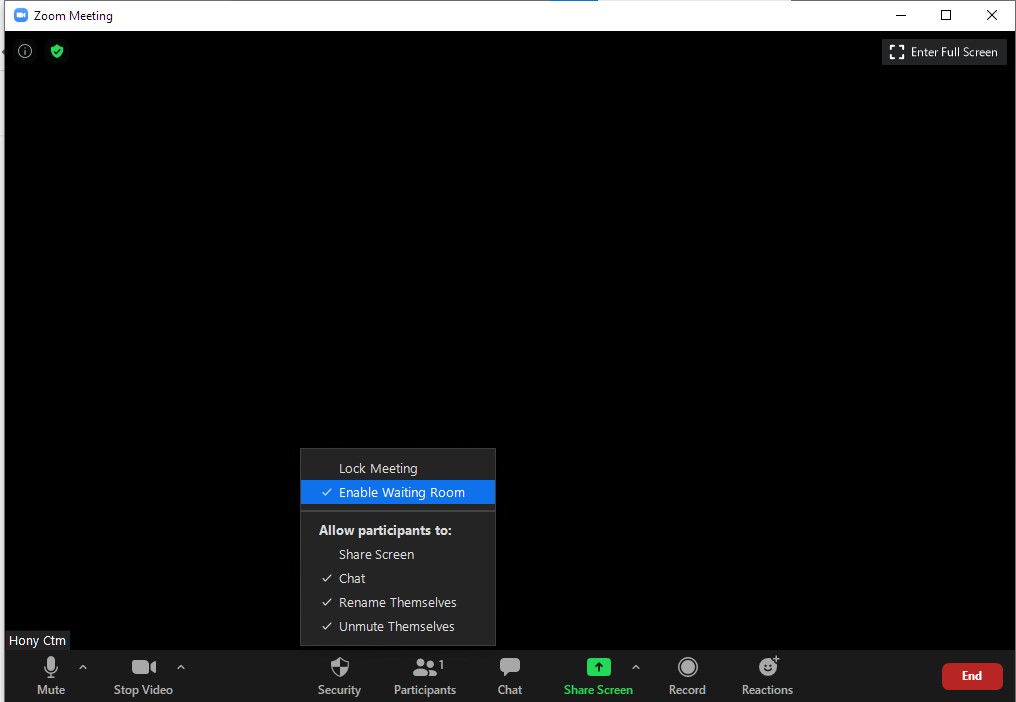 By default, the security setting has the waiting room function turned on.  To disable the waiting room, when you are broadcasting, click on the Security icon at the bottom of your screen, you will find that the "Enable Waiting Room" is ticked by default. Click that and it will be turned off.  Now people who got your URL link for the meeting can come straight to your room without waiting for you to admit them.
Announce the naked Zoom broadcast
Next thing is to let people know about the Zoom broadcast.  Get the URL for your Zoom room and post it in your #NSFW social media and fans.
To get the "Invite Link", click on the circle with an "i" on the top left-hand corner.  The invite link is going to look something like this:
https://zoom.us/j/96423571750?pwd=dU1JeUpFUlNFK1c2RzlCZ9Q0cHpTZz09
Click on the "Copy link" button and you can post this anywhere you like.
As you see, it can be a group show and you sell tickets in your different fan platforms beforehand.  Or it can be a 1-2-1 private show just like a Skype show. Although there is a 40-minute limit per meeting.  If Zoom works for you then you should seriously consider their paid plan.