Russian girls are just beautiful and stunning in a different way. I love to watch Russian porn. But watching porn videos is one thing, watching them live masturbating is another thing. And I prefer the latter one because it's more interactive and you can even choose what she does. I like Russian cams and Stripchat is one fine place to find them.
How to find Russian girls on Stripchat
In Stripchat, just go to the search box at the top of the page and type "Russian". Don't hit the Enter key yet because it may suggest all the words starting with "Russia" like Russian Speaking, categories like Russian Teen 18+, Russian Young 22+, Russian Blonde, and individual models' names that contain "Russia". See the screenshot below.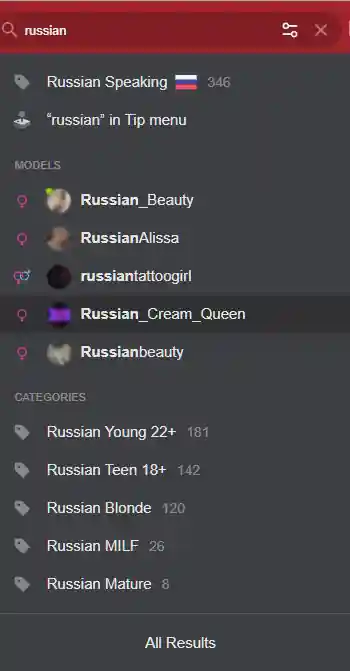 On Stripchat, there are over 300 Russian-speaking models online on Stripchat. They may not necessarily come from Russia, models from neighboring countries or Russia-Korea mix like Kimikooo speak Russian and will be listed here. Maybe it doesn't matter where she comes from. You just need to know she is hot.
If you like young Russian chicks, Niki_li, Selena_Passion, Sssativa, MiaDowell__, and EmmaCatt are a few to name on Stripchat. Several of them also broadcast outdoors so I get to see the places where they would like to hang out. Sometimes it's a cafe. Sometimes they browse in the malls and boutiques and choose some outfits to try on in the changing room so that we get to see more of her body. The toilet is another popular place for them to show the pussy or masturbate though I found the changing room nicer in general.
I've been watching Niki_li, Selena_Passion, EmmaCatt, EarlyFlower, and MiaDowell_. Some of these Russian hot cam girls broadcast outdoors daytime for long hours while some others get fucked by the fucking machine for hours showing her red ahegao face to us.
Selena_Passion on Stripchat Russian cam
Selena is one of my top favorite Russian cam models even though she is not as daring and naughty as Niki_li or EmmaCatt. Her sweet smile melts you into bits. As Stripchat has very strict rules about their content, especially the models' content, I cannot share her photos here to show you what a sweetheart she is. You just have to go and have a look. You will want to do anything to see that smile again, and again.
Her nice firm tits are another thing I love about her. Selena_Passion likes to wear a cropped top so that she can easily put the camera under the table and point upward to show her under-boobs. What a feast for the eyes! The roundness, the firmness of the tits feed the eyes, and the not oversized cone-shaped breasts that you can still mostly cup with your hands. If you like big areola then she is the one for you. They are perfect. Go watch them yourself.
I guess she comes from the area that is GMT+7 to GMT+9. It is because around that time, you can see her go online, with mascara on but nothing else. She will go to the bathroom to brush her teeth, have a shower, and wash her hair before going out. I suppose she gets up in the morning, put on the mascara, and starts the cam.
Shower Cam
Shower cam is great. We get to see her fully naked. Her skin is smooth, her areolae are quite big, and she typically plays with her pussy for a while in the bathroom. Tipping her Lovense toy makes the show hotter. When she finishes, she will dry her hair and get dressed and go out.
The outdoor cam is good. I like outdoor cam. I like variety, sometimes in bed, sometimes in the shower, or changing room. She also plays a lot in her car too. Watch her drive to different places and show us her naughty side in the food court or public staircases.
Once someone tipped her to show her ass while she was sitting in the food court in a shopping mall. I gathered that she picked up everything and moved to the table in a quieter corner. She then put the jacket on her thighs, and pull down her jeans while sitting down. She stood up a bit so as to show more ass. She probably showed her ass for a few seconds, but she was sitting in the open atrium of the mall. There are escalators around to go to different floors.
Niki_li on Stripchat
Niki_li is a bad girl. Niki is a crazy driver, so she claims. She is pretty and she is confident. Majority of the time I see Niki drive in the car and flash her big firm tits to the cam.
Quite often there are other girls in the same car, EmmaCatt usually sits next to Niki at the front, broadcasting herself on Stripchat as well. Niki will drive to a car park, stop there and start chatting with the other girls, but not show other girls' faces. This is often the time the audience tips and she starts being naughty.
Niki's Tit Cam
Niki_li has nice big tits. She knows that. She often wears a vest and pops those big jugs out to tease us. She wears a Lovense Lush all the time, even when she is driving. When she parks the car in the car park, guys start to tip and make her Lush vibrate. If she feels horny enough she will remove her jeans and panties and grab another vibrator to please herself. All done in a public car park where someone may walk past. I have even seen private shows done in a car park. Isn't she a naughty, bad girl?!
The girls will hang around the car park for a while until I presume it's mealtime. They will sit down in a cafe. The show goes on. Private shows are done in the cafe too. I presume she has to go to the bathroom for an explicit sex show? All-in-all, Niki is a hot bad girl. The sort of hot, bad girl that you would like in bed.
Best ahego MiaDowell_ on Stripchat
MiaDowell_ is one hot Russian girl you can count on for a fuckathon. She has a fucking machine always inserted into her cute pussy. Any tips go to the fucking machine and that starts to fuck her brain out.
MiaDowell_ is popular on both Stripchat and Chaterbate (She is Mia_Dowell on CB). She typically broadcasts on both sites at the same time. And in the unlikely event that she ever gets banned from one site, then you can probably still find her on the other one.
With plenty of audience from both cam sites, Mia got tipped a lot and the fucking machine rarely lies idle. The result is that her pussy got banged so much that she has to pour more lubricant onto her toy from time to time, typically when she gets overwhelmed by the insertion and banging and show us the eye-rolling, mouth-opened ahegao face. Love it!
NikaLegran and her Fucking Machine on Stripchat
NikaLegran turns out to be one of those Strpchat accounts that has 3 girls registered under this login account. But Nika, Lisa, and Lis may have a different broadcasting schedule so pay attention when you check out your favorite one's schedule.
Nika likes to fill herself up. She has a Lush in her ass, a Lovense Sex Machine which is a fucking machine with thrusting dildo, and a hand-held vibrator on her clit. Even when no one is tipping her Sex Machine, her vibrator continues to stimulate her clit. It's so hot to hear her moan and groan.
Conclusion
Russian girls are hot and sexy. But if you don't think a Russian bride suits you, a Russian cam girl may be the second best.