I've seen loads of ads online about Jerkmate and finally, I think I should check it out.
Jerkmate has a similar idea as Chaturbate to find a masturbation partner, no matter women or gay guys on cam.  Jerkmate is to find a mate to jerk off with, while Chaturbate is to chat and masturbate at the same time.
Is Jerkmate more like a hookup/dating site?
When you arrive at Jerkmate.com, you will be asked if you are looking for men, women, trans, or couples. I thought I have come to a dating site.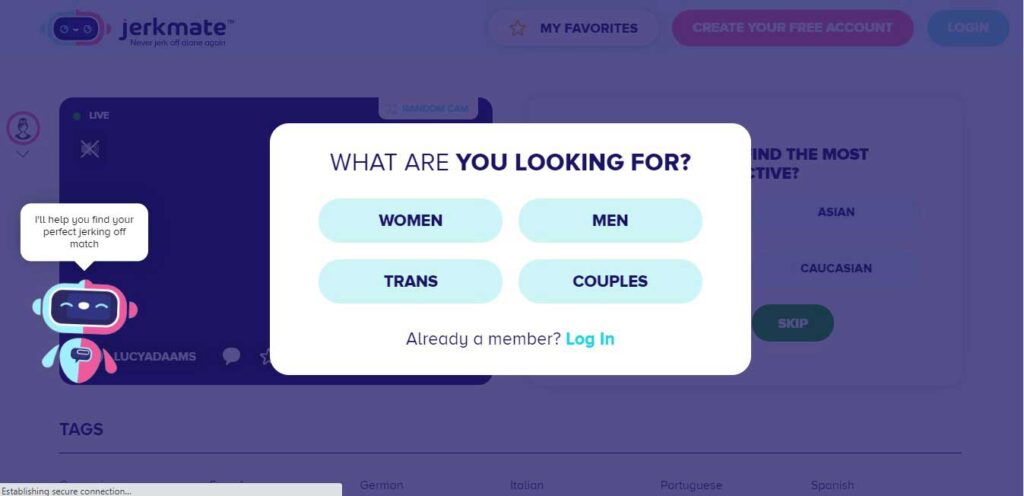 I have chosen women coz I am bi-curious. If you are looking for gay cam, then Jerkmate also has a big range of gay cams for you. See the Jerkmate Gay Cam section below, or you can check out my list of gay jerkoff cam.
Once you have chosen, you will be directed to a random chat of the category of your choice. Jerkmate will continue to offer you options to fine-tune your cam choice. Keep answering the questions and you may get a better match to what you want.  Or click "Skip" if you already like what you see.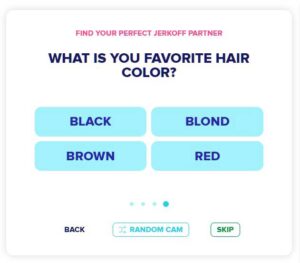 List of cam girls on Jerkmate
You can choose the right girl/guy/couple or tranny here by using filters or categories.
Filters of cams and its downside
Filters give you the choice of choosing a particular body type, ethnicity, hair color, or tits cup size.  It is more about the physical appearance than what sort of shows they will perform. You may be looking for a hot Latina with small cup size but a curvy body.
However, it won't show the number of cams available for that option.   If you want BBW, it will show you one BBW cam, and is up to you to scroll down to see how many more BBWs are online.  It's not obvious how many choices you have.
Categories of cams – Don't be fooled
There are many categories of cams on Jerkmate but are not as excessive as Stripchat who has 592 categories of cams.  (Yes, I have counted, with tools, of course!)  It also shows how many cams are there in that category.
As girls' pussies can either be shaved or hairy (they haven't included trimmed here", we can say there are about 16096 + 2501 = 18,597 pussies on Jerkmate. On a second thought, these numbers probably mean the number of girls registered under that category.
Don't be fooled by the number next to the category
The number of cams sounds very impressive until you click through. If you choose a popular category then it may make no difference. But if are searching for some less popular one, say, BBW,  then by page 3, they slim down a lot, and half of them are not online too. This reminds me of Stripchat's new policy of "Verified fetish cams".  For certain fetish categories, models in Stripchat have to prove to the support staff at Stripchat that they can and they intend to perform a particular fetish by submitting a short sample video. This will reduce the chance of disappointment when you thought you've chosen one category but that's nothing like that even in the preview of the list of Live Cam.
Jerkmate Gay Cam
On the same note, Jerkmate's gay section has over 4600 guys registered. No matter you are looking for Caucasian, Black, Latino, or Asian gay guys, or different body shapes and status like muscular or twink, Jerkmate will have it.
Again, the filters are about body shapes and appearance.  In the guy's section, instead of cup size, we have cock size, which is good.

This is what the gay cam looks like: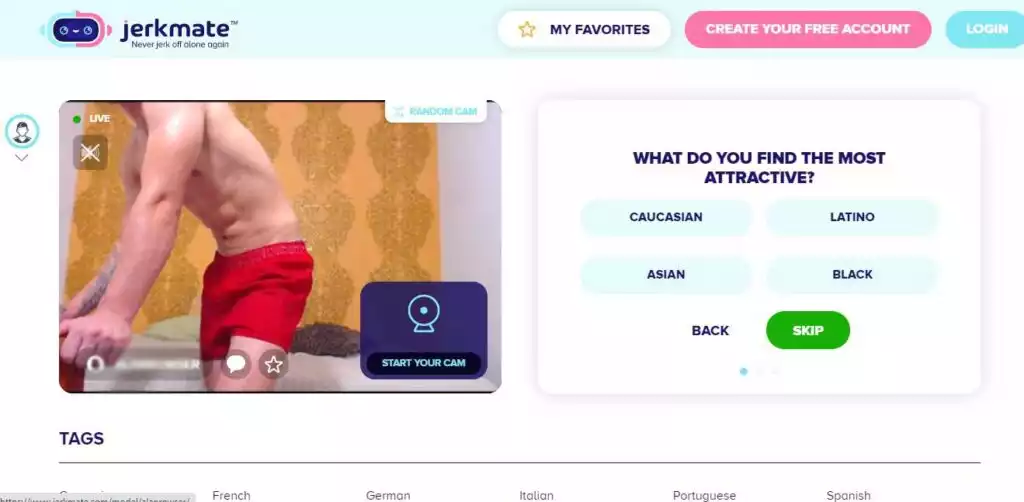 You can skip all the questions that appear on the right-hand side and have him on the screen all for yourself.
Can't find what you want? Read my Streamen and Flirt4free gay cam comparison post. Flirt4free has the best muscular guys and the Belami college boys on while Streamen has more amateurs like the guys next door. And if you have already tried both, what about XloveGay? Click the button below to go straight to the gay section.
Is there free chat in Jerkmate?
You can watch and jerk off to the various cams on Jerkmate without even registering for a free account. There is a time limit of how long you watch but you can always switch to watch another one. They do not seem to limit that.
If you want to chat, however, then you have to create a free account first.
Any cam to cam on Jerkmate?
Yes, but you need to register first. It's not for unregistered members. Once you have registered, choose the girl, guy, or couple you want to watch, click on the "Start your cam" button next to the video and you can start to jerk off cam to cam with anyone you want.
Conclusion
The concept of Jerkmate is very similar to Chaturbate. It doesn't seem to make a difference between a model account or viewer account. Therefore, if you are looking to do C2C and broadcasting yourself to the cam girls or cam boys then that's great. Otherwise, amateur.tv also have plenty of hot girls and guys around if you don't particularly plan to show yourself.