CameraPrive is a Brazilian-based cam site. One of the best features is audio chat with models in public chat, a feature that even big cam sites like Chaturbate, Stripchat, and Bongacams don't support. Read on for more innovative features of Camera Prive.
Best CameraPrive features at a glance
As I said, this rising cam site has plenty of up-to-date features for viewers to enjoy, without costing an arm and a leg.
Two-way audio chat and cam2cam everywhere
Call the model's mobile phone when he/she is not online (That's cool!)
Fast checkout to save you from leaving the model's chatroom when you top up your credit balance
Send the model direct message with text, audio, and photos
Tiered membership to get cash back and promotion offers
Voyeur mode is available
Review a show, not just star rating (except for voyeur chat)
Free photos, videos, and stories from the models
Premium photos and stories to purchase from your favorite models
Fan club membership to show your love
Credits purchased never expired
CameraPrive differentiates transgirls and transguys
CameraPrive website supports multi-languages
1. Chat with your sound and cam on in public, private, and exclusive chat
Audio chat by the viewer to the model is rarely available in any cam sites, it is typically a premium feature for private shows or exclusive private shows only. CameraPrive lets you have cam2cam or even sound on in the public chatroom, private chat, as well as exclusive private chat.
Private chat and exclusive chat are both pay-per-minute chat so you may consider the cost for cam2cam and two-way audio are built-in.
As for turning your sound on in the public chatroom, when you press the "Open Mic" or "Open cam" button at the bottom of the text chat window, you are required to have at least 3 credits to use these features. It's a lot cheaper than committing to a private or exclusive private show. Isn't it much better if you can talk to your favorite model while your hands are busy jerking? You don't have to type single-handed anymore.
2. PriveCall – call the model's mobile when he/she is offline
What is PriveCall?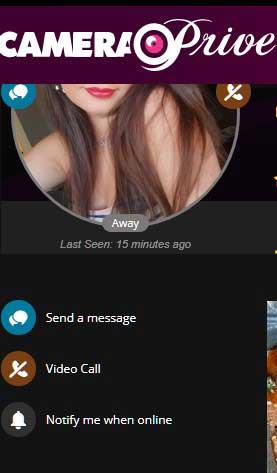 PriveCall lets you call the model of CameraPrive when he/she is not online. It is going to be a video call so that if she answers your call on her mobile phone, you will be able to see her right away.
The model has up to 2 minutes to answer your call. Why does it take so long to answer a call? It is because, in order to answer your video call, the model has to use her mobile phone to log in to cameraprive.com and click to accept your call. You know it can be quite clumsy to log in to a website on a mobile phone.
If she fails to pick up your call, you won't be charged anything. You will be charged only when she logs in, accepts your call and the connection is successful.
PriveCall costs 3.6 credits per minute as you are paying for someone who is not planning to go online at the time.
If the model has failed to respond within two minutes, maybe you send her a direct message to arrange a better time for you both to have another PriveCall or a regular private show online.
3. Send a direct message to the model with text, audio and photos
Just like Stripchat, CameraPrive allows you to send your favorite models messages. And it is not just text messages, you can send her your audio recording, or you can send her any pictures you want.
If you are not a cam2cam fan but still would like to let her see your manhood or how much you have cum for her, then you can send her photos and your sound recordings.
4. Fast Checkout – fast top up
You can top up your credit balance without leaving the model's chatroom. Look for the blue "Fast checkout" button.
This requires you to have bought credits and opted-in to save the credit card number before. Once you have done that, next time you can choose the credit card you want to use, enter the CVV2 security code and you are good to go. All done without leaving the model's room and you can continue to chat while you are topping up.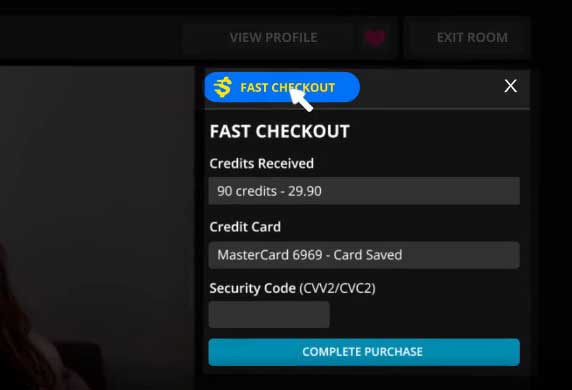 5. Cashback
Yes, you can get cash back during their promotion period from time to time. How much spending of yours gets returned to you depends on your user level. Basically, the more you spend, the more discounts and privileges you get. Platinium level and above are qualified to receive cashback.
CameraPrive's user levels include:
Silver (0 – 299 Prive points)
Gold (300 – 2,999 Prive points)
Platinium (3,000 – 9,999 Prive points)
Unique (10,000 – 29,999 Prive points)
Prive (30.000+ Prive points)
All paid activities and some free interactions like leaving comments to photos or reviewing the shows are counted towards your Prive Points. The more you interact with the site, the higher the points you get.
6. Different categories for transgirls and transguys
If you like to watch trannies, you may have a preference for transgirls or transguys separately. CameraPrice makes sure that the models are listed separately so that you can find your favorite trannies right away.
7. Multi-languages
Besides Portuguese, the Brazilian cam site also supports English, Italian, French, and German.