Introduction
We all love Russian sexy porn stars like Foxy Di (my number one favorite), Gina Gerson, Veronica Heart, Krystal Boyd, and many more. I am amazed by the fact that Russia seems to have so many slim yet curvy girls with nice tight bubble asses and tits that make you drool. It is even better that there are plenty of Russian cam girls online and we can watch them moan in real-time and do all kinds of naughty things. The only limits are the rules on the cam sites. haha
My other thought is, what about Russian brides? Many years ago there are lots of spam about ordering a Russian bride. I thought it has subsided but I am wrong. Apparently, it is still a thing. Have Russian girls turned to camming to find an overseas husband? Can you be friends with her long enough to impress her to marry you? What do you think?
Russian Outdoor Cams
As I said there are many Russian cam models online. Most of them are indoors but I do find outdoor cams more exciting. Russia is a big place. Why stuck in the bedrooms when you can go out and about and find somewhere nice or exciting?
If you want to see glamour models in a beautifully set studio or apartment, Livejasmin is the place to go. Livejasmin has invested a lot of effort to make the whole site looks smart. Models all have professional studio-quality portraits for you to enjoy, and the models are requested to have neat bedrooms or apartments to broadcast with or they won't be qualified to broadcast on LJ. So, between a 5-star hotel looking bedroom and an outdoor one, which one do you like? Or do you like both?
Russian Outdoor Pussy Cam
Is it possible to see pussy outdoors? Yes, certainly. Many cam models broadcast outdoors and we all know that fully dressed cam is not that appealing. She got to strip from time to time to tease. Lifting up the skirt in the car, panties off in a public washroom, or playing with herself in a changing room in a boutique.
These all imply that a model has to broadcast using a mobile phone so that she can broadcast anywhere. Therefore, one quick way to look for the outdoor cam can be done by filtering for mobile broadcasting. I know it's not definite but it's easier than eyeballing pages of thumbnails to look for one.
After all, showing pussy in public is not as hard as you think. Personally, I have taken no panties upskirt pictures in a busy restaurant or a corner shop with my phone to post to my Twitter account. It's exciting and it's fun. I haven't got caught!
Russian Outdoor Naked Cam
Being nude in your own bedroom is easy. What about being naked outdoors? I've been following a few Russian cam girls on Stripchat and see how they cope with requests for nude, showing pussy, or doing private shows outdoors.
The solutions are basically going somewhere private, like washrooms, or changing rooms. Inside the car is another solution. If she is more daring, she may remove her clothes at a car park sitting inside the car, and risk having other drivers see her. Some just drive to the countryside or somewhere quiet where she doesn't have to worry about being seen.
By the time she is mostly or fully naked, most of us are excited and the ones with tokens start to tip her Lovense. This encourages her to stay naked and keep pumping and fucking that pussy. The show goes on.
Russian Tits Cam
I like Russian teens and 20+. I suppose the cold weather helps to keep them slim because they have to burn body fat to stay warm. The good thing is that it does not impact the size of the tits. There are still plenty of fats in the tits to make them big and firm. Look at the Russian porn stars. Even though Foxy Di is 34A, they look perfectly cute and perky. Not to mention the coldness keeps the nipples hard. Below are the tits and ass sizes of a few top famous Russian pornstars:
Krystal Boyd is 32B-23-32.
Foxy Di is 34A-24-34
Cherry Jul is 34A-21-31.
Katya Clover is 34B-24-34.
Melena Maria is 35A-25-34.
Nikita Von James is 34D-25-36.
Alessandra jane is 32D-23-34.
Marina Visconti is 34DD-26-38.
In a way, I would rather see Cherry Jul or Foxy Di's 34A tits than the 34DD of Marina Visconti. Big is not always better.
If you often sit in a coffee shop and wonder if you ever get to see the hot girl's tits on the other side of the cafe, you should go to Stripchat and find all the Russian girls who broadcast outdoors and therefore can be easily identified by finding the girls who broadcast using a mobile phone. Selena_Passion is one Russian cutie who drives around, stops in a mall, or sits in a cafe to have a cup of coffee. She will put her phone under the table so that we can feast our eyes on her under-boobs while she has her coffee or lunch. Niki_li and EmmaCatt both got big melon-sized tits, on the other hand, would rather show them in the car when they are out and about.
Stripchat Russian Cams
In Stripchat, thanks to the powerful search box on the site, you can basically search for anything you want. Just type "Russian" in the search box and it will return plenty of Russian-related results for you to choose from. This is what I got.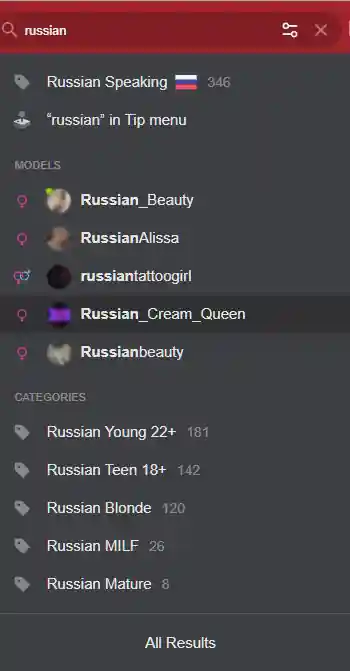 As you can see, there are over 300 Russian-speaking models online on Stripchat. Some of them will be guys or trannies, but surely there are plenty to choose from. What type of Russian girl is your favorite? I love Russian teens. Do you like Russian blondes? Russian girls with big tits? Or Russian MILF?
Please check out my other post about Stripchat Russian cam girls which I handpicked the hottest Russian girls of different niches and categories. There are links to go straight to her room so that you can watch her right away or click the "Add Favorite" button to follow her if she is offline.
Bongacams Russian Live Sex Cam
Bongacams has made it easy for us to find the Russian hot webcam. If you click on the "Quick Search" box, you can quickly filter out the gender, age group, and region of models you want. And Russia is conveniently marked as a separate region in Bongacams.
At the moment, I can see 461 live Russian females online on Bongacams.
"Earlyflower" is one pretty bisexual Russian girl on Bongacams. Her pretty face and nice long hair draw my attention and drive me to her room. And if you are into nipple clamps, ballgag, handcuffs, anal, and squirt then she is your girl. Noteworthy that on her tip menu, she mentioned "Lick my own pussy with squirt". She must be very flexible. I have yet to see a girl lick her own pussy yet. Have you?
Chaturbate Russian Live Cam
Despite Chaturbate being such a big porn cam site, there are not many models who tagged themselves as Russian. If you search on Chaterbate, you will find tags like #russia, #russian, #russiangirl, and various models who have the word "Russian" in their model names.
Another way to find the hot Russian teen is to go to the bottom of the page of Chaturbait and look for "Euro Russian Cams". This has a mixture of Europeans and Russians so you still have to look around to find the one you want. Bongacams and Stripchat seem easier and have more choices.
Russian Brides
Do you remember Russian brides? Do you want to marry one? Many years ago you can place an order for a Russian girl to be your bride. Apparently, it is still possible. There are agencies that provide this service.
Russian girls have many reasons to look for a husband elsewhere. One of them is that there are 86.8 men per 100 women in Russia in 2022. There are not enough men for women to marry. Not to mention that the better-educated men have gone overseas so if the girl is seeking a better partner, there are fewer choices and a lot of competition.
Besides listing herself with an agency, is camming another way to find a husband?
Russian Brides vs Russian cam girls
If you were a Russian woman, will you try to find a husband via camming?
The answer is not absolute but in general, cam girls are cautious and are not willing to risk going out with guys who they meet online only. After all, there are weirdos around even though you (my reader) are not one. In the camgirl sub-Reddit or Discord, every time a camgirl asks if she should meet up with her best regulars, all camgirls will suggest not due to safety reasons. So your chance of meeting her up is quite thin.
I know Camcontacts has "Make New Friends" or "Long Term or Marriage" section which encourages the cam models to be closer to the watchers. How many end up being boyfriend and girlfriend or even husband and wife? I don't know. I only know that in Camcontacts, you can search for camgirls who are under the "Long Term or Marriage" category, language spoken, country, and ethnic origin. Yes, you can find Russian-speaking, Russian, or nearby countries' models via this.
[maxbutton id="6″ text="Find a naughty friend on Camcontacts"
Conclusion
Russian girls are hot. If I were a guy I would want to marry one too. But I am not a guy and I am happy to feast my eyes on the sexy tits and best asses of Selena or Niki_li on Stripchat.