Pee shows used to be a no-no among the cam chat sites. Big sites like MyFreecams (MFC), Chaturbate, and Bongacams do not allow models to wee in front of the cam. Stripchat is the exception for your desire for a golden shower show.
Squirt or Pee?
Admittedly, there are plenty of debate about whether women's squirt is actually wee, both technically and practically.
As a woman, I did squirt occasionally during a cam show. But the volume is little. You won't see a stream of liquid come out from the vagina from me and definitely won't flow continuously for 5 to 10 seconds. It typically happens when my bladder was full and I was tipped to fucked my pussy with a dildo for a while, and I can't go to the toilet while the guys are still tipping for the show. When I started to feel excited for a while, I would notice splashes of clear liquid dripped onto my hand as small droplets. As I don't squirt that often, I did tend to pause and check out on the liquid, and that's the point it stops flowing, probably because I have stopped pumping my pussy with the toy.
For me, to squirt is like shaking a closed water bottle but it manages to leak and splash some droplets. That's my personal experience. Maybe everyone is different and some ladies can squirt more volume.
Real Pee Shows vs Faked Squirt Shows
Multiple times I have guys come to my chatroom and asked for a PM (private message) so that he can ask if I am willing do a pee show. As they asked privately, that means they are fully aware that it is not allowed by the cam site. But he will ask anyway. Someone may do it. As some of them suggested,
"I'll start tipping. You will pee and tell people that you are squirting because I am tipping your Lovense toy."

"It works. No one will find out."
He is asking for a real pee show but acts as a faked squirt show. It won't work the other way though. Peeing is much easier than making oneself squirt, in my humble opinion.
Or,
"Will you pee in private?"
He thought no one in public can see it and it's gonna be ok. But we never know if the support of the site is doing a random check. Most cam girls would rather not lose their model account especially if they have built up a good fan base and cannot afford to lose them.
Pee Shows at Stripchat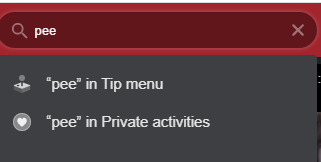 Luckily, peeing is openly allowed on Stripchat. At the top of the screen, you can search for "pee" in the search box. You even have the choice of searching them in the models' tip menu or in her private shows activities. Either way, it's best to ask and negotiate with the model before you tip or start a private show.
I understand pee fetish is very personal and can be very specific. The slightest variation from one's own version of fetish can be unsatisfying.
For example, some may prefer the woman squat on the floor and pee. Some may prefer her to squat on the toilet seat and pee. Some would rather see her pee standing up, with legs opened or crossed, willingly or bursting and can't control and wet herself. There are so many variations. You can't expect your cam girl to know which one you like. You must tell her the exact details beforehand. Before she lets go all her wee and it'll take a while for her to be able to do it again.
Other cam sites that permit golden shower
I heard that you can also find models on Cam4 to pee for you. I haven't checked it out yet. If you know anything about pee on Cam4 please let me know.