There are times when someone said something wrong or something happened purely by accident and you get banned from a cam. How do you get unbanned? I am going to use Chaturbate as an example but the same principle may apply to other cam sites if you happened to be banned on other cam chat sites too.
What happens when you get banned from a chatroom
I presume you are getting banned by a performer/model in his/her chatroom and not because you have tried to cheat and hack a cam site and got banned by the cam site itself. You will find yourself:
Still being able to log in to the cam site.
Still can watch and chat with many other online cam girls who haven't banned you.
The model will NOT appear in your list of Followed Models.
Still be able to go to the URL of the model who banned you but it won't show his/her chatroom. Instead, you will be told, "Access denied. You are banned from this room". See the picture above.
You are not allowed to go in to watch and chat with that model.
You cannot see the model's profile at all.
You won't be able to see the pictures and videos you have bought from that model.
You can't send tips to the model.
You can't follow the model.
How long does a ban last on Chaterbate?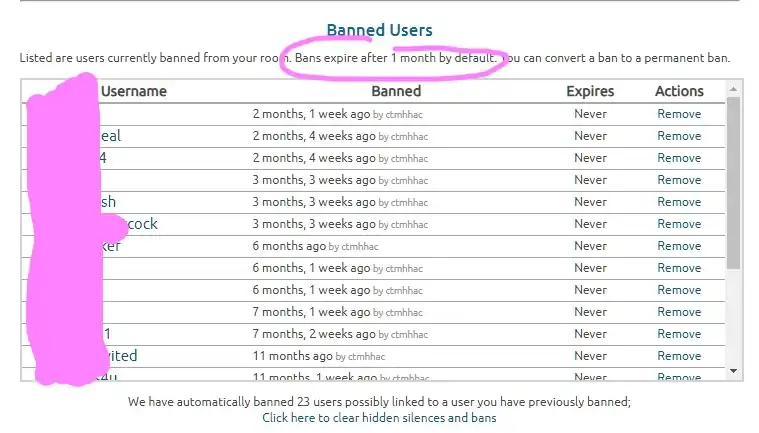 There are multiple levels of bans on Chaturbate. A model can:
Silence a user for 6 hours by default.
Ban a user for 1 month by default.
Ban a user permanently.
How to get unbanned
Before you work out how to get yourself unbanned, you may need to find out WHY you got banned in the first place and see if it can be explained or apologized for. There are many reasons, both intentional and unintentional. For example,
You make requests that are against the site's terms and conditions. Maybe you requested some actions/niches that are against the rules. Or you provide your own contact details to the models so that you two can arrange a cam show outside Chaturbate and etc. Models won't want to get into trouble with CB and would rather the whole topic goes away by banning you.

You are

considered rude

to the performer or other people in the room. This may include something as minor as chatting in CAPITAL LETTERS. Yes, some people may be as sensitive as that.

If

you are also an age-verified broadcaster

on Chaturbate and some models may stop other broadcasters from visiting her room by changing the settings. Models won't want other models to come to her room to watch or worse, advertise themselves to her guys.

You are considered disturbing to the chatroom and not contributing. People who just beg continuously for the same request and are not tipped even once will get silenced or banned very quickly.

Your account was hacked and misused to advertise for other models or sites and got your account into trouble with the models.

Unintentional factors – for example, a technical problem with your device caused you to pop in and out of a chatroom frequently and caused a nuisance to the model. It happened to me once and I did ban him. Read my whole story about it here.
Join Stripchat! She is very likely to be there
Stripchat is very similar to Chaturbate and possibly better. There is a high chance that the model who bans you will be broadcasting on Stripchat too because both cam sites are tip-based with private shows.
Ways to get unbanned by the cam girl
It would have been more difficult to get unbanned in the old days, but thanks to social media and all the Onlyfans type sites, models are appearing in multiple social media and fan sites, let alone other competing cam chat sites.
Do you know if you are only "silenced" by the model or really get banned? If she has silenced you, you can chat again in 6 hours and you should still be able to watch her room while you were being silenced.

Do you remember her

username

? If not, find it out.

do a Google search for her name. Even if you spell it wrong, Google is very good at guessing and shows you many possibilities.
No point searching at the cam site that you get banned. The model will be hidden from you.


Do you remember what social media she uses? Search all the popular social media for her presence. See if you can follow her there and tweet-mention or send her a private message to explain and apologize. Twitter, Instagram, Tiktok are commonly used by cam models.

Has she got her

own website

? Search for it and visit the website and see if there are any contact details. There may be an email address or

Skype ID

that you can use to contact her.

What about fan-based sites? Onlyfans, FanCentro are popular for models to communicate with their fans.

Check out other cam sites that she may be broadcasting with. Bongacams, Livejasmin, Stripchat, Camsoda, and Flirt4free are a few to name. You can always join the other cams, optionally with a different username to watch her again.

If it still doesn't work, fingers crossed. You hope it's only a default one-month ban and you may get unbanned after one month. So go back in a month and try to find her in CB again.
I hope this help.