A letter from a fan
This morning, I received one email with the subject "Pink Skirt Video Chaturbate, Custom Video". I thought, "What on earth is that". It turns out it's a letter from a fan who has bought a video from my Chaturbate account but because I have banned him, he cannot watch the video even he has paid for it. Now he has even asked for custom videos!
What has happened in my CB room? Why did I ban him?
In Chaturbate, whenever someone comes into your room, CB will announce it like this: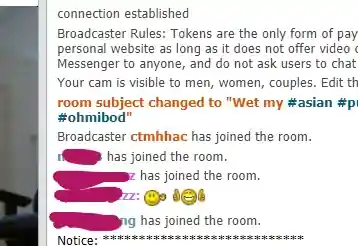 There is one line per joining.
I know you can change the setting for your chatroom so that CB will:
Notify on entry when fans, moderators, and people with tokens
Notify on entry for Mods and fans
Not notify at all
I like to see who's coming in so that I can greet them.
What happened was, this sexyviewer12345 came into my room every few seconds. Therefore my screen is stuffed full with:
sexyViewer12345 has joined the room.
sexyViewer12345 has joined the room.
sexyViewer12345 has joined the room.
sexyViewer12345 has joined the room.
sexyViewer12345 has joined the room….. for several screenfuls.
After two or three days like this, I decided to ban him from my room. It's far too distracting.
After he realized that he has been banned, he found that he couldn't even watch my dildo videos that he had bought before and so he searches for my online presence until he finally found my email address from my website.
I feel a bit sorry about banning him. But I can't just unban one person. CB doesn't allow that. I only have an option to clear ALL bans and silences. Oh well. I just left it at that, till he wrote to me and I have to unban everyone so as to ease his ban. (This is not true anymore. CB has changed the ban/unban interface and models can now permanently ban or short-term ban individual viewers.)
How long does a ban last
If you got silenced in the room, you can't chat for 6 hours, but you will be able to chat again afterward. A ban by the model typically lasts for a month. Unless he/she really can't stand you and will change that into a permanent ban; otherwise, one month after you were banned you will be allowed to see him/her and watch and chat again.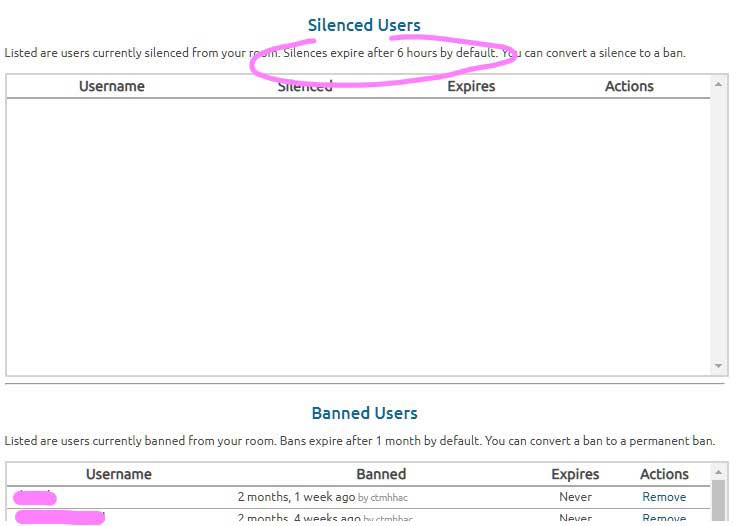 If you do get banned, please read my post about how to get yourself unbanned here.
One thought about banning and what's purchased
There's one thought. Even though I have banned someone, does it mean he cannot get to enjoy what he has purchased? I only want to stop the interaction with that person. Surely he is still entitled to watch my videos and see my pics as he has rightfully paid for them. What do you think?
Other tips about Chaturbate: