Fan clubs for celebrities and admirers are around for ages. Online fan clubs allow the interaction between the stars and the fans to happen faster, more frequently, and even more intimate than the traditional way. Models have many choices to make themselves available for fans online, and vice and versa. I am going to choose Stripchat's fan club and Onlyfans as an example to elaborate on the pros and cons of different kinds of fan clubs.
If you are a celebrity/model, click here to go to the model section
If you are a fan, click here to go to the fans section.
Stripchat fan club and Onlyfans, which one is better?
If you are a fan of a model and can't decide whether to join her fan club on Stripchat or her Onlyfans/FanCentro/Loyalfans/Loverfans/Justfor.fans and etc, you may want to consider the following factors.
Firstly, what are offered in different platforms? You want to see, hear more of the model. You want to be able to send him/her messages and even videos of yourself to her. You want to know what she is doing, what happens to her, so how often she posts there? In other words, how many things you want are available on that platform?
What do you get from his/her Stripchat Fan Club?

There are three levels of fans defined by Stripchat (not by the models): solider, lord, and prince.
All fans on Stripchat get a special badge to show that they belong to the fan club. And more to the point, fans and knights are listed on the top so you will be at/or near the top of her viewer list and she will notice you when you arrive at her chatroom.

All fans also get access to his/her exclusive contents on Stripchat, be it galleries or videos. Models will upload their hot pics and videos regularly.

By default, Stripchat also allows fan club members to be able to spy on the private shows for free, provided that spying is turned on by the model. But it is also up to the models' discretion to allow which level(s) of fan club members to get free spying, or whether to give it away for free at all. A popular model who runs lots of private shows may not want to give away spy cam so easily. She may reserve it for the highest level member, for example.

Optionally, models can add extra benefits to make the fan club more intimate and more attractive. It can be a social media account like Snapchat ID for you to have an extra way to communicate. Or it can be discounts for shows or discounts for items on the tip menu. The limit is the imagination and generosity of the model.
What do you get from his/her Onlyfans membership?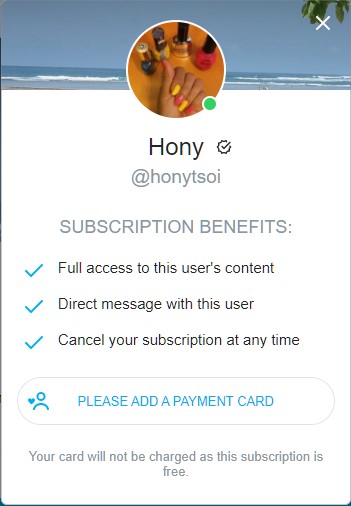 In order to interact with the model, fans should register an account with Onlyfans and try to follow the model. Some model may have a free membership while others may require a paid subscription. So, what benefits do you get from the membership?
After you have followed your model on Onlyfans, you should be able to see the content he/she posts which are not available to non-followers. However, it is often the case that the hottest pics or videos cost extra.

You will be able to send him/her private messages. This is not just limited to text and you can attach any media file to the message. So the media file can be a picture of yours, a voice recording of yours or even a video of your activities. If your model is very popular, however, you may want to attach a tip to your private message as she will be sorting the messages by tip amount.

Models now can go live on Onlyfans. It didn't use to be. So that's one more way you can connect with your favorite model. She can broadcast her livestream anywhere she likes so the limits imposed by individual cam chat site will be removed. She could be doing any naughty things anywhere as long as it's legal. Yes, I know what you are thinking. Onlyfans is moving towards a cam site.
Is Onlyfans better than Stripchat's fan club?
If we look at the benefits of joining Onlyfans or the fan club in Stripchat, everyone basically get the same thing like "exclusive content". But if you look closer, these exclusive content still come with a different price.
Firstly, "Exclusive content" – at an extra cost?
In Stripchat, if he/she has chosen to have a fans-only gallery, there is no way to charge extra if you are already a club member. And he or she has to post something from time to time to keep your membership. She may set up a different paid gallery but there is open to everyone.
In Onlyfans, however, the most explicit, hottest contents are almost certainly charged extra because Onlyfans provides that flexibility to the models. Wouldn't you be tempted to charge too if you were the model? So, you may be left with medium-hot stuff only without coughing up more money.
Secondly, how often and what quality of pics and videos you get
If you are hoping for the hottest and sexist content from her, then the answer is Onlyfans. Good photos and clips take time to prepare. Be ready to pay for it and it should be worth it. Whereas quick snapshots are easy to make with the phone and they can be posted to Stripchat or as free posts in Onlyfans to keep the timeline alive.
Conclusion for fans
It depends if you are willing to spend more to obtain more interaction with the model. When you are in Onlyfans, besides the free posts and her teasing messages, everything else come with a price tag. The hottest, naughtiest pics/videos need to pay to unlock. She sorts her private messages by tip size, your no-tip PM will sink to the bottom of her pile of messages and may never get read. If you have spare money, however, it is certainly worth it.
---
Should a model choose Stripchat's Fan Club or Onlyfans?
Models nowadays are not limited to the fan clubs provided by individual live cam sites. There are plenty of sites that let you set up your fan club and enjoy being "liked" and spoiled by the fans even if you are not broadcasting or log on to the cam site. What are the pros and cons of these sites?
Pros and Cons of Onlyfans
Pros of Onlyfans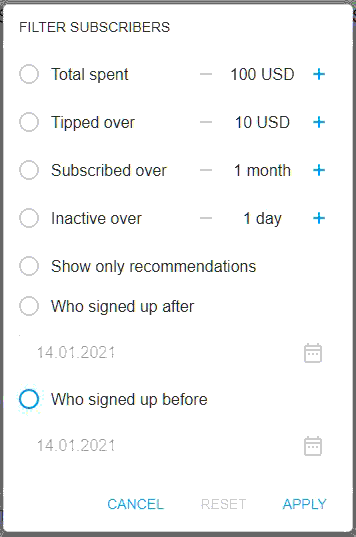 Onlyfans is more customizable when it comes to posting pics/videos as posts or messages.

Post content – besides pictures and videos, Onlyfans allows you to record a voice message using the app/web interface which is convenient. You don't have to record your voice using separate software or tools.


Schedule posts

– Onlyfans allows you to prepare many posts in advance and have them scheduled to be live any time you want. You don't have to think about keeping your timeline alive for days if you are well planned and well prepared.

Expire your post – just like Snapchat, you can make your post expire. This encourages fans to check up on you more frequently.


Poll

– A polling post encourages engagement. You get to know what your fans want, and they get to have an input and influence of what you may do for them.


Post price

– what is better than a paid post on top of the subscription? Your casual post may be free but you may want to charge extra for some extra hot and high-quality pics/videos. Onlyfans let you do that.

Stripchat fan club allows you to create fan-club-subscribers-only galleries but they can't even be priced. That means the monthly subscription fee is all you can get from your exclusive content.


Onlyfans allows you to centralize your fans in one place. You may draw all fans of different camming platforms to one place so that you just post your content in Onlyfans and don't have to look after multiple fan clubs.

Tip your posts – all your posts have a "Send tip" button underneath it to encourage your fans to tip.

Tip to message you – Even if you allow free subscriptions to your Onlyfans account, you can still disable messaging from free followers unless they tip. As for paid subscription members, you can encourage them to attach a tip to their message coz you will be sorting incoming PM (private messages) by tips.
Cons of Onlyfans
It is notoriously difficult to open an account with Onlyfans. Loads of messages in camgirl forums about not being able to open an account because of their verification process. Despite the rules and guidelines for opening an account is in black and white, when it comes down to the verification and approval process, models are told to retry submitting the documents without a clue what's wrong.

Although Onlyfans has a tip feature, it is not opened to everyone. "The OnlyFans system will activate the tip feature based on your activity" is their exact wordings in their

help page about "Tip button"

. It is not very transparent and sounds arbitrary,

As for payout, Onlyfans used to allow bank transfer but now (early 2021) payout is done via Paxum or CosmoPay only. If you are not blessed by these two payment systems then you can't get your earnings for the time being.

You have to constantly doing promotion yourself. Put your Onlyfans link everywhere to get attention whereas while you are broadcasting, the bots can remind the guys to join your Stripchat fan club so there's no extra effort.
Pros and Cons of Stripchat Fan Club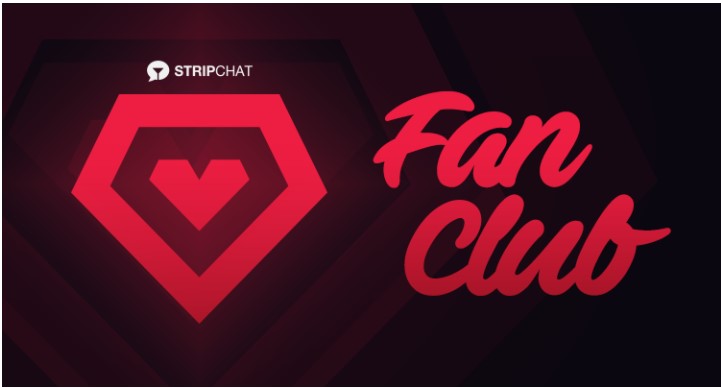 Pros of Stripchat's Fan Club
I presume you are already broadcasting in Stripchat so payment is not a problem. The fan club subscriptions just add to your earnings and you get paid as usual.

No extra effort to promote your fan club once you mention it in your profile and set up an announcement bot in your chatroom.

If you are good at retaining guys in private shows, you may consider encouraging private shows by giving out discounts to fan club members.

Make him feel that he has a special status in your chatroom and is more willing to hang around and tip.

Cons of Stripchat's Fan Club
Fan club prices are pre-set by Stripchat. 100 tokens (USD5) for "Soldier", 200 tokens (USD10) for Lord, and 500 tokens (USD25) for Prince membership per month. There is no way for you to change it.

If you broadcast on multiple sites, it's more work to bring your fans from other sites to Stripchat so that they can join your fan club in Stripchat. Onlyfans help to centralize your fans such that you don't have to look after multiple fan clubs.

No customization or mass messaging to fan club members on Stripchat. With Onlyfans, you may automate messages to the fans when they are at different stages.
If you are not a model in Stripchat yet, check out my post about modeling there. Or you can always go to Stripchat.com and see it for yourself.
Conclusion for models
It is always true that the more work you are willing to put in, the more reward you'll get. Stripchat fan club is effortless compare to Onlyfans. If you have a big fan base then you may be better off on Onlyfans. If you fall into the narrow niche and have a small fan base then maybe a cam site's fan club is good enough.