Xmodels is the model's programs of Xcams. Being engaging helps to earn good money on Xcams. Xcams is a European cam chat site and most of its customers are from the Netherlands, so speaking Dutch and other European languages help.
How does Xcams work (my experience)
As I said, Xcams is registered in Luxembourg and rather European oriented, they are not that interested in the rest of the world. I have tried to register as a model but I was turned down in the end.
I have diligently filled in pages of application forms, taking selfies according to the website instructions to prove that I am the same person as the passport document. There is a checklist to tell you what you need to do next to be able to start working there, even though they haven't verified you yet. So I continued to set up my public profile, sex toys and etc. But then the next day, I got an email from Xmodels saying that they are not taking models or studios from Asia.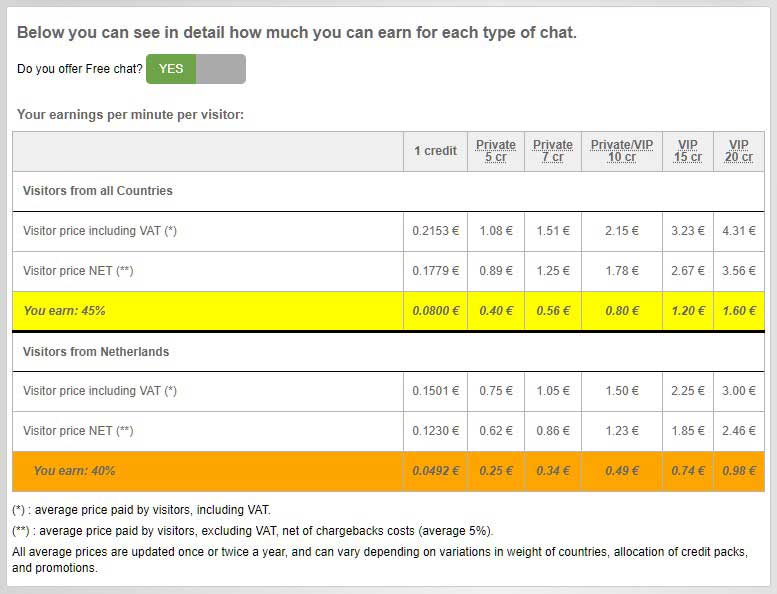 "Dear,

Due to a bad internet connection towards our servers in Europe, we do not accept models/studios from your country. "
I wish they would tell me as soon I entered the country where I come from. That explains why there's hardly any Asian online. If you are a model in Asia, stop wasting time here. Find another cam sites that welcome models from Asian countries.
How much does a Xcams credit worth to models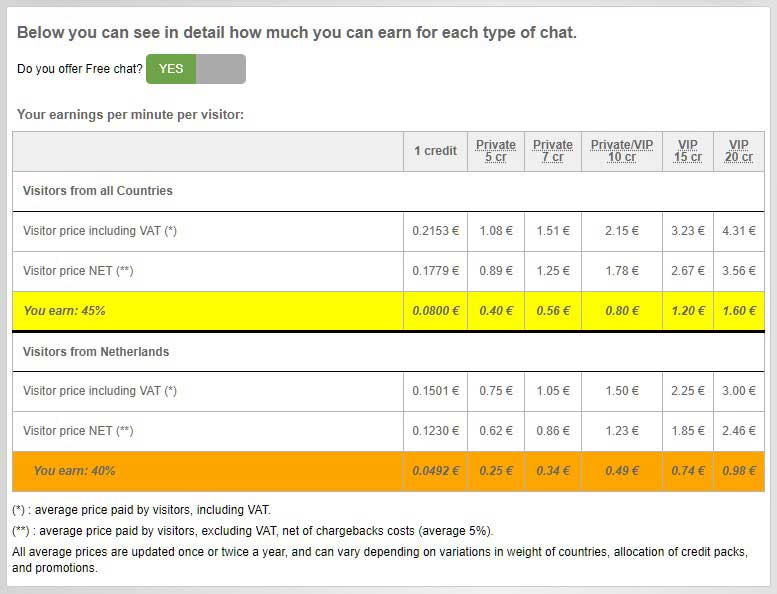 Factors affect how much you earn
As you can see from the screenshot (2021), the amount you earn depends on 2 factors:
What countries do your viewers come from
Whether it's plain tips or a particular type of shows you offer
Do you offer free chat
Countries of traffic: Dutch traffic earns you 40% (about €0.0492/credit) and you get 45% (about €0.08/credit) for the rest of the world. Compare to Stripchat or Chaturbate, which models get $0.05/credit, Xcams is better than these 2 cams in terms of per credit share. Though we have to consider the fact that CB has much higher traffic and models have much busier rooms than Xcams. Stripchat seems to have the budget to provide ongoing improvement on site. Every month or so there seem to be new features and new ways for models to earn, say, selling pics/videos in the onsite messaging system. Stripchat is evolving all the time and is offering something similar to Onlyfans for us to earn. While we have our fan base on Stripchat already, being online on Stripchat is part of the promotion for the content and we don't have to promote our Onlyfans or alike somewhere else.
Tips and shows: the credit worth of tips and shows are the same. The price of the shows are preset to these levels. You can only choose to charge either 5, 7 or 10 credits/min for the private show, and 10, 15 or 20 credits for an exclusive VIP show.
Free chat or not: We all know that different models earn in a different way. Some can talk and be fun and engaging continuously, and tips seem to just pour in from the guys. While others may be good with giving a hot and seductive private show, plus being a soulmate to listen to the guys' problems while being paid per minute in a private show. We just have to observe and see which way works best for us.