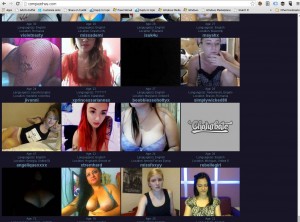 Campeaches, campeaches!  I haven't heard of this cam site before.  What is it?
I saw Daisycams got a link at the footer mentioning Campeaches.com.  I wonder if there is another new adult chat site I don't know about.  Needless to say, I click through without thinking.
To be honest, all adult chat sites look so similar these days.  They either use the same software at the back-end, just change the color scheme and stick a logo there, and "Da-Dah", it's a new site.  It's hard to know if it's really really a new cam site or not.  The most straightforward way to find out is to go to the footer of the site and find the copyright logo and their company name.  But it turns out that this is one of those annoying sites which has a forever scrolling option.  It seems you will never ever get to the end of the site.  In the end, I gave up.  I scroll back to the top of the site and found "Webmasters" at the top right-hand side of the screen.  I know, this is another way to find out if it's a Whitelabel for the big site or not.  So I clicked through… Surprise! Surprise!  It's a Chaturbate site.
For those who are not familiar with the webcam industry, I would like to explain what is Whitelabel site.
What is Whitelabel
Lots of big adult sex chat sites like ImLive, Streamate, Flirt4free, or Chaturbate allow their partners or webmasters to start a new website with a different name, different look but basically using the content of these big sites.  Campeaches.com is one of them. You register as a partner with Chaturbate, buy a new domain name, follow the instructions to set up a Whitelabel site including customizing the look and feel of the new site. And you have a "new" cam site to promote and earn commissions from Chaturbate or cam sites alike.  That explains why there are so many webcam sites you come across are basically the handful of big sites.
If you are a viewer or model, you will probably hate this.  If you are someone who knows how to build a website and would like to make some money,  Try this.
Bored with the same old sites? Have you ever heard of Camplace or Xcams?