Cam models can now pay Chaturbate to promote themselves on the front page while they are online. How much does it cost? For how long? Is it effective? Can the viewers help to promote the model? Read on.
Starting October, independent camgirls and boys may notice the sign "Promote your room" next to the "Announce you're online" button at the top of the screen. If you click on it, it expands and tells you that it can help you to get more viewers:
"Add your room to a rotating promoted spot on the homepage for 5 minutes.
Current price: 90 tokens"
So, what does it actually means?
Promote yourself on the home page of Chaturbate
But before you are too excited about this opportunity, read the details about this "Promoted Spot" very carefully.
"When offered, eligible Independent Broadcasters will be able to purchase a pre-selected duration of time to rotate in and out of a pre-selected "promoted" slot (e.g., the 9th slot on the front page of the Platform) with a "pool" of other qualifying, purchasing Independent Broadcasters."

Duration: really 5 minutes long?
The answer is yes and no. Over the 5 minutes, you will be sharing the same slot on the front page with other cam models who are also willing to bid to advertise. We don't know if you are sharing with 8 other people or 80 or a few hundred. Only CB knows. I believe it varies and depends on whether the models consider that's the peak time for earning by their experience.
Once your room is shown, by experience it stays for 45 seconds on a particular viewer's page, no matter he scrolls down or not. After 45 seconds, the screen refreshes and a different model will be shown to him. This is per one user's experience. If there are 100,000 visitors are searching at the home page of CB, then it is up to the algorithm to decide how often you will be picked to be shown. So, it is not as straightforward as occupying the page for 5 whole minutes. And don't just think about the number of advertising models you are competing with. It is more complicated than that. Here's what Chatubate said about their secret rotation algorithm:
"Each time a promotion begins, all members of the "pool" go through an automated rotation process that decides which Independent Broadcaster will appear first in the promoted slot and the order of the rotation."
Which advertising cam model appears first?
Chaturbate has not revealed how they decide the order of appearance of the advertising cam girls on the promoted slot. As a programmer, I can imagine the specifications that the Marketing department gave to their IT team to include these criteria.
Bidding price – as an advertising platform, you would think they want to please the ones who paid more and so I presume those who paid the highest at that moment will have a priority in the queue to be shown.
Popularity and quality of the show – if CB wants to make the most from that slot for everyone, they should show the model that has the best show or popularity. I can imagine if there's active tipping and/or chatting in the room then it implies the model is engaging, which means that's more likely that the thumbnail of the room looks good and get visitors to visit. This way, the model gains visitors, hopefully, turn into new followers and tippers. Visitors are happy to find new interesting shows and CB gets more sales.
Cam score – If there is no big difference in the tipping or chatting activities among these advertising rooms then maybe they have to resort to cam scores or what they called "Satisfaction score". The satisfaction score on Chaturbate is decided by the visitors. When he has tipped at least 25 tokens, he can vote for or against the model. Therefore the higher the score the better. It reflects how well the model is doing based on the visitors' votes. Separately, I can imagine CB has something like Stripchat, which basically calculates a model's earning per hour. The more a model earns, the more sexy and engaging she is.
These are my guesses. There is probably a rating on these criteria and a total score is calculated to determine the order of appearance. Google Ads does the same.
How much does it cost to promote?

When I click the "promote your room" link near the top of the screen, it shows the "Current price: 120 tokens" and it's updated every 20 seconds. Just like Google's Ads, advertisers bid for the slot. Only in this case, the camgirls do not get to choose the price or cannot choose to offer a higher price. Their system calculates and decides what price to get in. A model only has the choice to accept it or wait for it to refresh every 20 seconds until she finds a reasonable price.
I tried it once and I paid 60 tokens. It is cheap probably because it's still early afternoon in the U.S. Since then, I often see 80 to 120 tokens. But I heard that when this promotion was first introduced, someone has paid over 600 tokens!
How much is 600 tokens? or how much is 60 tokens on Chaturbare for the cam girls? The answer is, each token worths USD0.05. ie. USD5 for 100 tokens. So, paying $5 to get some exposure for a few minutes is not bad, especially if you have a show ready and is going to attract tippers.
What sort of models tend to pay for this promoted slot?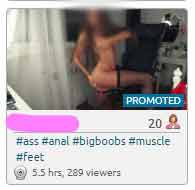 Obviously, the popular ones who already occupied the top 2 or 3 row don't.
It's more commonly seen the girls with a few tens viewers in the room, who they know have very thin chances of getting featured at the home page, or the ones with a couple hundred viewers, and would like to get more new followers by pushing herself on the front page by paying Chaturbate.
Alternatively, there are plenty of cam boys broadcast on Chaturbate, and we know there are even more competitions for viewers. Or they simply want more people to watch them cum on cam.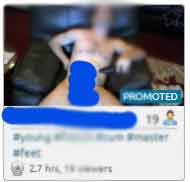 Is Chaturbate's promoted slot effective?
I tried it only once and was paying a very low price, I must say it make hardly any difference. I heard other girls said the same too. 
Conclusion
The price for promoting is pretty low. But it's only worthwhile if you are really planned and ready and have the most captivating view while you are being promoted to get the most results.