Last week when I tried to sign up with cams.com as a broadcasting model, I came across some difficulties.  I thought I was distracted and had time out from the model registration session and the model ID I've chosen was locked!  I can't sign in to continue the application and I can't create a new model account using the ID I have chosen.  I am stuck!!!!  (See details in my previous post)
I wrote to their only support email address twice and receive no response.  So, I tried to register using another model ID and it showed the same error message saying that "account could not be restored". Finally, I found out what's wrong……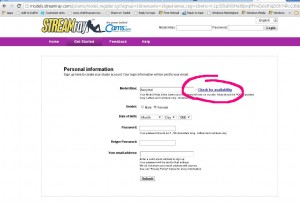 On the sign up page where you choose the model alias and password, there is a "Check Availability" button next to the "Model Alias" .  By all means, DON'T CLICK THE "Check Availability" button!!!!!!!!!!!!!!!!!!!!!!!!!!!!!!!!!!!!!!!!!!!!!!
It seems logical to click that button to see if your preferred model ID is available. But once you click that, fill in all other details of that page and click "Submit", all you will see next is "Account could not be restored" and your first choice model ID/alias is screwed!!!!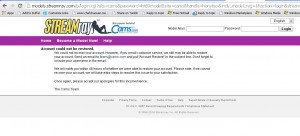 That's how I mess up my first choice of model ID.  I chose "honytsoi", click the stupid "Check availability" button and that ID became "in used" and ruined.  I tried with "honytsoi2", did the same thing with the "check availability" button and needless to say, same fate.  Again, it said "Account could not be restored".  My programmer debugging instinct kicked in and start to suspect there is a programming bug so I thought I would not click that button.
And…….. this time it works.  I ended up registered as "honytsoi3"!!!  It's not wonderful but not the worst I suppose.  It just shows when computer programming is involved there is always bugs/problems.
If cams.com has ever wondered why there were so few indy cam girls or cam boys signup as models that's why.  There are only those who just filled in the sign up form and don't click, don't do any extra and don't check will ever sign up successfully.
Have you come across any problems with cams.com no matter signing up as model or as viewing members?  Do share with me!