2021 Update: Technical details of how to cam2cam at Chaturbate have all changed so this article is obsolete. Read the new HOW TO: Chaturbate Cam2Cam Guide.
---
Chaturbate C2C is all about chatting while masturbating on webcam and doing it both ways. While the chatting is pretty much always two way that isn't true of the cam video and that is what makes cam2cam different. The common case is for some people to be the viewers who watch the broadcasters/performers while being invisible themselves. But some people would rather take it to the next level and allow both parties to see each other.
That is "Cam to cam" or "cam2cam" or "c2c", it goes by many names but at Chaturbate C2C is the most common term. The Urbane Dictionary defines it as "2 people at different places sending live video of themselves over the internet at the same time", but the top definition doesn't mention that typically both are nude!
Exhibitionists who want everybody to see them are what started Chaturbate going in the first place. When the "tipping model" took over from the pay-per-minute live show it was the ability to have that two-way visual experience that allows people to get even closer. That was years ago and now remote control toys like the Lovense Lush, the Hush, and the venerable OhMiBod allow not just visuals but physical sensations to flow both ways over the internet.
Want to watch a woman masturbate? Want to let her see your cock as you stroke to her? Then Cam2Cam is what you need, add in some teledildonics and we have the closest you'll find online to real sex, but without the mess to clean up or the risks.
This article is for anybody who ever asked themselves "How to cam to cam on chaturbate"
What's included in this guide:
Before we start, you may want to read my How to not be caught watching porn post on a separate tab. You don't want to be caught red-handed while you are doing C2C, right?
Ok, so let's get started!
What Is C2C at Chaturbate?
Chaturbate has always presented itself as a way to get people together, to masturbate, to chat, and to socialize. So unlike a lot of other cam sites which started primarily as a one-way street of models broadcasting to viewers, it has always been possible for every CB member to broadcast their video.
So you could say that Cam2Cam is built into the whole basis of CB, and that is one of the things that has stood it apart from the many other cam sites out there.
Just think about the fact that "BROADCAST YOURSELF" is the second item in the top menu of the site, right after "CHATROOMS". That shows you how much broadcasting as a thing for every member has always been part of the design of Chaturbate.
When two people are both broadcastings, and at the same time viewing each other, then you have cam2cam. It is as simple as that ultimately, creating that environment when meeting people isn't a one-way street, but becomes a truly social experience of give-and-take.
Without that ability for every member to broadcast Chaturbate would become just another cam site. And that isn't complaining about sites with hot models and eager viewers, but CB is a little more than that.
How to C2C on Chaturbate
Chaturbate goes out of their way to make broadcasting easy, there is that big bold menu item at the top of the screen, and generally very little technical setup to do.
It isn't entirely foolproof though.
Every PC has a different internet set up, webcams on different computers are often set up differently, and default security settings may prevent you from broadcasting when you want to. It is worth spending a little time to work through all the minor technical issues that may come up before engaging in your first session, particularly if you are doing it during a private when time is money.
First of all, you should understand that there is no separate "cam2cam mode" in CB. Instead, it is just a combination of two people who choose to broadcast and view each other at the same time.
The models who are on Chaturbate broadcast continuously of course so for them this is the default position and they should have all the tech stuff worked out. For their guests who want to broadcast to them, it means taking on the role of a broadcaster as well.
But wait! Does that mean anybody can see you if you broadcast?
No!
There are plenty of controls to ensure that only the person who you wish to see your live video cam feed can do so. The most basic and straightforward way to do that is to set a password on your video and only give that video to the person who should be viewing you.
When you click that big BROADCAST button you go to the broadcast page which has a bunch of controls on it. Before clicking the button to start your video feed you should scroll down to the tabbed area where it says "Apps & Bots, "Bio" and "Settings & Privacy". That's the one you need.
Click the Settings & Privacy tab and go down to find under "Broadcaster Settings" where there is "Password required for others to view your cam".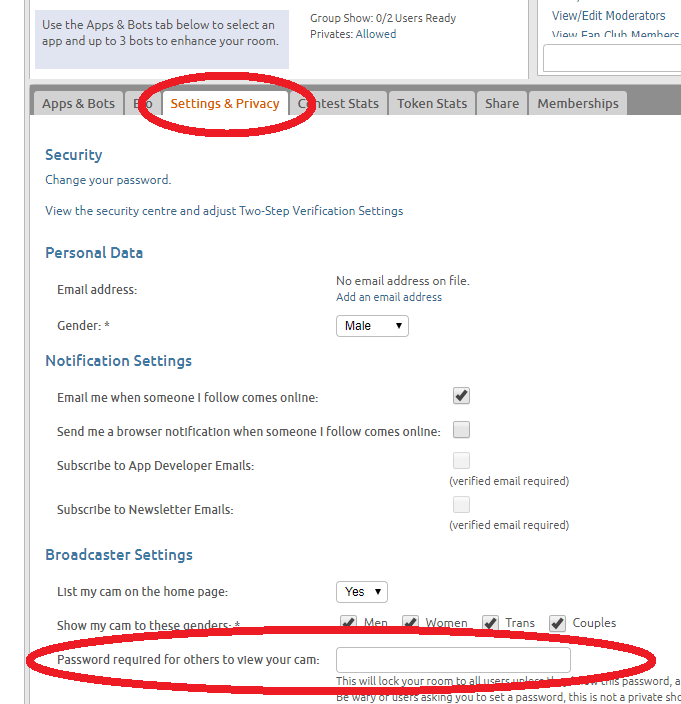 Basically, you have four steps to do:
Click the BROADCAST YOURSELF menu item at the top of the screen.
Scroll down, choose Settings, and set a password for your chatroom
Click to enable Flash, Allow flash to use your cam then click Start Broadcasting
Finally, give the person you wish to show your cam with the password you set above
If you want to broadcast from your mobile, phone or tablet then read below – it is slightly different though the concept is the same.
What is Needed for Others to be on Web Cam on Chaturbate
When you are a regular host you'll find that sometimes people want to broadcast themselves to you, to take the relationship to that next level. Everybody wants to be liked and people are hoping that you'll like how they look as much as they like you.
First-timers may be confused about how to broadcast, they won't know if it is possible. And in fact, you may not know either as your own set up will be different from theirs.
What you can tell them is that if they have a webcam and/or a mobile phone with a camera then it is certainly possible.
A great first step is to tell them to test if their webcam hardware is working, does the actual camera on their computer functioning correctly.
You can direct them to a public test site such as:
https://webcamtests.com/
That uses the same Adobe Flash technology that CB uses. Therefore if your webcam works at the test site it should also work at Chaturbate.
To test webcam on a phone for the mobile broadcaster you need something different. Try out this test page instead. Load the page and click the "video" button to test that your device supports video.
https://mozilla.github.io/webrtc-landing/gum_test.html
That is testing "HTML 5 webcam video" or "getUserMedia video". It is what Chaturbate uses to access the webcam on a mobile phone which doesn't have Adobe Flash. It works fine on both Android and iOS (Apple) devices if they are reasonably up-to-date. Officially it is Safari 11+ browser on the Apple devices, or Chrome 67 and higher, Samsung Browser 7.4 and later for android machines. There is no official support for Windows Phone as neither IE nor IE Mobile supports this feature. Some other less common browsers such as Opera Mini and KaiOS Browser will also fail to work.
Best Webcams For C2C
Ultimately the best cam is the one that you have. If you are going out of the way to buy a new webcam just to do cc more clearly, then, of course, there are plenty of choices.
The webcam built into your laptop would not be the first choice because those are generally quite primitive. Although they might talk about being Full HD or even higher resolution, that doesn't take away from the fact that the tiny lens and basic sensor mean that you won't get that clear an image.
The camera on your phone or on a tablet like an Apple iPad is generally a much better choice. And with the HTML only broadcasting from phones that Chaturbate now supports.
A new stand-alone webcam will give you the best quality and there are plenty to choose from. It all depends on your budget, but do look out for one that has good low-light performance as the last thing you want to worry about while masturbating is shining bright lights at yourself.
To know more about the best choices you should check out this great summary by TechRadar "Best webcams 2019: the top webcams for your PC".
Cock-Cams Vs Face-Cams For C2C
So when you decide you want to cam2cam with your favorite cam model at Chaturbate, you have to decide where to aim your cam. With your junk out and in your hand it is a natural thought to point your camera there.
On the other hand, don't women often go on about caring more about what you look like and how you behave compared to what your dick looks like?
"Dick pics" have quite a bad reputation, there are even articles like "What makes men send dick pics?" which goes on to ask:
Four in 10 young women have reported being sent unsolicited explicit images.
And goes on to discuss whether laws need to forbid this.
That might make you think that when you are doing c2c, be it open chat rooms or in pvt, that you should point your cam a bit higher. Maybe even at your face.
Stop and think twice though. There is a major flaw in that reasoning. First of all, cam models are not your typical "young woman", they are open-minded, exhibitionist and highly interested in sex. They have also watched more porn than you can imagine. That makes them a lot more open to the interests of a good hard cock.
Secondly; when you are doing cam to cam with a CB chat model you are not sending "unsolicited" images. The whole idea of c2c is that it is a joint activity, something that you do together. When a Chaturbate broadcaster agrees to watch your cam that means she wants to and is expecting to, see you masturbate while she chats with you.
That means go ahead and show your cock on cam!
I'll offer a couple of warnings though for cases when you might choose an alternative.
You are incredibly handsome: Yes cocks are great, but so are handsome faces
Your cock won't stay hard: Cocks have to stand up to be worth looking at unless you have a horse cock in wich case up or down are still fine.
Light It Up On Cam
Whatever cam you use, and whether you point it at your cock, your face or your wallet, you want to make sure it can be seen clearly.
Indoors, out of the sun, you can't avoid the fact that it is liable to be a bit on the dark side and webcams don't work great when the light is less than stellar.
Try turning on the lights. Yeah maybe it is a mood killer to have 1,000 Watts of floodlight pointing at you, but you know what, most Chaturbate broadcasters are doing that, and it works.
Dark-and-moody is fine for creepy movies. But when you want to show your self and be seen clearly, then lights are your friend.
Why C2C Is Popular On CB
On a typical weekend night, you'll find several hundred rooms tagged with #c2c, that makes it into the top few tags. Right up there with #teen, #bigass and #dildo. It is way more popular than #latex, #fit, or #roleplay.
That reflects that many broadcasters fully understand that their viewers want to be seen as well. Instead of being an on-way street the whole experience gets up to another level when both sides can see each other.
The models who broadcast regularly on Chaturbate can also, to be frank, get a bit bored with the same-old-same-old. So having a chance to watch someone else on cam is worthwhile too, and that is why they offer it by tagging their rooms #c2c.
If you want to get started on two way webcam chatting on CB then go and use that tag to find models who are into this and both will be interested as well as have the know-how to get you started if you run into any glitches.
Building Online Relationships
It's hard to build relationships even in the real world, we have all had that experience of wanting to get closer to someone we've met but somehow not knowing quite how to move the connection to the next level.
Going to Chaturbate takes away some of the barriers because everybody can be open and honest about their sexual thoughts. Nobody on CB is going to be offended if you tell them what you really think of their ass or tits, so you can be open and express your real feelings a lot easier.
If you'd rather watch someone fuck their cunt with a dildo than talk about their cat. Or the other way around. That's a perfectly ok thing to say when you are in a webcam chat room. But in a bar or at the office you'll probably get slapped. Some people don't want to talk about their cats to strangers!
Building up and maintaining an online relationship takes time. You have to be willing to commit to spending that time online and be as engaged as possible. While video going one way is a given at CB it is when it becomes two way that you can really use those non-verbal clues to add another layer to the communication.
This is also a good argument for sticking with the dick-pic view for your cam as women love to see a cock get hard for them. It provides that great feedback loop for a woman when she wiggles or poses and sees that it is working to get her man's cock hard.
Read some more specific advice on how to Maintain an Online Relationship and you'll find that doing videochat together is one of the main recommendations. It doesn't have to be via Skype or Facebook Messenger when you'll get an even better experience from broadcasting at CB.
Who Are The Top C2C Models At Chatubate
A lot of broadcasters at Chaturbate will do cam2cam with their fans and the regular crowd. Whether they do it in public char or in private depends on how busy they are of course. The most popular rooms can have thousands of participants and it isn't practical for them to view everybody's webcam.
Here are some of my personal favorites who get plenty of viewers and offer c2c in their rooms.
This is really just the tip of the cam iceberg and you'll find a lot more great choices by checking out whoever is the top chatroom in either the cam2cam or the c2c hashtags directly on CB.
How To Turn On C2C In Private Show
Doing cam2cam in a private show makes a lot of sense as this is when you get into that one-on-one situation with your chosen one on Chaturbate. If you are going to take it from a group adoration into a more personal space of the private chat room, then doing it two way really brings the two of you together.
The principles are the same technically though. Each person has to broadcast, but only one of you will be "in private". The other person should just use a password-protected room to ensure that only the person they want can get in a see them.
Can I C2C On Chaturbate on My Phone?
Yes, you can!
Only recently has this become possible, and it is a bit tricky to set up, but it is totally doable. There are some limitations and requirements but if you can make it work then you can have a two-way video chat on Chaturbate using your mobile phone.
You'll need to have a phone that allows "split-screen" where two apps are running at the same time. Either on iOS with Safari or an Android phone with Chrome, you have to open two windows, one to view and one to broadcast. But don't worry, that's perfectly easy once you know how.
Here is what you need to do:
Open Chaturbate in your browser and then split screen open the second browser.

Samsung / Android: "Open chrome Swipe up to multitasking view, press and hold chrome icon at the top and click split-screen Choose any other app for the second screen In chrome, hit the three-dot menu button Click move to other window". Via Reddit
Apple / iOS: "To see two webpages at the same time, do one of the following:
Open a link in Split View: Touch and hold the link, then tap Open in Split View." Via Apple.

Now turn your phone into landscape mode.
In the first window navigate to the chatroom you want to view and get the viewing working
In the second window choose the 'beta broadcaster' and allow it to use your camera.
Click the broadcast button in the broadcaster window and you are all done!
There are some limitations. The main ones I've found are that text chat is impractical. But if you are doing c2c then you'll probably be using your voice to talk anyway so that isn't a big issue.
This is what it looks like when you are ready to broadcast yourself but haven't yet. You can see in your own broadcaster it says "Offline". While in the other window you haven't yet navigated to the chatroom you want to watch.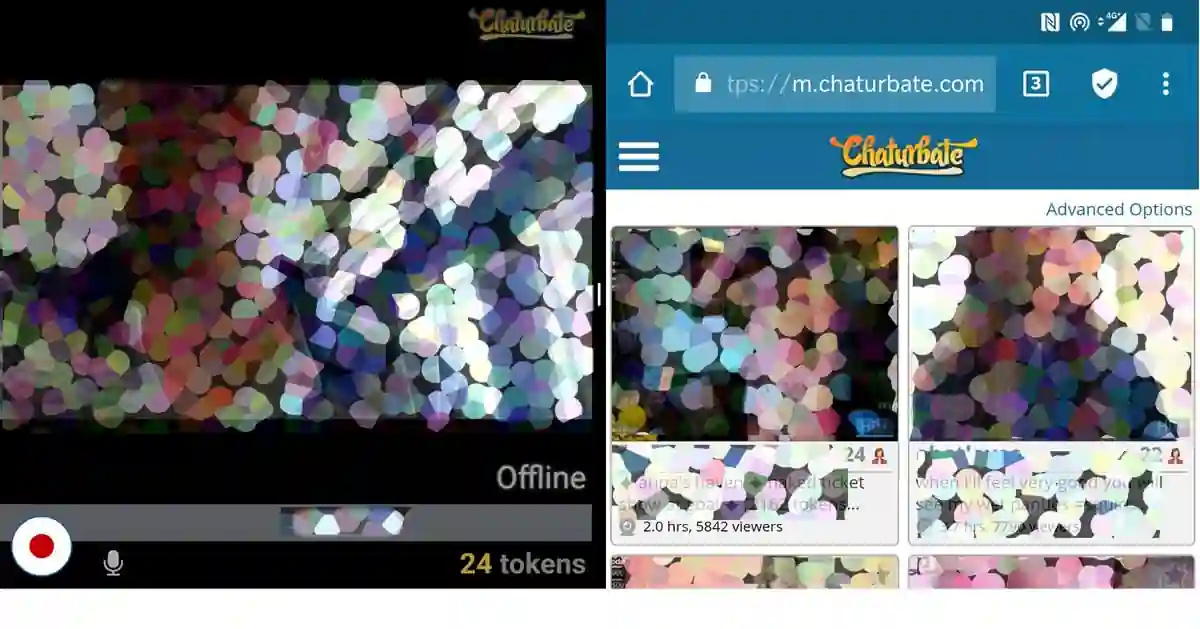 Once you have gone into the right room and are seeing the model you want to see, then click that red dot button to start broadcasting and it should look like this: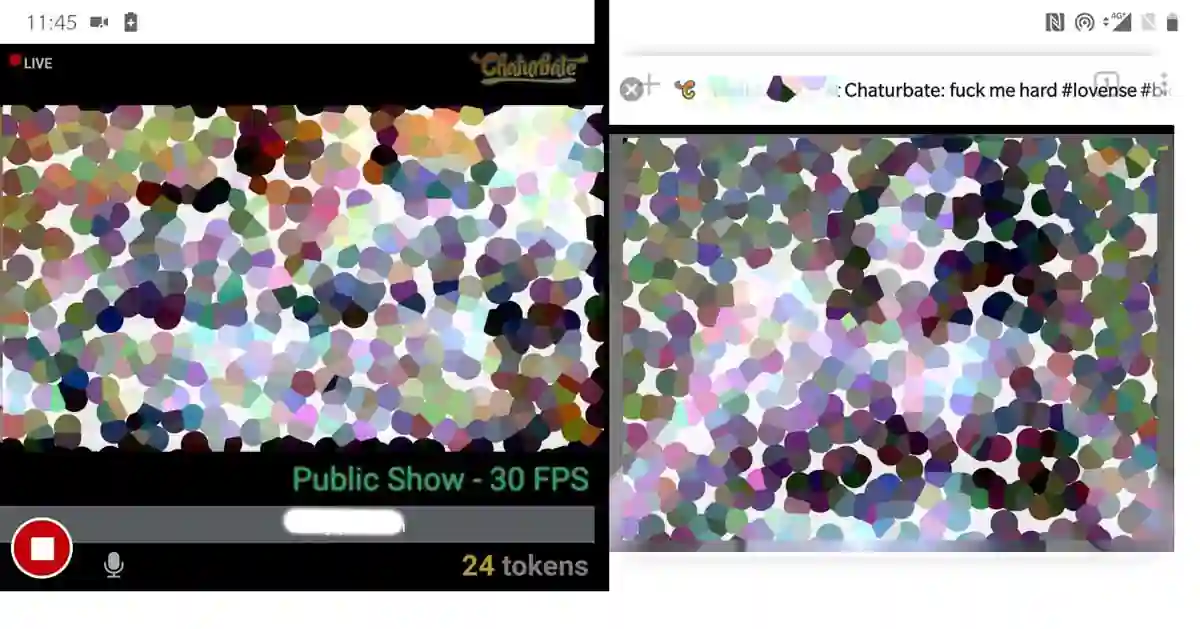 C2C Vs Cam To Cam Vs Cam2Cam
Why do people call two-way video chat "c2c"? I guess the same reason that every woman isn't just "hey baby" but is "bb"!
I suppose most people are not great typists, and that is particularly true when you have only one hand to type with. Because you know what the other hand is doing don't you!
How To Share Cam On Chaturbate
Sometimes the terminology is confusing. When you want someone to see your face (or another body part) then you need to turn on your webcam and let it send a signal out to the other party. On Chaturbate that's called "Broadcasting".
That might give a wrong impression because really you just want that one other person to see you. In order to achieve that you still have to "broadcast" but you should set a password on your Chaturbate room, and give that password only to the right person.
There is no "share my webcam" as such on Chaturbate. This is achieved by broadcasting, but limiting the chatroom using a password.
Common Questions About C2C On Chaturbate
This guide should answer the most common questions if you read it through.  What else should be answered here? Leave a comment below with your best question, and answer it too if you can!
Can Other People See You When You C2C On Chaturbate
Generally, the answer is "no". But there are some exceptions you should be aware of.
If you forget to set a password on your CB room then anybody can come in and see you. To minimize this risk set the privacy on your room to exclude almost everybody, using country and gender selections, and only turn those off when you really want to be seen.
Staff at CB may check on a room as part of security and safety. Noby knows how often they do that, but it does happen. They have to ensure that nobody is breaking rules.
Hackers could break into your video stream. Is this likely? No, clearly not, but it happens.
Someone could be standing behind you. After #1 this is probably the most likely problem! make sure your dock is locked if you don't want your house-mates to know what you are up to!
Chaturbate How Did C2C Work In The Past
Unlike most live xxx webcam sites out there, Chaturbate has always had cam2cam. That's because it is one of the few adult chat sites where broadcasting was something available to everybody.
Other big sites such as my free cams only allow registered models to broadcast. But at Chatterbate the whole idea was that this would be a person-to-person thing.
Today it has morphed into more of a traditional sex cams site where cam girls broadcast live sex for you to see. And the fact that this provides free sex chat, and not just private rooms, makes it different.
Chaturbate How Does Cam To Cam Work
If two people both have webcams, and both watch the other one at the same time then this is the essence of cam 2 cam. Although the regular models who hang out on Chaturbate are basically doing it as their job, sometimes a second job or somewhere to earn a little extra money, and sometimes as their main profession.
For someone who is started out as a viewer and then starts to wonder how to do a cam-show the site makes it super easy. With that big "broadcast" button up at the top and an easy interface to get started, it couldn't be easier.
Just as Uber started life as a peer-to-peer "sharing economy" site, but has ended up basically being a taxi-company, so Chaturbate has also moved with the times and with the demands of the users.
Chaturbate Requiring Registration When I Connect To Cam
The requirements from chaturbate for you to get started are really very basic. Yes, you'll need to have registered an account, but a free one will do just fine. They do ask for some age verification stuff, but this only gets checked if you want to use the site as a job and
How Do I Set A Password For My Chaturbate Room
This is key to a lot of things. A lot f you may wonder :
How to activate my Chaturbate cam
And you'll be amazed how easy it is. Just click that big BROADCAST button and follow the prompts.
But what you must do first, if you want to have some privacy, is to set a password on your room.
Do this first.
Really.
Set the password before you click "Start Broadcast". And get into the habit of checking y our password is set. Unfortunately, Chaturbate has a habit of resetting your room settings to default quite often, and that would mean you could lose your security settings including your password.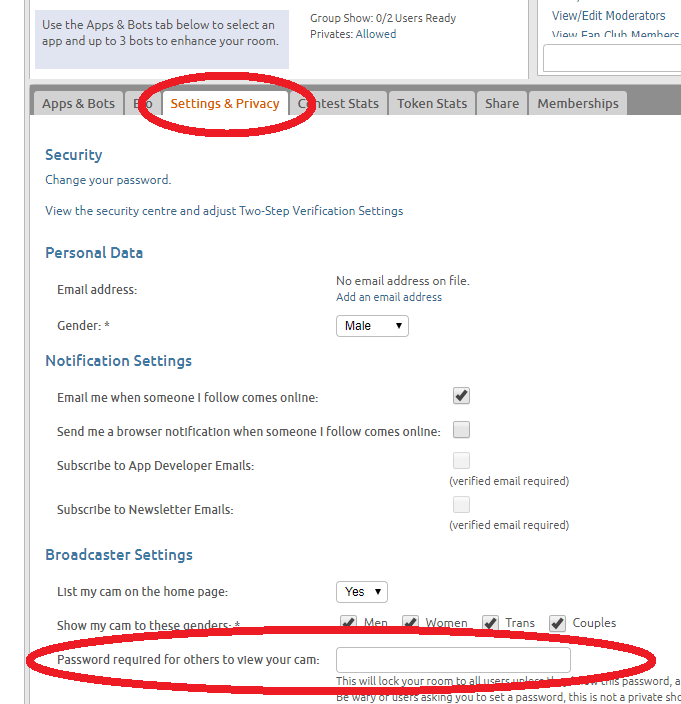 Cam2Cam in The Future; Flash, OBS, and Mobile
One thing that is great about chaturbate is that the answer to "how to download chaturbate" is that you don't have to! It's a website, and just like Google or Amazon it is all in "the cloud".
By using Adobe Flash technology they let anybody with a computer view and send video to anybody else. Passwords permitting of course.
Now if you are a bit more tuned into technology than most you might have noticed that Flash gets a bad rap and is generally frowned upon by the internet elite. That's because of some hairy security issues as well as performance problems. So yes, Flash is on the way out and Google Chrome is always bugging people to stop using it.
CB moved away from Chaturbate to view cams some years ago now, I don't remember exactly when. But for broadcasters they have stuck with that Flash-based broadcasting app for some up until now.
It is still the default that you get when you first try to broadcast, at least on a Windows desktop which is the norm for most people who are broadcasting seriously.
Adobe has announced they are stopping doing security updates of Flash in 2020, and though that doesn't kill a technology completely it is the beginning of the end.
What is the alternative?
Various kinds of streaming technology are possible and Chaturbate supports the two leaders of those. One is the "Open Broadcaster Software" or "OBS" which is a free software that is really intended for TV studio situations but works just fine for a person at home with a webcam as well.
This is what they are recommending to regular cammers and you can see that people of people are now using it. You can tell because OBS supports a wide range of plugins and special effects to spice up the video feed, and those are becoming more and more common.
The whole software is rather overkill though for the typical sexy girls who just want to flash some titties for tokens. Other software supporting the same technology, RTMP, is available though and some of those are a bit easier to use.
Another solution is the webcam broadcasting feature built into HTML 5.  That is called getUserMedia.  This is what Chaturbate is using for their mobile broadcasting system that lets any mobile phone transmit video to a website.
Both systems work, and both are in use by CB.
Which one is the future remains to be seen, but the obvious trade-off between
How has been your experience with Chaturbate?
Let me know in the comments below!