Whatever reasons you have to watch porn, no one wants to get caught. Below are some tips to save you from embarrassment or trouble, especially if you do watch porn when other people are around.
The following technical tips apply to Microsoft Windows version 10.
Tips on how to not be caught watching sex cam or porn
If you are sitting in a room, make sure you are facing the door so that you can see people come in.

Turn off the sound – give up on the sound. Not just turn off the sound of that particular Windows tab. Go to the bottom of your screen, look for the speaker symbol and turn the sound of your whole computer off. Some porn sites may pop up a new tab or new window on your machine, if you only turn off the sound of one tab, the new tab may open with sound. You can never tell and you don't want to risk that. Wearing a headphone is even worse. You can't even hear people knock on the door and walk near you.

Create a different desktop on your computer or laptop to watch porn – Thanks to Windows 10, you can now create multiple desktops for different purposes. You may want to create one desktop for work, one for your generic personal purpose, and one purely for porn. See below for my step-by-step guide to creating a desktop for porn.

Do you jerk off with your left hand or right hand? If you jerk off with your right hand when you watch porn, you should know a few keyboard shortcuts to clean up your screen by using your left hand. If you jerk with your left hand, then maybe you can use the mouse to close the tab. Though the browser history will still be there. If someone insists to look at the browser history or simply press Ctrl Shift T, the recently closed tab will come back and reveal your secret. Having separate desktops for porn and work/personal is still a better idea.

When you have finished watching porn, do remember to clean up your browser history if you are not using an incognito window.

Pay with gift cards or crypto. If your partner saw your credit card statements and realized that you were paying for porn, one solution is to pay for porn site membership or buy cam site tokens with crypto. Read my article about paying for porn with crypto here.

How to turn off the sound of the computer/laptop
Press the Window key on your keyboard near the space bar.
Type "sound" and choose "Sound setting".
Click on the speaker symbol under "Master volume" and the whole computer's sound will be turned off.
Turning off the sound is the minimal you can do. Creating a separate desktop solely for porn will be better. Provided your boss, colleagues, girlfriend or wife doesn't know about switching desktop. Here's how to do it.
How to create a different desktop environment for personal, work and porn
Starting Windows 10, they allow you to have multiple desktops or sometimes they call it virtual desktop. They understand that people may have a single laptop for both work and personal use and people don't want to have them mixed up in the same screen. Thus, a virtual desktop makes sense.
But to make it work, you should also start the habit of using the correct (virtual) desktop for different situations.
What is Task View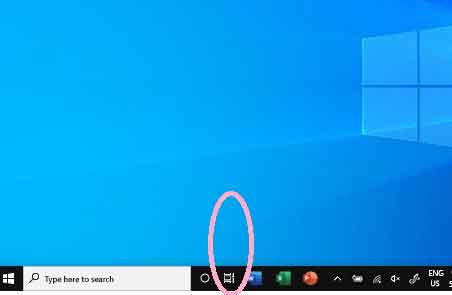 The button in the above screenshot is called "Task View". Just move your mouse over it without clicking anything and it should say "Task view".
I can't see Task View on the Task Bar
If you don't see the Task View button on your task bar (the long black bar) and you are using Windows 10, then maybe it's not turned on. Follow these steps to turn on Task View on your task bar.
Point your mouse on anywhere on the black taskbar. Point it at a black area but not any particular icon.
Right-click on your mouse on the taskbar and the following setting screen should be shown.
Tick the "Show Task View" button if it is not already ticked.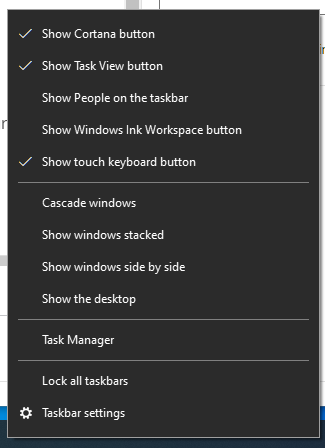 How to find all my different desktops
Click on the Task View button we just talked about.
You should be able to see at least one desktop. By default, it is called Desktop 1.
Next to your Desktop 1 should be a button for you to add New Desktop. It has a symbol of a screen with a big plus sign on it.
If you have already set up multiple desktops, they will all be shown here.

In my example above, I have three virtual desktops set up:
The first one is for work and so I renamed it "Work"
The second one is for porn and other naughty stuff and so I called it "Entertainment"
You may create more for general personal usage, say, for online shopping, personal social media, and so on.
There is no limit to the number of virtual desktops you can create. The limit is your computer and whether you can remember which one is for what purpose.
How to rename a virtual desktop
Go to the Task View.
Click on the name of the desktop that you would like to change. It should turn into an editable box and you can change the name.

How to add a new desktop
Go to the Task View.
Near the top of the screen, look for the words "New desktop".
Click on the box with a plus sign in the middle.
A new desktop with the name "Desktop #whateverNumberNext" will be created to the left of the "New desktop" button. In my case, it will be Desktop 4.

You just need to set this up once. Now you are ready to take the advantage of it, especially when you are watching porn and someone is going to walk up to you and see your screen.
How to switch desktop quickly
You should use Ctrl WindowKey and the left or right arrow keys to navigate between your different desktops.
Tips for switching or changing desktop successfully
Do practice these many times so that you are acquainted with what keys to press.
Arrange the porn desktop in a sequence that is easy for you to get out.

For example, if porn is your first desktop, if you click Ctrl-Window-LeftArrow, it won't do anything because it's already the leftmost desktop and you lost that few seconds to get out of trouble.

You may try putting your porn desktop as the very last one so that you just need to remember to press Ctrl-Window-LeftArrow keys to switch out.

Alternatively, you may put your porn desktop in between your work desktop and personal sports new/social media/online shopping desktop so that no matter whether you press Ctrl-Window LeftArrow or RightArrow you will go somewhere comparatively safe. It's not great if your boss sees you watching sports news or trying to do online shopping during office hours, but it's better than watching porn.
Important keyboard shortcuts you should know
If the whole virtual desktop concept is too complicated for you, you can always turn to the old way – keyboard shortcuts.
The fastest one is CTRL W to close your current tab and it can be done with your left hand alone. Of course, using the mouse to close the tab has the same result. But if you are right-handed and your right hand is busy, then having your left hand on Ctrl W to stand by is a good idea.
How to clear my web browser history
Even though you are not caught red-handed watching porn, it's worth taking an extra minute to clear up your web browser history, to clean up any traces of porn on your computer.
Clear your browser history on Edge
To clear the browser history on Edge,
Press Ctrl H or click on the 3 dots on the top right hand corner of Edge and choose History. It will open a new tab and show a list of sites you have visited.
Use the up and down arrow keys or use your mouse to point to the entry that you wish to remove.
Click the delete button on your keyboard and it will be gone.
Clean the browser history on Chrome
To clean the browser history on Chrome, it's similar to Edge and it allows you to delete multiple entries at a time.
Press Ctrl H or click on the 3 dots in the top right-hand corner of Chrome. Choose History, then choose History again. It will open a new tab and show a list of sites you have visited.
Your internet footprints are shown with a tick box next to them.
Use your mouse to tick the ones you want to remove.
Click the Delete button on the top of the screen and all the ticked items will be removed in one go.

How to remove all history of a specific website in Chrome
If you do not have the habit of removing unwanted browser history immediately, you may have accumulated a lot of history to remove. One way is to clear everything but that includes clearing away things you'd like to keep.
In Chrome, you can search in your history and this gives you a quick way to clear everything about that specific site. For example, if you've been watching girls on Stripchat and would like to remove all traces of it.
Go to your Chrome history by pressing Ctrl H
In the search box on the top, type the name of the site you want to remove, for example, "Stripchat".
It will show you your all-time history about Stripchat
You can choose the ones you want to delete. Or if you want to remove them all, just click Ctrl-A. You will find all entries are ticked.
Choose delete from the top of the screen and all ticked items will be gone from your history.

Clear the browser history of Firefox and forget about this porn site
Firefox provides a similarly useful history removal option as Chrome.
Press Ctrl H to get to your browser history. It will appear on the left-hand side of your current screen.
Mouse over the entry that you want to remove and press the Del key on your keyboard
Alternatively, mouse over the entry you want to remove then right-clicks on your mouse. Several options will be shown to you. (see screenshot below)
Choosing "Delete Page" will have the same effect as the Del key on the keyboard.
"Forget about this site" will remove all traces of the website you've highlighted. This includes not only your browsing history but also includes passwords, cookies, and cache of this site. If you prefer the convenience of having Firefox remember your login and password to Flirt4free then you should only "delete page" but not "forget about this site".

In the screenshot example below, I have opened both Camsoda and Flirt4free. There are a bunch of cam girls' names on my history and I may overlook them if I am only thinking about removing any entries that show Camsoda or Flirt4free. "Forget about this site" will do a thorough job, if you don't mind losing the passwords Firefox remembers and you have to log in manually every time.

Alternatively, you can enter your search term in the search box, say, Camsoda. I will filter your history and show only entries that are related to Camsoda. You can then delete them one by one.
Pay with Crypto or gift cards
Paying with gift cards is quite safe and innocent-looking. Your partner can see you spend on gift cards but she will have no idea you use them to pay for porn. The only downside is that there are not many cam sites that support it as payment.
Paying with crypto is not traceable or trackable. There is no statement for yourself or your partner to find out. When you pay with crypto, all you can see is that you are sending your crypto to a crypto wallet address, which is a random string that does not mean anything or imply who is the owner. By comparison, accepting crypto as payment is a bit more common than gift cards. If you are not familiar with crypto, just stay with Bitcoin. It's the original crypto and has the most support and supporters.
Conclusion
We all have that moment of weakness when we can't resist the call of nature. Just need to be prepared a bit to avoid doing big harm.
[maxbutton id="46″ text="Go to Camsoda"