The microphone is muted during cam2cam? Not just cam2cam, you want to be heard by the models too? Read on to see which sex cam sites let you have a two-way audio chat and how to get it.
I have written a lot about cam2cam or C2C on here already. It turns out there are plenty of people who are either frustrated by the muted microphone during c2c or are interested in two-way audio. As for who has the best 2-way cams with 2-way audio, Stripchat and Livejasmin are the leaders.
Livejasmin standard private or Stripchat's exclusive private for 2-way audio?
You will need to do some shopping research yourself because Livejasmin looks expensive but a standard private show and typically $1 extra per minute will get you two-way audio. It can be just 3.99 credits/minute.
For Stripchat, you need to choose the Exclusive Private option which is one level higher than the standard private. It may cost an extra 8 tokens only, but also 12, 16, 30, or even 50 more tokens. It all depends if you are picking an expensive camgirl.
Livejasmin does have two-way audio and C2C
On top of the normal watch-the-model-only private chat, Livejasmin does allow you to have the following extra in private:
two-way audio only
cam2cam without your sound
cam2cam with two-way audio (if the models allow two-way audio)
Do notice that they may cost extra. For two-way audio, for example, it typically costs $1 on top of the per-minute private chat cost.
How to get to the two-way audio in Livejasmin
1. Have enough credits to start a private show preferably with SmartBuy
Two-way audio is enabled in private chat only. So, you need to have enough credits for your private show with the cam model. If you are not sure how many credits to buy, you may turn on SmartBuy under "Account Settings". When you have activated SmartBuy, you are permitting Livejasmin to buy a $27.99 credit package whenever your credit balance drops to 7 credits. And you do have the option to change the SmartBuy purchase amount by adjusting it under "Account Settings".

2. Start the private show with the right option
Click on the "Start private show" button underneath the video. A dark dialog box will pop up like this.
Look for the tick box "Enable two-way audio for +1 Credit per min". Click on the tick box.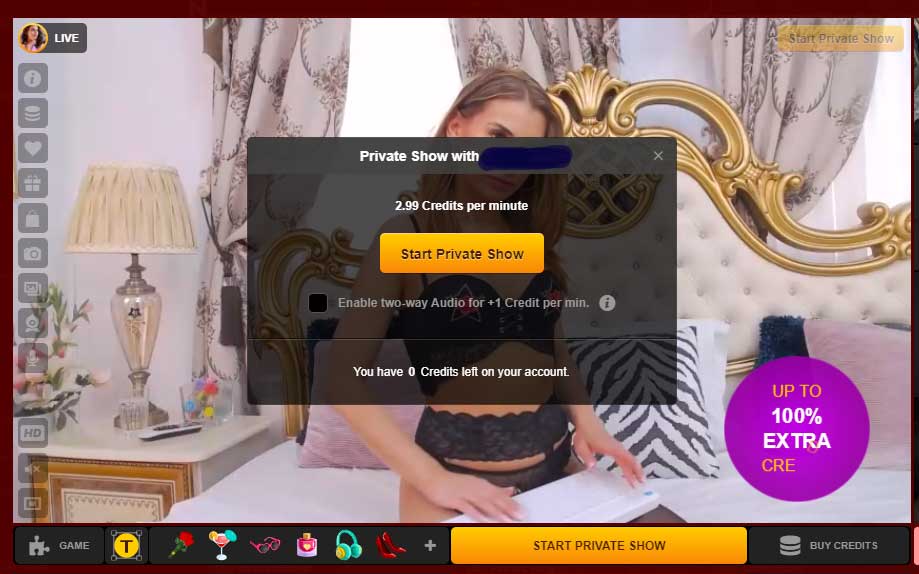 The per-minute cost should now be adjusted from $2.99 to the new total per-minute cost of $3.99 for this model. Not every model charges $2.99 so you should check before you commit.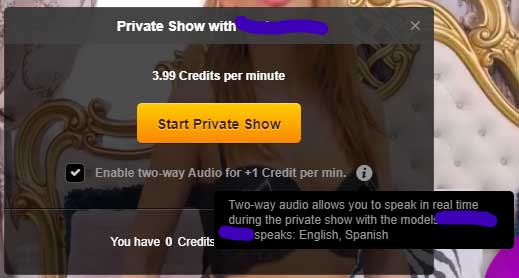 If the models do not support two-way audio in the private shows, their private show request screen look like this: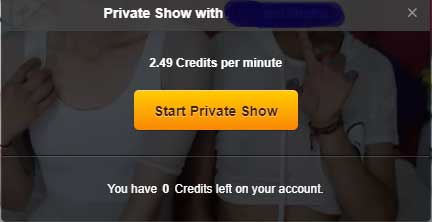 3. Does the model speak your language?
Moaning are grunts are international, but if you do want to direct the model's actions or chat a bit then you need to make sure that he/she understands your language.
Don't forget to click on the "i" symbol next to the "enable two-way audio" tick box. It shows what languages the model speaks. In this example, she speaks English and Spanish. If it's ok with you, don't rush ahead to start the private show. There is one more thing you need to check.
4. How to unmute the microphone for the model to hear me?
By default, all browsers set the microphone option to Off or Ask. You need to give permission to Livejasmin to access your microphone.
How to turn on microphone in Chrome
If you are using Chrome, follow these to unmute your microphone for LiveJasmin.
Click on the 3 dots on the top right hand corner of the Chrome browser.
Choose "Settings".
Scroll and look for "Privacy and security".
Choose "Site settings".
Click on "www.livejasmin.com" to choose the setting for this website.
Choose "Ask" or "Allow" for microphone. If you choose "Ask", Chrome will ask you every time whether you want to let LJ access your microphone. If you choose "Allow", then Chrome will remember that you are letting LJ to access your microphone every time you visit it.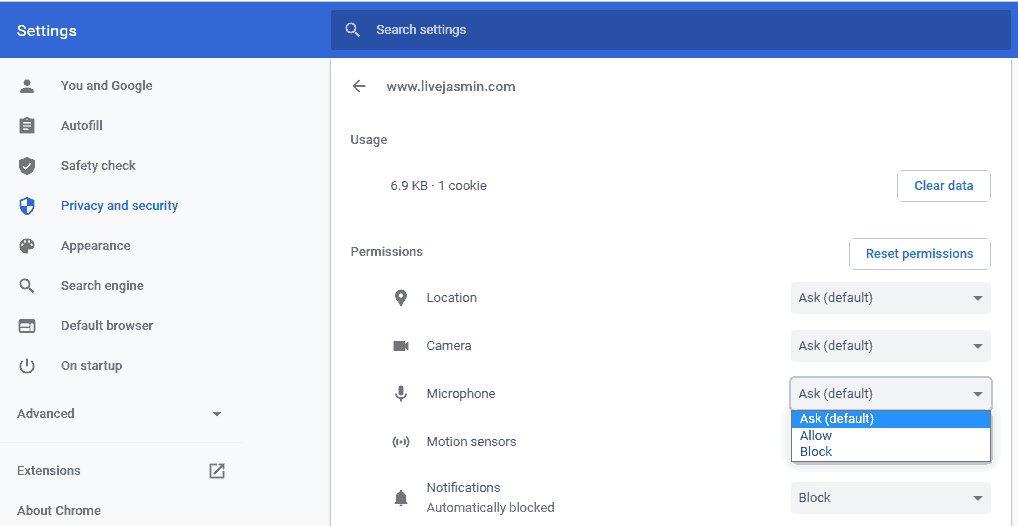 5. Start the private show on Livejasmin
When you start the private show, your browser will ask if you allow Livejasmin to use your microphone.
Select your microphone from the drop-down list and click "Allow".
If your browser has a tick box for "remember this option", select it to save you from being asked every time.
Enjoy your two-way audio chat show on Livejasmin.
Stripchat's exclusive private has two-way audio and more
Stripchat's exclusive private is very powerful. It allows not only audio two ways but other benefits too.
No one can pay to spy on your model's show while you are in this exclusive private.
Only you get to record and save the show. Even the model can't save the show and sell it in her own Stripchat gallery.
Optional cam2cam and two-way audio.
How to get 2-way audio chat on Stripchat
Similar to Livejasmin, in order to let the models hear you, you have to go to her private show. In fact, it's a privilege in the exclusive private shows only. Standard private shows do not permit that. Here is how you get to the exclusive private on Stripchat.
1. Start Private
Look for the "Start Private" button next to the "Send tip" under her streaming video. Click the "Start Private" button.
2. Choose exclusive private
After you've clicked "Start private", the following screen should appear. You should check the right column where it says Exclusive Private.
Is that the price you would like to pay?
There's a minimum duration you will be charged. In this example, it's 10 minutes. That means your minimum spending for this c2c and/or two-way audio exclusive private chat will cost you at least 60 tokens times 10 minutes equals 600 tokens. Many models set the minimum duration much lower than that so you have to do your shopping or bargaining.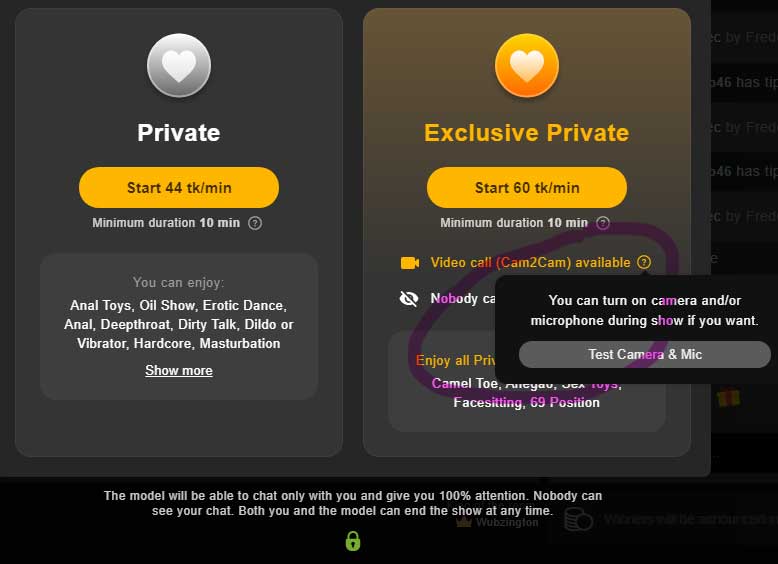 3. Test your camera and/or microphone
Click on the question mark next to the "Video call (Cam2Cam) available" message. This reveals the "Test Camera & Mic" button. You would want to know that your cam and/or microphone are working before you start your show. No one wants to waste money on technology while time is ticking and you are being charged by the minute.
4. Good to go
Make sure you see the camera and microphone tests went ok before you click the "Start xx tokens/minute" button.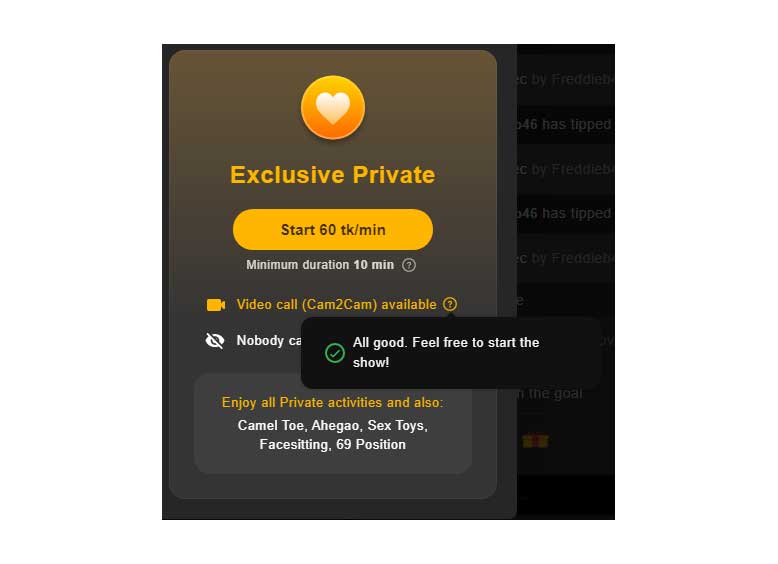 Enjoy your show!
List of cam sites that provide audio both ways
There are three ways to achieve audio both ways.
Prove that you are an adult by buying credits/tokens on cam site and then you may broadcast and have audio chat with the models in shows. You do NOT register as a model.

Livejasmin's standard private (if models allow)
Stripchat's exclusive private

Join the cam sites as a broadcaster, provide ID documentation to prove that you are an adult and you become one of the cam boys. You broadcast on the cam site and you invite the models to visit your chatroom and watch and chat with you. This basically means any cam sites you can create a model account you can have 2-way audio and C2C with her.

Any cam sites that accept individual model
For example, Cams.com, Amateur.TV, Camsoda, Xcams, Bongacams, Chaturbate, Flirt4free, Cam4, Jerkmate and etc
Notice: MyFreecams (MFC) does not accept male models


Find cam models from Skype directory sites and watch and talk in Skype.

Skyprivates
Camlust
CammodelDirectory
Advantages of two-way audio chat
The model doesn't have to keep checking the screen to see what the viewer said and whether he has any new requests. Therefore the model looks less distracted.

If the model doesn't have to divert the attention to read the text message on screen, he/she can concentrate better to give a good show.

Viewers can have both hands to pleasure himself and don't have to type one-handed to direct the model's actions or text chat.

Disadvantages of two-way audio chat
It's a desirable feature so it may cost extra.

Viewer is too engaged in talking and may end up spending longer time in the private show and that means spending more in private.
My dialog with a cam viewer about two-way audio chat
Since Chaturbate has stopped guys from the casual "Chaturbating" broadcast, as in having a not age verified account and not taking any monetary tips but he could show himself to other people. The result is that many guys are now looking for a cam site where they can broadcast their bodies and/or be heard by the models without providing ID documentations. That is two-way audio cam2cam chat. Here's one of the cam viewers' opinions.
Summary of big_ben's opinion about cam2cam with full both way audio
Big_ben the cam viewer is only interested in letting the model see and hear him during private chat only. He doesn't want cam2cam and/or two-way audio while the model is still in the public room where he won't get her full attention. It boils down to, he wants the model's full attention.
Here's the original conversation with big_ben:
big_ben: Yea, the new CB cam to cam keeps putting a pop up. but seems kinda silly if i am not able to chat. I have had performers who I am a regular with ask me to do c2c. So I started researching it. But if I can't talk to them..seems not worth it to me

Hony: CB guessed guys just want to show dicks.

Hony: Before all these changes, some guys broadcast themselves, just like models here. They will put a password on their room and give me the password so that I can watch him and hear him.

big_ben: do you think it is different in pvt?

big_ben: that is why I was looking at downloading OBS. From watching tutorials OBS seemed pretty easy to use. You just give your CB credentials and stream key to OBS

Hony: CB has specific settings to obs to ensure the quality of streaming is satisfactory. You may have to fiddle with that.

Hony: But then if you are not broadcasting to earn, then video and sound quality may not matter that much.

big_ben: Being a perfectionist is not a good personality trait for camming LOL  And i just wanna do it in pvt

big_ben: i think CB mutes C2C for a reason. maybe they don't want tippers to ruin by saying bad things.  Or maybe better for them to not hear my noises 

Hony: i know why.  if the model can hear the c2c in the public room, and typically models will have the sound on, that means everyone in the public room can hear what the c2c guy said. Not to mention if the model is watching more than one guy and they all talk and grunt at the same time it will be very confusing. haha

big_ben: yea, exactly

big_ben: Thx for your help if I find anything new I will let you know

big_ben: yea my situation is more for pvt. I have no plans on public c2c

Hony: yeah, the girl won't pay you full attention in public room

big_ben: exactly
big_ben: it's not even won't....it's she can't
big_ben: too many other windows and users etc..etc

Hony: many are split-camming

big_ben: alright have a great day

Conclusion
Big_ben's opinion about 2-way audio and C2C is one way of thinking. Some people just want to impress the model with their own bodies. Some want to show the model how he cums for her with both video and his grunts, and I am sure there are many more reasons too. Which one are you?