You may have heard of Flirt4free gay cam, Streamen.com, and Livejasmin gay. But there are many more men on cam than you think. Some of them broadcast for other gay men, looking for some gay C2C jerking off together and are looking for some fun, while others may be straight men and intent to broadcast for the cam girls to see but may not mind other men admire his cock. And I know there are men who broadcast just so he can earn some tokens or credits, and then they spend it on the models he likes. Whatever the reasons, here is a list of gay chat sites.
List of dedicated gay cams (no women)
By dedicated, I mean the whole site, the whole domain, the whole URL is all about men and not one single cam girl at sight.
Click on the link above to quickly go to the gay site reviews, or you can take your time to read on.
Cam sites with good selections of live cam boys
The following sites have a mix of men and women broadcasters but there are plenty of single men or men couples who are happily sharing their bodies and jerk off to the cam.
Gay men only cam sites
Streamen.com
No. of guys online: Over 800 men
Pros: Lots of varieties. Men come from all over the world to broadcast on Streamen. The categories on the left sidebar make it easy to look for the particular type of gay men that you want. At the moment, there are 121 Latino, 105 college boys, 114 uncut men, 51 muscle men, and 16 big cocks online.
Cons: Not many freebies in the public chatroom. You do have to provide your credit card and buy credits if you want to have a proper show.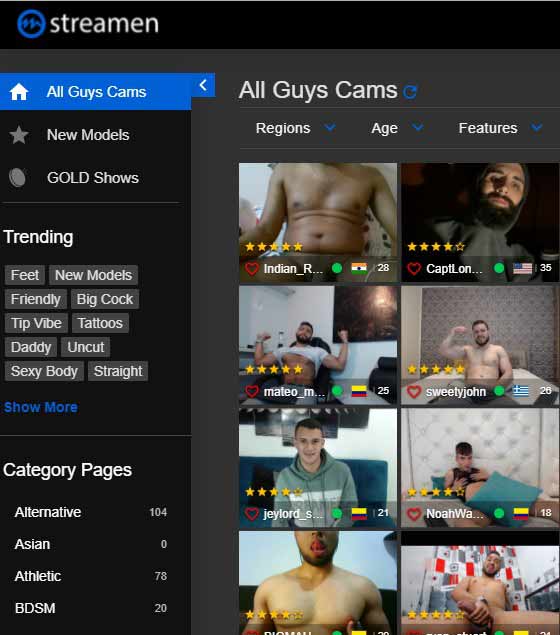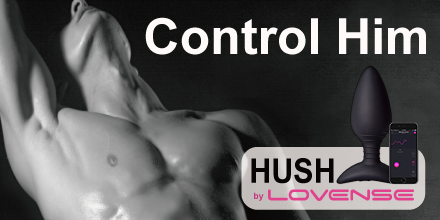 Xlovegay.com

No. of guys online: Over 20 men online, mostly Latino
Pros: Not overwhelmingly hundreds of men online and you don't know where to start. Lots of Latino models so if you like Latino then that's great. Private shows are mostly $1 – $2/minute which is very reasonable.
Cons: It seems to be dominated by Latino with some English speakers and Europeans. Most of them are amateur-looking so not many muscular hunks, they look more like your next-door neighbors.
Cameraboys.com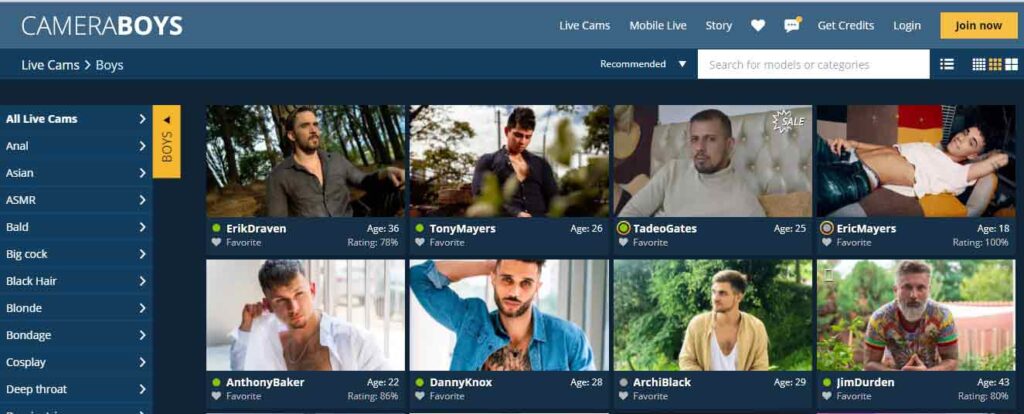 No. of guys online: over 40 men online
Pros: Cameraboy seems to have more younger men. On my screen, with over 16 models, only 2 of them are above 30 years old. All the others are 25 or below. If you are looking for young gay men to jerk off with then yes, it seems to be a good place.
And if you like to broadcast yourself for the model to see you jerk off for him (aka cam2cam) then Cameraboy supports that too. In fact, it also supports 2-way audio so you can have gay c2c with sound, talk to one another while both of you's hands are busy. What's better than that? Many sites support video cam2cam but the viewer's sound may not come through. Cameraboys and Supermen.com are the two that allow sounds in cam2cam.
Some of them may not be online at the moment, but you can press the "Call me" button and arrange a video chat which is pretty cool.
Cons: You can't chat with the guys without creating an account first.
Goliveguys.com
No. of guys online: about a dozen men online
Pros: The site is simple to use and not overwhelmingly with hundreds of men so you don't know where to start with.
Cons: No free video chat. You will see his profile to find out everything about him. Anything you don't know and want to ask then you have to text chat to find out.
Supermen.com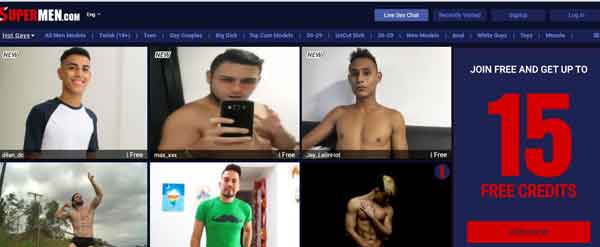 No. of guys online: Over30 gay men with a few straight men
Pros: Free 15 credits when you join the site. Easy to find categories to locate the twinks, gay couples, big dick, uncut, muscle, and many more to have a hot chat and jerk off with. Cam2cam with sound is another great feature that supermen.com has. Just like chatting in Skype, you both broadcast yourself and do audio chat, therefore allowing both hands to be free for more hot actions.
Cons: You have to create an account or you can't even say "hi" to the model who you are watching.
Livemuscleshow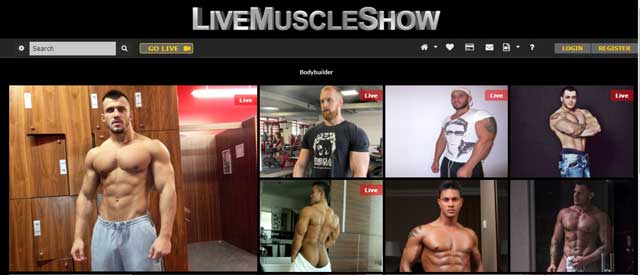 No. of guys online: around 10 athletic muscular men
Pros: There are all sporty-looking, athletic muscular gym-goers online. Even the model is not online, you can message him or book a date. They really really look fantastic. Almost all of them are topless to show off their big arms, chest muscles, and the 6-packs.
Cons: No free hardcore show in the public room. Anything more intimate has to be done in a private show. They all look so good I am sure it's well worth going for a show.
Other Jerk-off Cams with good selections of men online
CameraPrive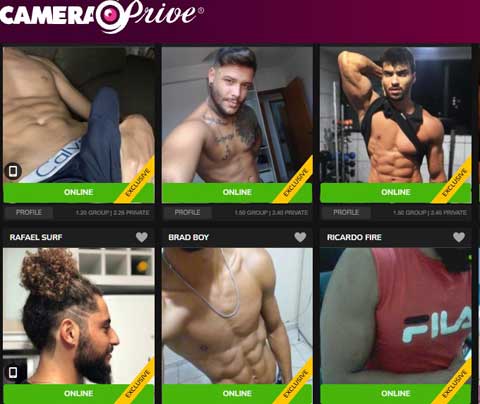 No. of guys online: Over 40 men online
Pros: CameraPrive has cam2cam and two-way sound so you two can watch each other and jerk off. What's better than that? Saw a hot man and he's not online? Camera Prive has something called "PriveCall" to let you have a video call on his mobile phone while he is offline (if he accepts it). You may still get a show when he is offline!
The cost for the private show starts from 2 to 2.4 credits/min. As USD10 gets you 30 credits, that means for $10 you will get 12-15 minutes private show.
Cons: You've got to create an account or you have very limited time to watch each cam. Not to mention when you are timed out, you will be sent back to the default home page and full of women even though you have selected the "Guys" tab earlier.
Flirt4free gay cam
No. of guys online: 240 gay men of all ages and shapes
Pros: Lots of hunks and good-looking gay men models online on Flirt4free, including Belami's models. There are also feature shows by top-of-the-month models, or even pornstars sometimes.
Cons: They are mostly studio models if you are looking for amateur homosexual men then there may be fewer choices.
Amateur.tv gay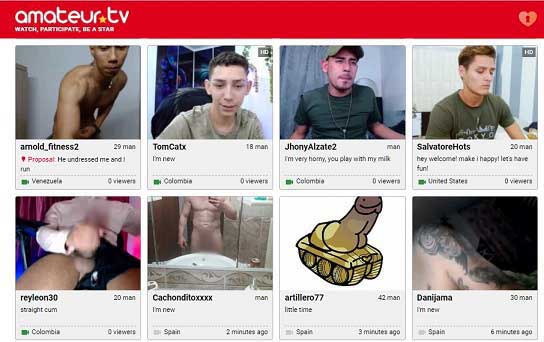 No. of guys online: over 20 amateur men
Pros: Unlike Cameraboys or Flirt4free, the models on amateur.tv looks mostly amateur and many of them are showing their cocks already. You don't have to take them to a private show to watch him strip. It's great for jerking off together.
Cons: Many of them do not broadcast in HD high-quality video but if the guys are hot then it doesn't matter, does it?
Stripchat gay cams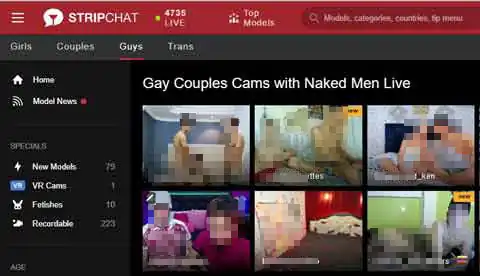 No. of guys online: Over 1,000 men online
Pros: Stripchat is constantly adding new features to their site so it's full of different good features for everyone. The internal messaging system has not just let you message your favorite but you can send him pictures and videos too. You don't even have to join his fan club to message him. If the model allows, you may even pay to record his public show for as short or as long as you want. You don't have to commit to a private show to get the recording. See my post about Stripchat's good features.
Cons: Many of them are southern Americans like Columbians. If you are looking for Caucasians or blonds then you have to search around a bit.
Cams.com gay webcam

No. of guys online: Around 20
Pros: You will get 100 free tokens when join. Models are conveniently tagged for you to choose the specific ones you want. You can find twinks, bears, otters, wolves, cubs, pups, twunks, gym bunny, or jocks. As for the specific niche, how about foot fetish, leather, underwear, latex, uniform, beard, or military? Save your effort on visiting each room and asked if he has uniforms.
Cons: Can't chat without an account.
Camsoda gay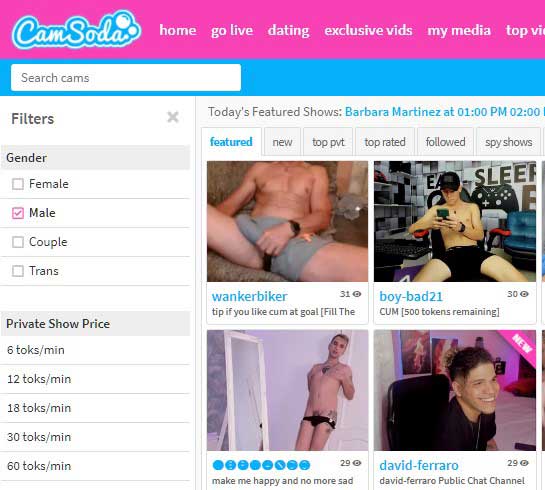 No. of guys online: around 30
Pros: The models are mostly twinks or under 30-year-old. So they are full of energy and are ready to dance, pose, and jerk off for hours for you. Camsoda also has discounts and deals from time to time so if you look around you may be able to buy cheap tokens for later use.
Cons: Unregistered account has a very limited time to watch the models. You just need to create an account.
Whitelabels of the above cam chat sites
What are white labels? Whitelabel sites refer to those cam sites that are rebranded under a different name and maybe with a different marketing strategy but underneath it's a particular, original cam site.
For example, Streamen's affiliate program provides tools to allow the affiliates to use their site to appear as different cam sites, Privatefeeds is one of them. That's why Privatefeeds has the same models and a very similar look and feel to Streamen. Therefore white label cam sites typically have no value to you especially if you are already a member of the original, underneath cam.
List of white labels
Belamichat.com (they provide models to Flirt4free but the site is the front of Flirt4free
Privatefeeds (another front of Streammen)
Camfuze (another front of Bongacams)
HunkPrivates (belongs to Xcams but is a white-label of Flirt4free gay cam now)
Powermen (belong to the same company of LiveMuscleShow)