Flirt4free and Streamen admittedly are one of the top leading gay cams for jerking off for many years. They are safe and well-trusted by both models and viewers. How do you choose which one to watch? What are the pros and cons of each one? Read on to find out.
I am going to compare the two sites in the following:
No. of male models online
Flirt4free: 210 gay men online
Streamen: 180 gay men online
In terms of hot guys who like to broadcast on cam, Flirt4free has 210 men online out of an estimate of 400 active models, while Streamen has 180 out of about 900 active models. It varies from day to day, particularly weekdays versus weekends. There may be more amateurs who broadcast on weekends as leisure or to earn a bit of extra money for their holiday plans or a new iPhone. As you can see, Flirt4free has fewer active registered models than Streamen but about half of them are online. Whereas Streamen may have more amateurs who do not broadcast on a regular basis.
Body type or build of the male broadcasters online
I have tracked Flirt4free and Streamen for a week and found that there are about 400 active cam boys on Flirtf4free and about 900 on Streamen. As I said, the gay men on FlirtforFree are mostly models from BelamiOnline and studios alike. That explains why they have a lot more muscular hunks. And it's not just muscle, but good-looking ones with a nice lounge or bedroom layout. Whereas Streamen has a mix of studios of amateurs and there are by far more amateurs. Those who don't really have the 6-pack but still consider themselves fit will put themselves under the "athletic" category.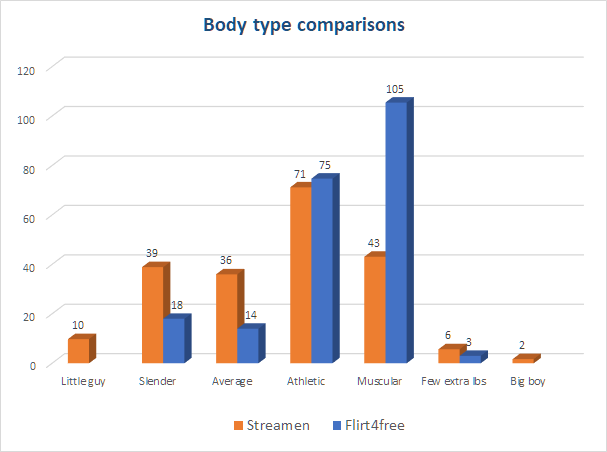 Chubby-chasers may find more BHMs on Streamen under the categories of "Big boy" and "Few extra lbs". You will not find Leslie Jordon there, but men of similar size can be found under the category Little Guy in Streamen.
Flirt4free
105 muscular men!
Chubby guys: 3

M

uscular: 105
Athletic: 75
Average: 14
Slim: 18
Big boy: 2
Few extra lbs: 6
Muscular: 43

Athletic: 71

Average: 36
Slender: 39
Little guy: 10
Circumcised vs Uncut
If you grow up in a society where everybody around you is circumcised, I presume you may not be comfortable watching someone uncut. Both Flirtforfree and Streamen are aware of it and let you filter the guys by circumcised or uncut. Flirt4free is leading on both simply because they have more models online.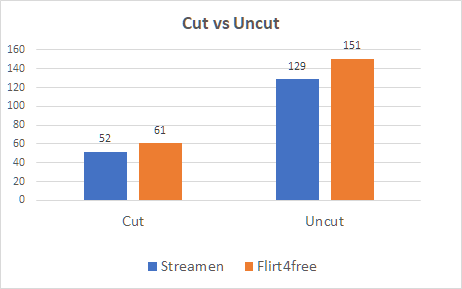 Cock size
Who can resist a nice cock? Besides the shapes and circumcision, size does matter. It's an ever-lasting discussion topic. What size is considered average? And what is big and what's considered a monster cock? Both UK and the U.S. have different studies from time to time to check the average size of the penis to ease people's minds. They both come down to around 6-inch (15.2 cm). NHS UK says UK's average is around 13-18cm (5 – 7 inches) when erect. The National Institute of Health (NIH) says the U.S. has an average of 15.2 cm (6 inches). I don't know if Flirt4free and Streamen models follow the same standard. But this is what they consider themselves.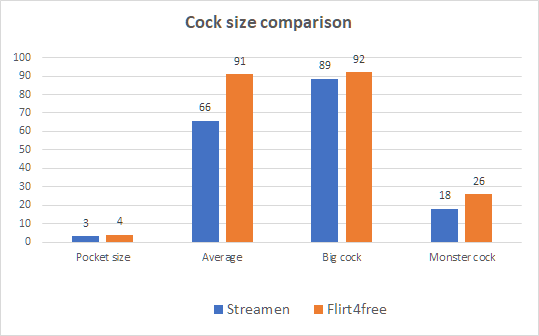 Both sites have a similar number of big cocks and monster cocks although Flirt4free has slightly more. Then it comes down to the body shape, how hot his ass is, is he a top, bottom, or versatile.
Hair color
What hair color do you like? Does it matter? If it does, here you are. The bald head doesn't seem to be very common. Most gay men are brown or black on both sites and if you like blonde, there is a decent selection too.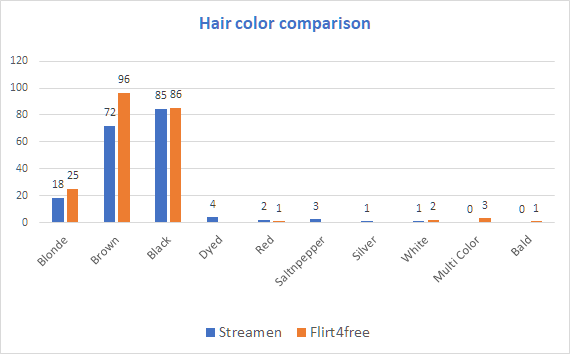 Ethnic groups
Do you like Caucasians, Black, Asians, or Latinos? Here is the distribution of different ethnic groups on Streamen and Flirt4free.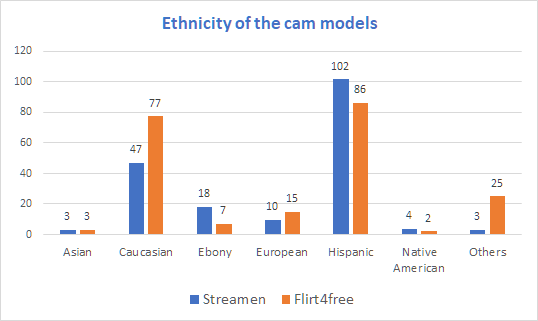 Streamen has a finer categorization of ethnic groups. I have seen Middle Eastern and East Indian online too but the number of men online is not very significant.
General hotness of the gay men
I know it's very subjective to say who is hot and who is not sexy. But I will expect the studios to be pickier and always choose the best-looking college boys and the most athletic jocks to show on cam. Not to mention the HD quality of the video, better sound, better lighting, and general cleaner and nicer-looking background in the room. I am all on Flirt4free on this topic. The home page of F4F shows tens of thumbnails of sharp, well-lit pics of the models, while Streamen has many more amateurs who just sit in their bedrooms to show their cocks to the cam and are not fuzzy about lighting and video quality.
Which gay cam is the hottest?
The hottest gay cam comes from watching the gay man match exactly what you want. Looking into the categories of cam to find the right guy is the key. Both sites allow men to put themselves into different categories so that you can find the college guys or bears easily. Though it's only a guideline. Some models may set up their accounts in a haze and haven't thought through what categories to put themselves into. He may be perfectly happy to do a foot play or cum on navel show but just hasn't thought about it and has not put himself under the foot fetish category.
Flirt4free cam categories
Streamen cam categories

Click "Categories" on the top left-hand corner of your screen. It will then show a list of gay cam categories on the left.
By default, Streamen shows the categories of cams on the left sidebar already.
You can also turn off the category list by clicking the "<" next to "All guys cams"
Gay Pornstars on cam
If you love watching gay porn then you are probably very familiar with Belamionline, CockBoys, and Corbin Fisher. Besides making gay porn for their own brands, men from Belami and alike also broadcast on Flirt4free.
The easiest way to find these cute gay models or muscular hunks is to click on "Channels" on the top menu bar on Flir4ree.
Click "Channels" on the top menu bar of Flirt4free
It shows Belami, CockBoys and Corbin Fisher. It may be because of my time zone, I found there are more Belami boys online than the other two.
Choose the channel you like and enjoy your chat.
If there is no one online from that studio or you want to check on the other studios, just scroll all the way to the bottom of the page and you will find "Other channels". If you are on CockyBoys channel, you will be shown Belami and Corbin Fisher.
ok. It's time to relax, choose one of these hot cams to jerk off with. Watch him cum on his chest, or cum on his navel. Self-sucking is also available as one of the categories if you look around.
Conclusion
Both Flirt4free and Streamen have different types and shapes of models. Which gay cam is better? I'll let you be the judge.