When you are watching a cam girl, cam boy, or cam couple, it is common for viewers to make requests to the cam models and get ignored or refused. In many cases, this is because the model expects the viewer to pay for their request. To be honest, even if you like and enjoy what you are doing, if you know you can make money with it as well, will you do it for free, for hours? Even if she is an exhibitionist and gets the thrill from exposing herself, she will pause and wait for a tip, right?
That's why it is a common practice for models to list the prices for various things they will do on a "tip menu". This allows viewers to know how much they need to tip in order to have their requests fulfilled, such as taking off clothes, using sex toys like dildos or buttplugs, or performing specific acts like spanking, peeing, or fisting. I am going to talk about:
How to and where to get Pee Cam
Cam models don't do it for free. You need to tip them for their time and effort and tip the amount that they specified. One way to ensure you get it right is to do a site-wide search for keywords like "pee," or "piss" on everyone's tip menu. Stripchat supports searches like this. See my post about searching for peeing cam girls here.
Additionally, you can search for the right tags on the cam sites. For example, besides "pee" or "piss", some models may use tags such as "golden shower," or "watersports" to indicate that they will pee in front of the cam. You know your topic and the various ways to call it so explore the site.
Once you find a model who you think may be willing to do a piss cam and find out about the cost, it is important to communicate clearly with her. Let her know exactly what you are looking for, For example, what position you would like, whether she should be sitting, squatting, or standing up in the shower, etc. Check if she is willing to perform this exactly before tipping or there will be an argument or complaint from both sides later.
If she agrees, tip the exact amount for the live pee show without haggling. Now sit back and enjoy.
Here are a few sites where pissing and peeing have been seen on site. Happy exploring!
How to and where to get Ass-to-month (ATM)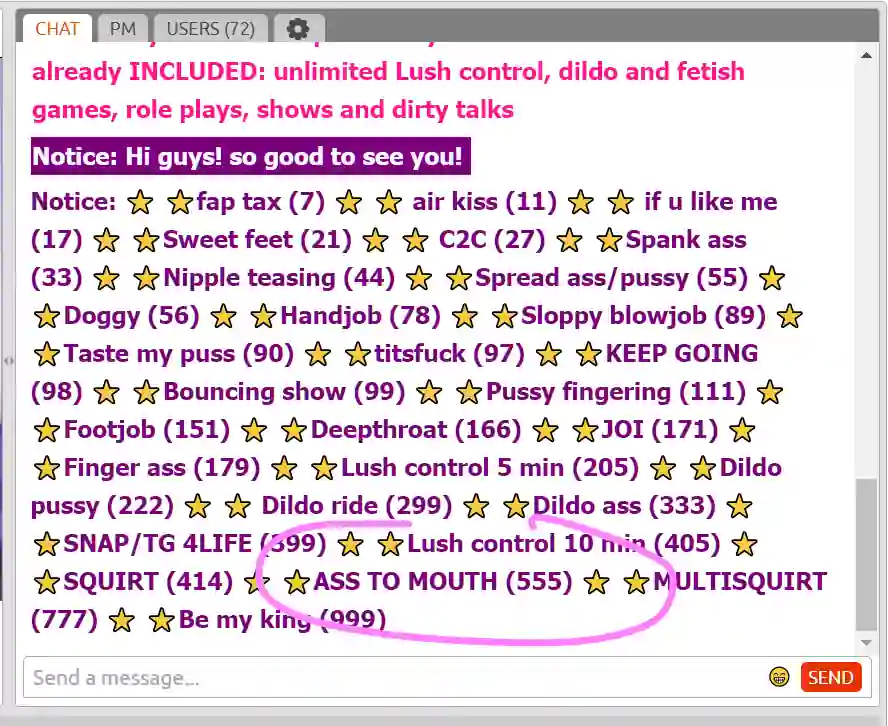 Ass-to-mouth (#ATM) is one of the most wanted naughty acts but there are not that many cam girls or couples who provide it. While I am writing this post I try to get an idea of how commonly that ass-to-mouth is offered on cam. A quick search on Stripchat and it shows 765 rooms with the tag #atm. However, when I click through about 10 of them, less than 50% actually have ass-to-mouth listed on their tip menu. In fact, it may not even appear on the subject or tags. Therefore, I started to fear that searching for tags may not be accurate enough, for whatever reasons. Searching into the whole cam site's tip menu should give you a higher chance of getting what you want.
Chaturbate's tag search for #atm seems to be more accurate. A random check of half a dozen cams does show #atm on their room's subject lines. And even if it's not listed in her tip menu, when I ask, she replies in PM with a price. 500 to 700 tokens seem to be the price range for ass-to-mouth on CB.
Cam4 also has plenty of ass-to-mouth models to choose from. Again, go to the full list of tags and search for "AssToMouth" and you will be shown about 40 cam girls or couples who will suck on their anal toys or have anal sex and suck the cock that has been to her ass.
How to and where to get Balloon-fetish girls
Balloon sit-to-pop or blow-to-pop are the common ways of playing with balloons. It is fun and can still be surprising and exciting even though you know it is coming.
It can be tricky to look for cam models who will play with balloons as a fetish show. When you see her room has balloons it doesn't necessarily mean that she is into balloon fetish. It may purely be for decoration. Maybe it is her birthday. But at least she has balloons around. Even though balloon play is not on her menu, you can always make an offer. MFC seems to be a good place to try your luck.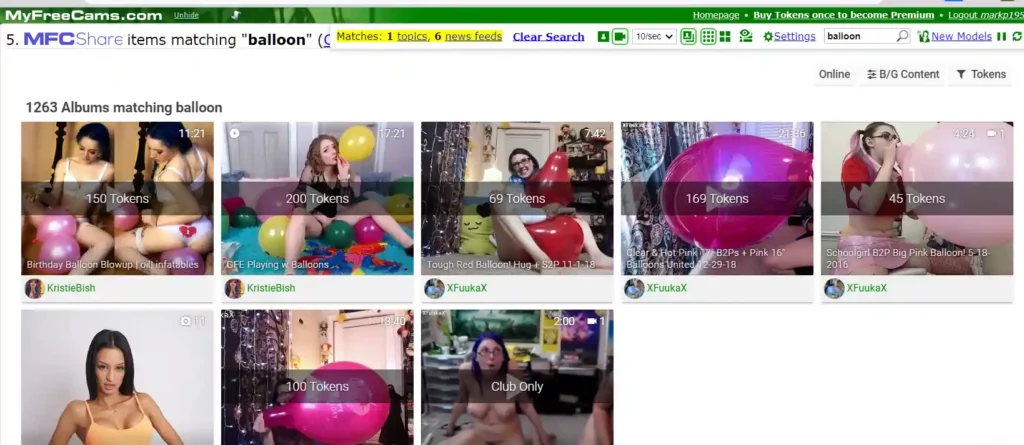 When I searched for "balloon" on MFC, there was hardly any model offering it. But there are over 1,200 videos of the balloon theme. And a lot of them are for serious looners. For example, here are the descriptions of some of the albums, and it shows that they know and understand what they are doing.
Sits to pop a 12-inch blue balloon
Clear 17-inch balloon requested on cam
Slutty redhead blows, rides, and pops balloons
Looner balloon club15 inch latex balloon blow-up
Giant green airship balloon double hump with Miss_Lollipop
Huge diamond clear Qualtex 24″ balloon
Popping balloon with ass
Popping pastel balloons in clear balloons
2 naked girls and 1 giant airship balloon
The models who post the videos are all familiar and possibly with different balloons for the show. You just need to go to MFC, and search for "balloon" at the search box at the top of the screen. Find the albums and identify the models who you would like to give you a hot and sexy balloon show. Check it out now!
Conclusion
As you see, your fetish may be available on many cam sites, you just need to learn to use the various search options and categories to look for what you want. Big sites with good search is the way to go.