How many ways are there to make money on Bongacams?
If you are a cam viewer,
Then most of the time you are spending instead of earning on Bongacams.  That's the truth.  But, if you have spent enough, Bongacams "cashback" top 5 spenders every day.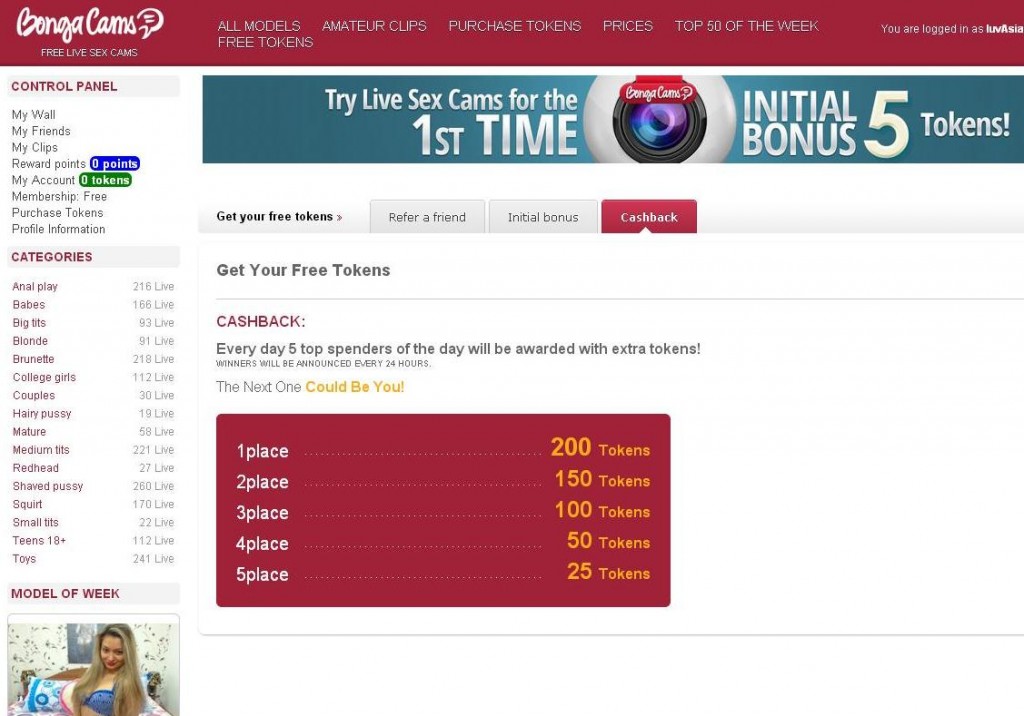 If you are a cam model,
Then read on.  There are many different ways you can make money here.  See my tips below.  You can make money from both broadcasting and when you are offline.
When you are online and broadcasting,
Put your

price menu on the room topic

.  For example, "tip x to flash tits, tip y to flash ass".
Bongacams allows PMs (private messages).  Set it to "

Only friends can PM

" with room topic "Tip x to add friend".  Many viewers were trained to tip you a small amount, say, 1 to 2 tokens and request you to add them as friends so most of them know the rule of the game.  You just reinforce it.
Get the

tips before performing

your show.  While there are many honest viewers around, there are always some who promise the world and won't tip after you put the buttplug in while you are doing a hand-stand.
Encourage your fans to

send you gifts

.  They pay for the virtual gifts and you receive tokens for them.

Split-cam

.  This site is very split-cam friendly.  It gives you a one-click "set private chat" so that you appear to be in private chat (viewers will not know whether you have a private show for Bongacams' viewers or for other cam sites)  But they can still spy on you so you earn from voyeurs here too.

Competition

– Top 50 models get bonuses.  #1: $500, #2: $250 and #3 $150, with #50: $25. You earn points based on the hourly earnings.  Top models are based on points collected this way.
When you are offline,
Earn commission

– you can earn commission by introducing both models and viewers to Bongacams.  And you don't even need to have a web site.  You can put the link code to Bongacams on your Twitter profile, tweets or any profile page of social or Q&A sites that you are a member with.

Password-protected gallery

– Put up a gallery and password protect it.  If your fans want to see them, they have to ask for the password in your room and of course, we expect a tip for that.  In a way, this is to sell your pictures online.
If you think of and know of other ways, please leave me a message here.