Tips for modeling at Cams.com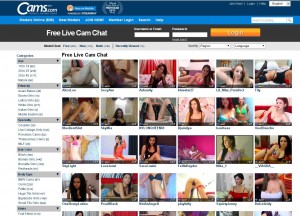 First of all, you need to know the various types of chat available on cams.com and what are the rules and constraints there.  You have to set the price right for each of them.  They are very important.
Broadcast in HD if you have the equipment and a good internet connection.  It's because models broadcast HD are listed first on the Who's online page.
Free live chat is the place you show off your beauty and sexiness.  Go to Nude Chat as soon as you gather a crowd.  Real earnings are in party chat and private chat.
There are a lot of things you can do on the home page of the Model's Control Panel (models.streamyray.com).
 Activity Feed: Treat it like Facebook status.  Just write a line about how horny you feel.  This will be shown on the home page of those who have marked you as a favorite.  One way to remind them about you.
Under "My followers", there is a long list of your Recent Visitors and Top Spenders.  You are allowed to send them bulk messages once every three days.  Keep it simple. Let them know about your schedule, new photos in the fan club, or new discounts.  Don't overdo it though.  You don't want to look too spammy.
Under "My Accounts", check out the following:
Make sure you look good in the Promotional image and show off your best feature.
Update both your free show photos and nude show photos.  These pictures are automatically captured by the site and put in here.  Remove the ones that you are not happy with.
Set your pricing for each type of chat.
Choose your earning percentage.  This is how much you earn for the tips and shows, ranging from 15% to 45%.  They claim that if you set it below 30% your chatname will be highlighted on the Who's online page.  On the same page, it will show you your ranking of this particular percentage setting.  eg.

In Free Chat, you show up in position

184

 out of 

346

 places.

In Nude Chat, you show up in position

41

 out of 

97

 places. Play with the percentage to see if it makes any difference.  It is not significant in my case, so I chose the top 45% instead.  🙂

Fan club – after you have 10 recorded shows or earned $30 in 30 days, a link for joining your fan club will be available.. You should have photos ready for the gallery.  Click through to "view my fan club" and record an introduction video to make it more personalized.
During broadcast: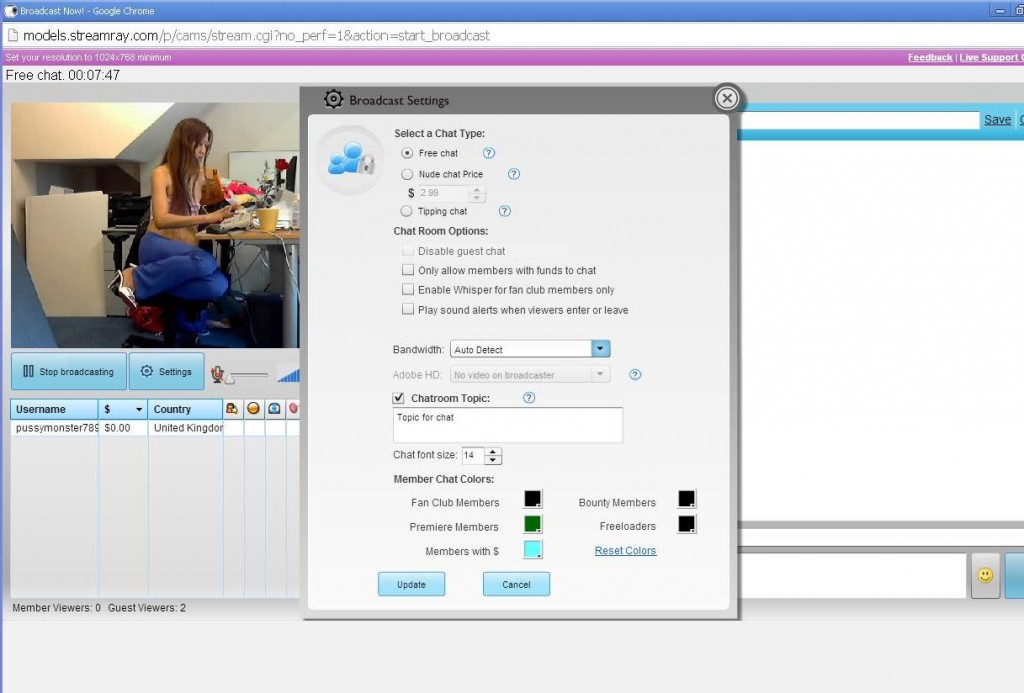 Know the types of members

– You may have different strategies for different types of members. Fan club members (the

light blue

ones) give you steady membership income but we know real money comes from tips and shows.  Both light and dark greens are good in general coz they have credits in hand this second.  While Bounty member (

orange

one) earns you an extra 25% every time he tips/gives you virtual gifts or watches your show.  The

black

ones are your potential Bounty member.  If you can convince them to make the first order immediately after chatting to you then you get him as a bounty member and earn an extra 25% from all his spendings to you throughout his lifetime on this site.
Check the viewers' status – The list of viewers under your video is very useful.  You need to recognize the various symbols and prioritize who and how much attention you want to pay to them.  As you can see there are 2 Greens who have credits in hand. The following symbols give you a one-glance status of your viewers:* 1st one: Fan club member. Easier to convince them into private but at a discounted price.
* 2nd one: Premiere member.  He pays monthly membership fees to stay Premiere so he is not that hard up but he also gets discounts for your show.
* 3rd one: If this symbol appears under this column, you are already watching his cam on your screen via cam2cam.  You get $0.1/min.  It's easy $ in my opinion.
* 4th one: It's your bounty member, get him to tip you, send you a gift, or take you to show.  You earn an extra 25% on top of your normal share.
* 5th one: He is using a mobile phone so he can't do cam2cam and he has no audio either.
Encourage offline virtual gifts.  Similar to Chaturbate's offline tips, they just implemented offline virtual gifts too.  What's better than earning money while you are offline?  Tell them how much you love surprise gifts.  "I saw my friend got a vibrator"  "Wish I got that diamond earrings too….."
Split cam – If your internet connection is good, split cam is a good way to earn some extra money.  Bongacams is a good one for this.  There is a "Private Mode" in Bongacams which allows you to appear as "in private".  You may set yourself in this mode at Bongacams at all times and let the voyeur cam happens.  Viewers in Bongacam are so used to spy cam that they often come to me and ask me to a fake private show so that they can pay the voyeur rate only.  This used to annoy me a lot.
Get some good sex toys – Interactive toy is in. The interactive dildo Lovense Lush lets you send a link to the viewer to control your sex toy for a certain period of time, which converts very well.
Anyway, the list can go on and on.  Leave me a comment here if you have some better tips or if they have new features that help us earn more.  🙂
---
Do you speak Spanish? See how much Amateur.tv models earn
If you speak Spanish, amateur.tv may be your split cam choice. Amateur.tv is a Spanish-based cam site. Most models speak Spanish there and the site's default language is Spanish too.
Check out the earnings of the top models of Amateur.tv here. Besides the usual tips and shows earnings, models get daily prizes money too. Check it out!