Unless you have been saving for some years and have cumulated a good sum in your bank, it doesn't hurt to broadcast on cam sites that support daily payment from time to time or even as an option for splitcam. Having the flexibility of being able to be paid any time does make life easier sometimes. Read on for a list of cams that support daily or on-request payout. Alternatively, work for a supportive cam studio that provides daily payout may be another solution.
Why should you work for at least one Cam Site that pays on request?
Pay for the expensive camming gear – a laptop, a good cam, and a big variety of sex toys are the primary equipment for adult camming. If your laptop or your $600 worth fucking machine went out of order, you need to have them replaced quickly. You are losing out if you have to wait for the twice-a-month payout before you can replace them.

Don't put all your eggs in one basket. Any cam sites may close down. Even one of the earliest, biggest porn chat sites iFriends finally closed in 2018. Porn sites as big as Pornhub got banned by Visa. We can't just trust the big guy to last forever. The same principle applies to the payment method. ePassporte and FirstChoicePay closed with hardly any notice. I lost a couple of hundred dollars with ePassporte because there is a daily limit on how much I can withdraw with their debit card and I had run out of days to withdraw all my funds. FirstChoicePay was liquidated and it took something like 2 years before I got all my money back! ePayment was suspended by the Financial Conduct Authority in Feb 2020 and one year later it was still not open to the clients to access their funds. Yes, I have one payout from the cam site that I haven't been able to withdraw before it was suspended. So, no matter how one particular payment method is best for you, do send some of your earnings to the second-best one. You never know.

Sound and healthy cam sites can afford to offer daily payout. Think about the fact that most people buy tokens or credits using their credit card, this means the cam site won't be receiving the funds right away. Only cam sites with good cash flow can afford to pay their models any time they ask. That is a good sign for the company and is less likely that our hard-earned money is gone with a failing site.

You may feel that the chance of having something bad happen is low, though never zero. Use the daily payout cam sites or on-request payout chat sites to be a backup source of immediate funds for yourself, your family, and friends.
Below is a list of cams that support daily payout, although it does depend on your payment method to decide how fast you can get the money in hand.
List of live cams that pay daily or on request
---
Chaturbate models' payout schedule

Chaturbate normally pays twice a month, the upper half (1st – 15th) and lower half month (16th – 31st). The payout will be sent out within 7 days after the end of the pay period if you have met the minimum cut-off and have converted your tokens to cash. The typical cut-off for most payment methods is $50, except for wire transfer which is $500. Daily payout is possible upon request.
Chaturbate daily payout (on-request) for models

Not everyone gets to pay daily on day one. To get daily payment, you have to be either:
received 2 standard payouts already if you are a U.S. model, or
received 4 standard payouts already if you are a non-U.S. model
talk to support to see if they can add you if you haven't met the above criteria. Chaturbate did mention this in their FAQ so give it a go if you have a strong reason.
How and cost of getting daily (more like ad hoc request) payout on Chaturbate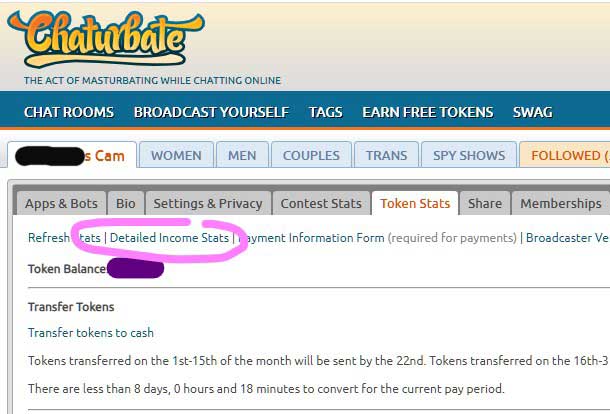 Be qualified (see criteria above) or you have talked to CB's support and they agree.
Convert your tokens to cash so that your "Amount Available" meets the minimum cut-off for your payment method. $20 is enough for checks, but $500 for wire transfers, and $50 for others. You should also have converted enough to cover the processing fee for your type of payment.
Go to your "Detailed Income Stats" page.
Scroll to the bottom of the page to look for "Request Daily Payout".
Enter the amount you would like to withdraw and click Submit.
Requests are processed on business day only.

If you are receiving via Paxum, you may get it within 1 business day
If you have chosen ACH, checks, or wire, your payment will be sent the next business day.

It costs you $3.95 a day for using daily payouts. By this means, you will be charged $3.95 the first time you ask for a daily payout on that day. If you have continued to broadcast, earned and converted your token to cash, you can request daily payout again on the same day without being charged $3.95 again. Yes, $3.95 per day and you can request multiple times on that day.
"Request Daily Payout" is a misnomer. If you have requested once, they do not automatically send you payment every day. It's more like an ad hoc request.
---
Bongacams has 3 levels of payout period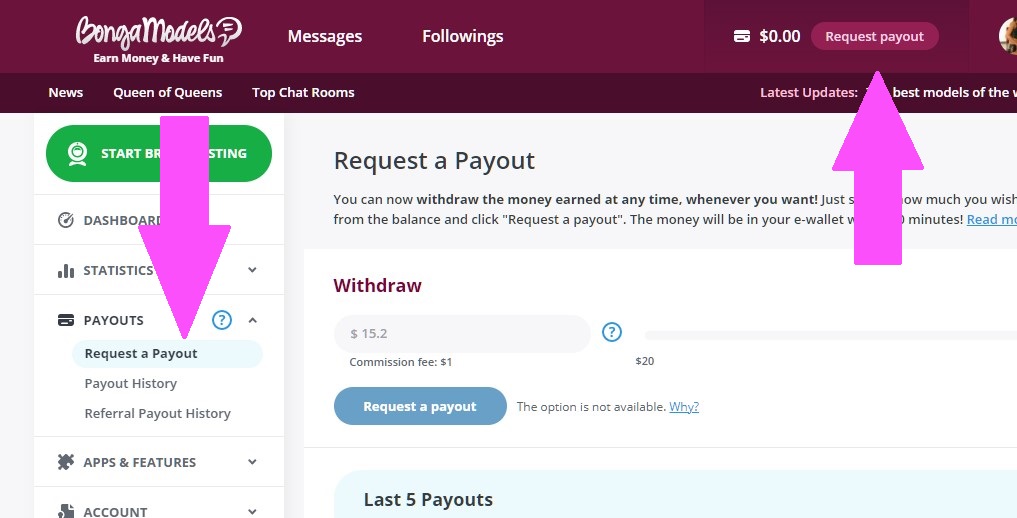 Normal: pay weekly on Friday for the previous week's earnings. That is, this Friday pays for the previous Monday to Sunday's earnings. Bongacams holds it for 5 days.

Early Payouts: Bongacams would like to have more models online on weekends. If you broadcast for at least 3 hours on Friday, at least 3 hours on Saturday, and at least 3 hours on Sunday, then you are qualified to get your early payout on Tuesday and don't have to wait till Friday. The minimum payment amount is $50.

On-request or daily payout: to qualify, you must be an active model on Bongacams, as in, you have at least $200 in total payouts over the last 6 months. But if you have over $200 payouts more than 6 months ago, you are still not qualified. (That's me. I haven't broadcast there for more than a year. I thought I would withdraw the small sum there without the hassle of contacting support to change my minimum payout cut-off. But having earned over $200 more than 6 months ago is not good enough to make an on-request payout. It's available for WebMoney, Paxum, and ePayservice account holders only. It costs $1 for Paxum and ePayservice and a 3% fee for WebMoney.
Note that for on-request payout:
Minimum withdrawal amount: $20
Maximum withdrawal amount: $500/day
How to change your payment method on Bongacams/Bongamodels?
In order to change your payment information, you have to take a photo of your document with a piece of paper with today's date next to your face. You then send an email to [email protected]. Don't forget to mention your screen name and that you wish to change the payment method, and/or minimum cut-off.
---
Cam4 pays any time
With Cam4 you can cash out any time. As long as you have met your minimum cut-off (at least $50), payout will be sent to your within 2-3 business day, or subject to your payment method.
---
XModels (Xcams European cam site)
XModels officially pays twice a month. Though daily payout is possible if you are using Paxum or ePayservice.
Xmodels bi-weekly payout
For the first half period (1st – 15th), you will be paid on the 20th of the same month.
For the second half of the month, you will be paid on the 5th of the next month.
bi-weekly payout is for cam models who use wire transfer, Bitsafe, or Bitcoin wallet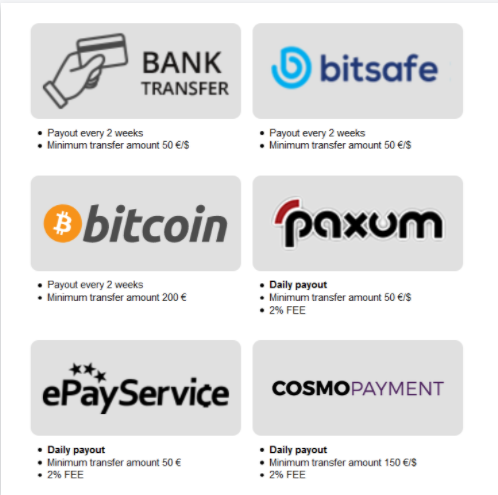 Xmodels daily or on-request payout
If you use Paxum, ePayservice, or CosmoPay to receive your earnings, you will get paid the day after your balance has reached the minimum cut-off you set. No need to wait till the 20th or 5th like the bi-weekly schedule.
---
Other on-request or frequently pay cam sites
There are other websites that may have a low minimum cut-off with or without a fixed payment cycle which will allow you to access your earnings faster.
You can always work for a studio to get a daily payout. Among them, Boleynmodels seems to have a good reputation in terms of payment, helpfulness, and usefulness.
---
What is Boleynmodels
Boleynmodels do not seem to be the typical studio that provides the venue and equipment and you just turn up. Katy Boleyn, the founder was a cam model herself some years ago and she understands all the problems and issues that cam girls face. So Boleynmodels.com is to help other fellow cam models to overcome some common #camgirlproblems and even working towards a more normal-looking future by providing proper payslips that one can submit to the tax department without embarrassment or get a mortgage from a bank.
Most models who have good words about Boleynmodels are about them being:
Helpful, supportive and providing advice on technical matters. You can always Skype them to get immediate help with streaming or other issues.
Daily payout – not just daily payout, even if you work on many different cams and some may generate a small amount that does not meet the minimum cut-off, you will get them all in one payment. That means you get paid for all your earnings regardless of whether it's just a few dollars in one of the small sites that you split-cam.
Boleynmodels provide you with income proof from their modeling and marketing company so you have valid payslips and income statements for things like tax, car loan, or mortgages.
A special bonus – if you work 6 days a week on Streamate, they double your lowest day.
They can help you to sign up with different cam sites and save you hassle on dealing with the various sign-up problems.
Advances are possible if you have a good track record with them.
Not really a contract as such. You can leave any time.
What's the downside of Boleynmodels
If you curse the freeloaders in your room then you know you should pay for all of the above services and benefits that Boleynmodels provide. A few percentages on certain cam and not even all. (I heard it's something like 5% on Stripchat. Things may change.) Still, you are keeping most of your earnings.
Conclusion
If over time, you have built up and set aside a handsome amount as savings, then good on you. You may ignore this article. If you are still struggling and have problems if one of the cams is not paying, or one of the payment companies is suspended and your money is locked, then you should consider these on-request or daily payout cams.