What are the different memberships in Cams.com?
Just like the majority of webcam chat sites, there are different levels of membership.
1.  Free membership (without providing credit card details) – It is absolutely free but you know you won't get very far with this type of membership.
2.  Free membership (provide credit card details) – This is a special situation.  If you manage to sign up with their promotional links, you may get free credits to spend by providing your credit card details to them.  You pay $1.17 for credit card processing fee and a one-off $10 or even $15 free credit will be added to your account.  A few days ago, it was only $10 free credits.  Now I look again, they are giving out $15!  They are anxious to get your payment detail in hand so that what you do have that itch to buy credits, it's less hassle for you.  When you have a non-zero balance with your account, your chatname will be green by default.  If you have zero balance, however, you will appear black and get less attention from the models.
3. Standard membership – With this membership, you have given them credit card details and you may even have been buying credits, tipping the models, watching recorded shows or taking the models to private.  But there is a daily limit of $300 to spend.  You can't spend more than that.  You username typically appear green in the chatroom.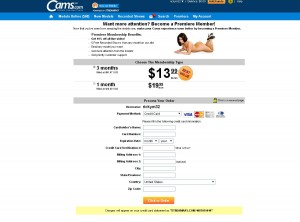 4.  Premier membership – You have to pay a monthly fee to be a premiere member.  As you can see, you can either pay $19.99 a month or $41.97 for 3 months (which means $$13.99/month).
Benefits include:
– 10% off all live video
– 5 free recorded shows
– you may email any model
– prioritized customer support
NOTE:  This membership is auto-renewed by default.  If you are not comfortable with it, go to your "My Account" and look for "Billing Preference" and turn off auto-new.  I am sure they will prompt you to renew when your membership is about to expire so there is no worry of losing your status.  Lols
Though, despite being a Premiere member, your daily spending is still limited to $300 a day.  If you want to spoil your All Time Favourite, then you need to upgrade to be a VIP.
5.  VIP membership – This is the ultimate membership one can get and surprisingly, it has no extra charge.  It's more to their benefit than you I will say.  It is because, to qualify to be a VIP member, you have to be:
a) be a paying member for at least 2 months (therefore they will know of any credit card fraud if there is any)
b) You need to download a form, sign it and send it back together with a photocopy of the front and back of the credit card that you have been using in the site.  (Again, cams.com gets to be sure that you really own the card, not just a stolen no.)
c) Someone in the company will look at it and approve it.
By then, you can have unlimited spending on their site.  Besides, you also get:
– 25 free recorded shows
– 5% of every purchase made by bank check or money order will be added to your balance
– get 6 months benefits of what Premiere member enjoys
Which one is the best deal?
It all depends how you normally use it.
If you enjoy private / nude shows a lot then the discount from Premiere membership may work out for you.  You have to do the sums to see if the membership fee is paid back from the discounts and freebies.
Second thought, it seems to imply that you can become VIP without being a Premier member first.  Seeing that it's not that much work to send in your credit card photos it may be worthwhile to get one and enjoy 6 months Premiere membership for free!
Too complicated?  Chaturbate is pretty straightforward.  Have you tried it yet?