When will you get a refund of your cam tokens?
Many people watch sex cams every day. Some tipped and some paid for a private show. It is easy to spend the money or tokens but one does not often get a refund from cam sites unless there is a good reason.
It can be that you are deleting your account and if the cam site has the policy to refund you and not just make you spend them all. Or you really had a very bad experience with a cam model, say, a not-as-promised private show. Anything can happen and you have a reason to ask for a refund. It got to be reasonable.
Who can refund you?
Normally, even if it's the model's fault there is nothing a model can do about it. Only the support can. This is my experience.
I remember I accepted a private show request once in Chaturbate. The show has barely started and I had a power outage. By the time I was back online the guy has long gone. There is no way for me to contact the guy to apologize or arrange a refund. (I have a minimum 2 minutes rule for my private show so he paid for the 2 minutes for nothing.) I felt bad about it so I contacted Chaturbate's support, explained the situation, and asked the support to refund the guy. The answer was that the customer has to request a refund. I can't push a refund to him.
Stripchat models can refund the viewers
On 14 July, I saw Stripchat announce that cam models can now have an option to refund the guy if the model feels necessary. That was a relief.
I understand that most people thought that cam models are there to make money, and take money. But most of us do have our own standards about what's right and what's wrong, what's fair and what's not fair. Accidents do happen sometimes and it's no one's fault.
There are also cases where a user tips an amount he feels appropriate and ignores what's on the model's tip menu, or he asks for something not on the menu and just tips a certain amount and thinks that the model should oblige. The model feels she hasn't a chance to say no and he has tipped already. To perform what he asks is wrong because he either does not tip according to the tip menu and he is cheating, or the model feels she hasn't agreed on the price, and he just tips and kind of forces her to submit. If she does not perform, he can shout "I have tipped". With the power to refund, the model can just refund him and then block him if he really gets annoying.
Stripchat provides us the power to refund the guy within 20 minutes of receiving the tokens.
How to refund a guy by the model in Stripchat

The tip got to be received within 20 minutes. The option will be gone after that for the model and the guy has to turn to support for the refund.

Models should go to Earnings in Stripchat. (See picture above)

Find the tip or transaction that you want to refund.

Click on the "…" (3 dots).

Choose "Refund to the user".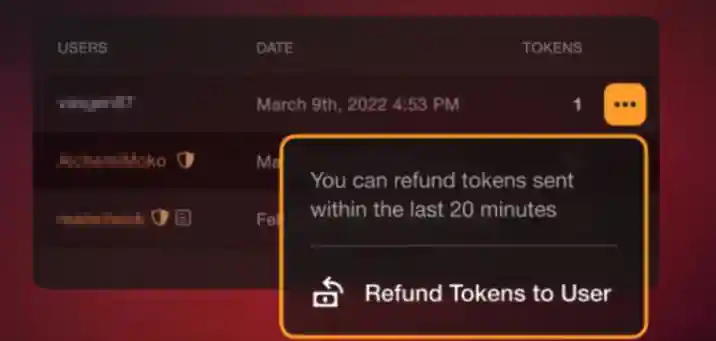 Conclusion
This is a very good idea implemented by Stripchat. Stripchat has successfully monitored and taken care of how both the users' and the models' feelings about fairness and don't want to cheat or be cheated. Well done Stripchat.