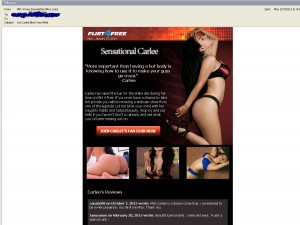 Despite the internet is around for so long, when it comes to individual websites, and especially we are talking about money and sex, we all start to be extra cautious. I live in the webcam world for just over 15 years now.  I was a webcam model many years ago and I am back to play again. I am always a viewer (Can't resist watching the sensual couples or hot girls that won't stop wriggling.  Lols)  I have seen a lot and learn a lot from the sex cam world.
I am currently cam chatting at Flirt4free and Chaturbate.  But I am also curious about what the viewers get there.  So, I have registered a viewer account and see what happens.
Flirt4free can be dated back to 1996, which is even earlier than ifriends (1998) and Camcontacts. I remember it's one of the most expensive cam chat sites because the video quality was the highest in those days. Possibly because the models were mostly from studios which mean better equipped and faster internet connection.  Not to mention studios are probably picky with the quality of the models so the cam girls are better in general.
To be a viewer in Flirt4free, a credit card is not a must.  You can register as a free member.  When they ask for your credit card detail, you can skip them for the time being, proceed with the account creation. Then browse around the site and watch the girls for a while until you think it's the right thing for you.
To be honest, I haven't heard of anything bad about Flirt4free in terms of money all these years. If you do, please let me know.  I heard viewers get a refund if they file a reasonable proper complaint of poor service.  So, if you think it's no harm to give them your credit card details, you should proceed and get FREE 120 credits to spend right away.  It also means you get to try out the tipping, buying gifts, or a short private before you commit to buy credits.  What can be safer than that?
What other problems can happen?
"Cam site starts to bill you for services you have never asked for" (Not true for Flirt4free)
This can be misinterpreted and happened in two ways.
First, a website may offer you something free for a certain period then auto-renew it if you don't cancel it.  You just need to set a reminder yourself to make the decision later.
Secondly, there may be tiny tick boxes that you didn't pay attention to on the signup page. So you may have agreed on services that you have never realized.
In both cases, you just need to keep your eyes open, look for tiny tick boxes or set a reminder in your calendar to cancel any "free" service that you may not want.  This is universal and applies to any cam chat site.
Flirt4free supports different types of membership.  The VIP membership gives the viewers the most benefits… at a cost, a recurring monthly cost.  Read the benefits carefully and decide if you would like this recurring fee.
"Cam girls ask you to send money to her outside the site"
Again, it can happen anywhere. Just follow the rules on each webcam site. And take precautions like you meet someone face to face in real life.  People on the internet are the same as the ones you see on the street.  The girl who just talked to you nicely in a cafe and now she started to ask for money from you, you won't give it to her right away, right? right?
Rule of thumb: Don't make private deals outside the website and you will be protected in many ways.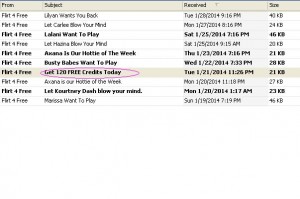 "Spam" Does Flirt4free send you lots of spam?  The answer is, yes. It often tempts you with the hottest girl online and occasionally offers you 120 FREE credits if you haven't given them the credit card details yet.  Spam sizes are small, as you can see, only 30, 40KB.  But if you still don't like to hear from them, just click the link at the bottom of the email to unsubscribe from their mailing list. If it doesn't work, call their 24-hour customer hotline, email their customer service department, or even snail mail to them as the address is provided at the bottom of their email.  So, it looks like they are trying hard to be good.
Is Flirtforfree safe for webcam viewers?  The answer is – Flirt4fre.com is safe in general. Though general rules always apply and don't make private deals outside the website.
What's more, Flirtforfree seems to get cheaper over time.  I know it's not as cheap as some Eastern European cam. But they have to compete with the other big sites like CB or MFC so when I updated the post about Flirt4freee credits cost, I noticed they provide more discounts than before. Check it out!
Related posts: