Are you an exhibitionist?  And enjoy showing your body to people?
There are many places you can broadcast yourself to the world.  Some will even pay you to do that!  Isn't that great!  Flirt4free is one of them.
All you need, is to either broadcast through your internet browser. Or download Flirt4free's "Performer Application", which gives you much more options and control over streaming.  And make the webcam viewers' experience much better.  See my other post for how to download and install the Performer Application.
Now..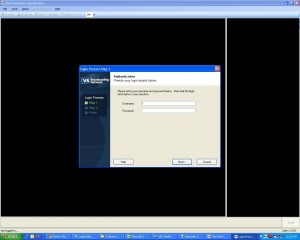 Run your Performer Application from the Start menu (if you are using Windows). Then you will be asked to login.
Unfortunately, you have to type your login id and password EVERYTIME.  The app won't remember it.  And it is case sensitive!  It's kinda annoying sometimes.  So.. choose an easy to remember id and password!  Lols.

Please don't think you are done after logging in. You are not broadcasting yet.  Press the "Broadcast" button on the top left corner to broadcast your video stream to flirt4free.
And…… You are still not done.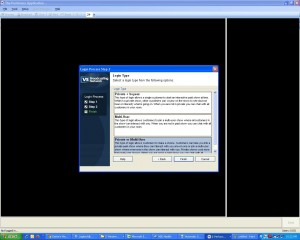 You have to click through to agree their terms and regulation stuff to proceed.
Next step..
You have to choose one type of broadcasting.  Flirtforfree provides three choices of broadcasting.
Private and voyeur
Multi-user
Private or multi-user
This gives the webcam viewers different experience when you are in a paid show.  So experiment with them and see which one suits you most. Some people may want to concentrate on one person and so Private and voyeur may work best coz she doesn't have to cater the voyeurs' needs.  Some people find it more of a turn-on if more people in her room to watch her and interact with her.  Choose your style!

Now you have login successfully.  But you are not broadcasting yet.  Press the "Broadcast" button on the top left hand corner of the screen and your video stream will start going out to flirt4free.

But… Somehow you are still not chatting to the whole world yet.  Please press the "Chat" botton next to the "Broadcast" button then your webcam session will be on the way to broadcasting.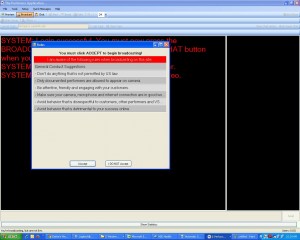 Why did I say "on the way"?  It is because you are still not on yet. haha…. They are going to ask you to be nice and follow the rules all that stuff before you can really really broadcast and talk to their viewers.
Now.. we are talking…
Have Fun!!!
x
Click here to sign up as model.
Click here to watch the hotties.