I arrived at xlovecam.com and at first glance, I thought it is Livejasmin.  It's the same kind of red as Livejasmin I even thought they may become whitelabel of it.  Not that it's uncommon. Many small cam sites failed after a while and they direct their cam traffic to some bigger cam sites instead.
Anyway, xlovecam is not a white-label. It's running well and sound since 2006.  I can see almost 400 models online at the moment.
Go to XLoveCam  Go to XLovegay.com
Setting the language of Xlovecam.com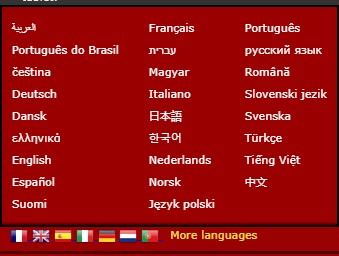 Apparently, xLovecam supports many different languages. To be honest, I don't recognize some of them.  But if English is not your first language, scroll at the way to the bottom of the site and look for the flags and "more languages", and set the site language to the one you like.
Filtering for models
Browsing for girls is quite easy as there are different filters you can set to find the type of girls you want.  From typical categories like
girls, guys, couples, lesbians, gay, TS, mature, group, or
body parts like tits, hair color, hair length, eyes color but not ass (Lols, the owner is not an ass man)
age
price: there are no models willing to do private show in < $1, but there are loads for $1-$2, $2 -$3, $3 – $4 and > $4.  Those who charge > $4 are mostly couples.
Free chat vs Private chat
Worth noting that no hardcore is allowed in free chat.  Models can go topless for a maximum of 3 minutes after they received a tip (or what they called a bonus).  Then she has to cover up again.  Strictly no hardcore nudity is allowed in free chat.  XLovecam wants to reserve it in private chat.
Recently, I noticed that they are promoting "Topless Monday" #toplessmoney on Twitter. Models are invited to join this topless Money party so that they are officially allowed to go topless for that day without the 3 minutes limit mentioned above. Date and time?
Date: every Monday
Time: Monday 3pm – Tuesday 3pm
Messaging the Models
xLovecam allows text messaging between models and viewers no matter you are online or offline, and they are available for free.  As I said in my other post, there are moments you wish you could reach the other person and leave him/her a message but not all cam site support that.  Xlovecam is one of those which allows it which is good for building a better relationship between one another. In recent years, many models start their only fan clubs, either with the cam site they broadcast with or set up Onlyfans or FanCentro type fans account to let you access to his/her private life more.
Other names of XLovecam
These are white labels set up by third parties using Xlovecam's broadcasting feeds, so there's nothing new. If you have an account with XLove cam, you may ignore the following:
Conclusion
XLovecam is probably one of the largest European cam after Livejasmin.  I shall continue to investigate more about it and let you know.  Do leave me a message if you have any more information.  Thanks.
Meanwhile, have you heard of these European cam sites?