My first impression of Amarotic
Amatoric.com is a German-based dating/videos site back in 2004.  We don't know when did they introduce live chat, but here it is. Amarotic has dedicated a section for webcam chat on top of their regular videos, panty selling, and dating services.
Therefore, when you first arrived at amarotic.com, you will be welcome by pages of videos for sale. You need to click on "Live Chat" on top of the screen to find the ladies to chat with.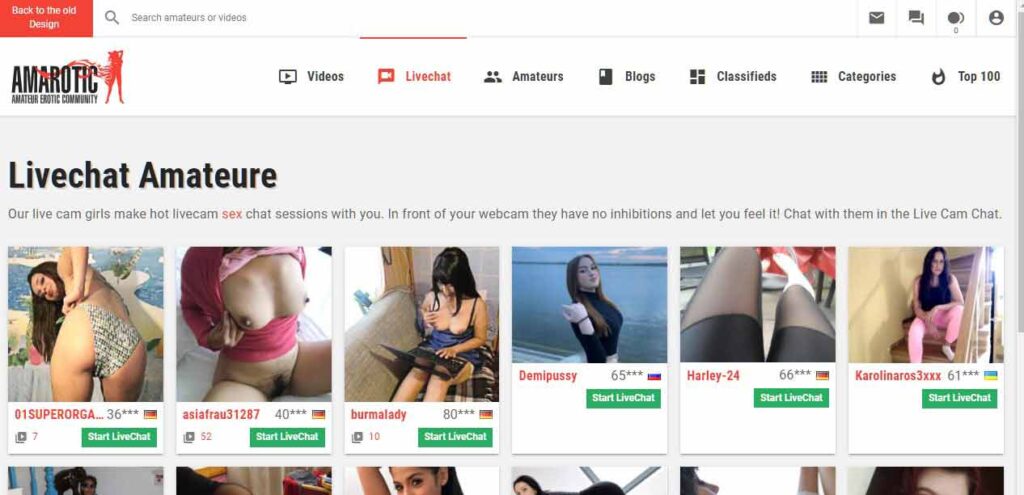 Any free chat on Amarotic?
I am afraid there is no free chat on Amarotic, no matter you are registered or not registered, with credits or without credits. When you click on one of the girls' thumbnails, you will see the price per minute of that model.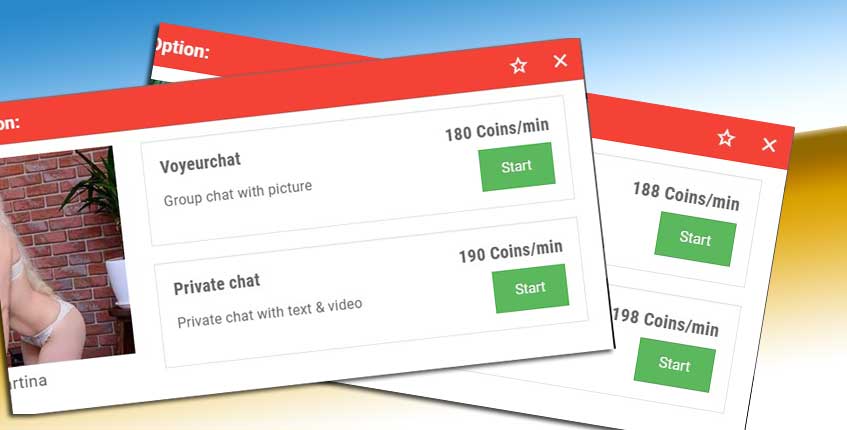 As you can see, there are two types of chat on Amarotic.  One is voyeur chat and the other one is private chat. Voyeur chat means group chat with pictures only.  You won't see her live performance and you may be with other people in the same room.   For another 10 coins, you will get a private chat with text and videos.
Costs of chat on Amarotic
Some models charge around 190 coins/min for voyeur chat and an extra 10 coins for a private chat. Some charge over 220 coins a minute, but there seems to be no positive correlation to the hotness of the girls. The hot girl above charges only 190 coins for a private chat but I have seen chubby mama charges over 220, so hunt around and do your research before you commit.
How much is a coin on Amarotic?
For €1 you get 100 coins. But you have to buy a minimum of €20 which means you will get 2,000 coins.
Their coin packages include:
€20: 2000 coins
€40: 4000 coins
€100: 10,000 coins
€300: 30,000 coins
There is no bulk discount if you buy more which is kind of disappointing.
The good thing about Amarotic
One good reason I can think of for chatting with Amarotic's girls is that a lot of these girls also sell sexy, naughty videos there. If you start to like her and want to have custom videos of her, it is possible and feasible. Unlike many other chat sites, camgirls there only want to sell you videos that are already posted there or want you to join their Onlyfan to see non-customized pictures and videos.
Messaging on Amarotic
If you just want to order some custom videos, it seems too expensive even to pay for the group chat at around 200 coins (€2).  You can use the messaging function there.  Again each model charges a different rate, ranging from 15 to 90 coins (ie. €0.15 – €0.9)
Summary
Amarotic is a German video-based naughty site that incorporates live chat to its site. If you like German or European girls and would like to buy their videos or panties then it's great. Price-wise it's not expensive and the only downside is that there is no free video chat to see the quality and speed of her video first.
The girls all look rather amateur, if you want to chat with more amateur, do read my post about where to find amater cam girls here.  But if you are looking for some better quality HD video streaming and nicer makeup girls, you may want to check out Livejasmin or Xlovecam.
This is my first impression of amarotic. Please leave a comment if you have more information about it.