Sexchat.hu is a Hungarian cam site that features not just Hungarian girls but models from other countries. Test your national flag knowledge to see what languages these hotties speak as they won't prompt you when you mouse over it. Lol
How do I know it's a Hungarian site? The url sexchat.hu has a domain TDL(top level domain) of ".hu", which is the international country code of Hungary.
Anyway, Sexchat.hu seems to have a decent number of girls online at a glance. I am going to see what can I get without even being registered as a member. And to find out whether it's really worth signing up for. Stay tuned.
Free chat on Sexchat.hu
Yes, there is free chat on this site. You can get free chat even without registering as a free member. No need to give your email address or credit card number. However, you can only see models who run "free chat" rooms and for a short period of time. As soon as time is up, her room is not available and you have to go find someone else.
VIP chat
The models apparently can choose to broadcast as "free chat" or "VIP chat". It turns out the VIP chat is another name for group chat in many other cam sites. And if you are not registered then you don't see anything in these VIP chat rooms.
No. of cam models online
At late evening EST time there are about 40 models online. But that's their bedtime. By 2 a.m. EST, there are about 70 models. According to their site, they have over 400 models at peek time.
If you are only interested in girls, then they have a "Click here to hide male rooms" to save you from seeing all the hunks and twinks.
If you have click that by accident, then "Click here to see male rooms too" and the male models will reappear in the Who's Online page. Unfortunately, unlike XloveGay, there is no male rooms only view. If you are looking for gay cam, you still have to hunt among the girls' profiles.
Categories and Filters in Sexchat.hu
Look out for the "custom filters" arrow just above the rows of girls' profile pictures. Click that and you will see a long and comprehensive list of filters you may apply to find the right girl for you. There are a few fetishes I don't even recognized.
For example, guess what is dacryphilia or dacrylagnia? It's someone who turns on by seeing or hearing someone sobs or cries.
They even have a filter for a sexy tongue. I know about this one. I have been tipped or even engaged in a private show to open my mouth, show my tongue, and use my finger to brush my tongue. I have yet to polish my skill on this to make it even sexier. Please feel free to leave me a comment below on how to do it best.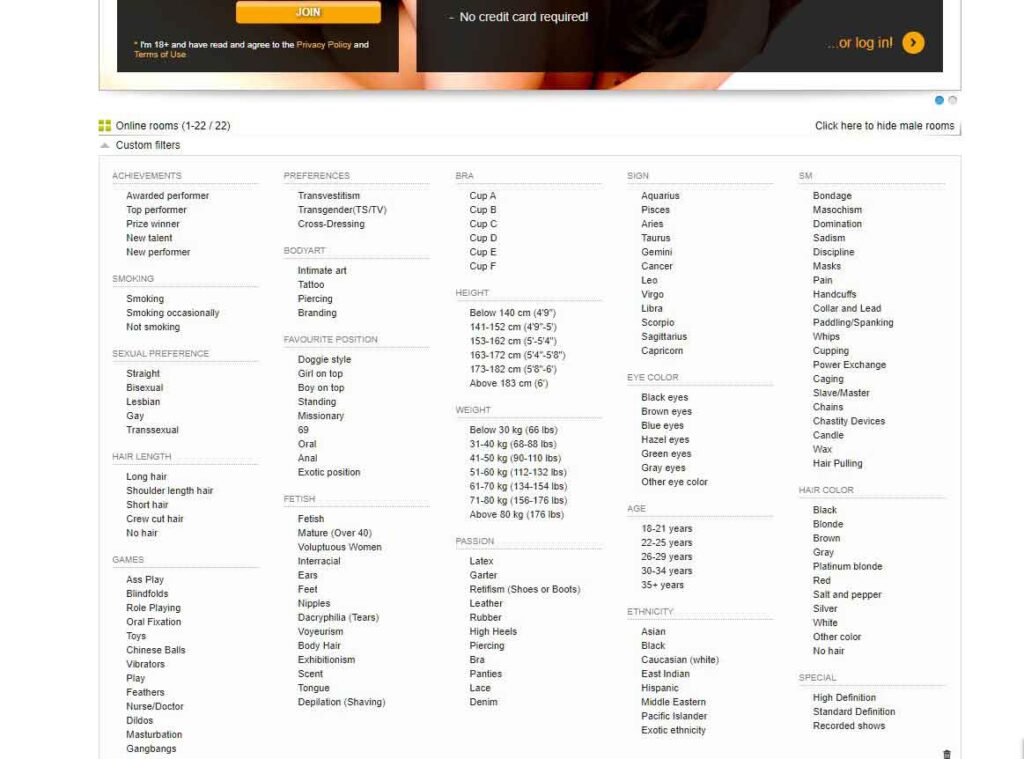 Cam2cam
Yes, there is cam2cam in Sexchat.hu. When you are in the model's room, check out the left hand side where there is a camera symbol. Click on that and you can start a C2C, if you are a registered member.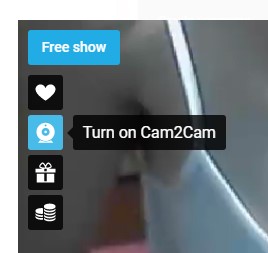 Summary
In short, Sexchat.hu seems to be a decent sized cam site with a reasonable number of girls. I know you can't compare this with Chaturbate or Livejasmin in terms of models. But it's still a good size with plenty of choices.
They promised 3000 free credits if you sign up so that's a good start. Do leave a comment below if you have tried this site, and let me know what you think.