Don't worry! Behringer is not joining the porn cam industry. In Jan 2022, Bongacams announced that the European cam site EuroLive is joining Bongacams. This allows both EuroLive and Bongacams to expand to an even bigger scale. But if they give out Behringer's Eurolive series of professional audio equipment to the models and customers, I am sure it will be even better.
When you log in to EuroLive, you will see the announcement:
"Your favorite Eurolive has been updated! Now the cam site has a brand new layout with plenty of new interesting and useful features. The website's interface has become much more convenient and user-friendly and Tokens are much cheaper now! Besides, in addition to all of your favorite models, you will find thousands of new girls who look forward to meeting you! You can log in to your account using your valid username and password. If you have encountered a problem, please use the password recovery form or contact our customer support team. "
What it means is that EuroLive has switched to using Bongacams' web interface, with EuroLive's models having a higher priority on the whos online page such that EuroLive's regular customers can still find their favorite models easily (at the top of the page), without scrolling through thousands of Bongacams models that are now included in EuroLive.
Differences between the old EuroLive and new EuroLive
When the two cam sites combine, both are going to benefits from the features and varieties the other site brings. These are the obvious differences after the conglomerate.
1. Number of models online on EuroLive
As I said earlier, EuroLive's models, particularly French-speaking models stay on the top of the page of online models. Existing customers of EuroLive can easily find all the French or European language speaking models, followed by the models from Bongacams. As you can see from the screenshot below, existing EuroLive models have a country flag stating where they are from but all models from Bongacams do not.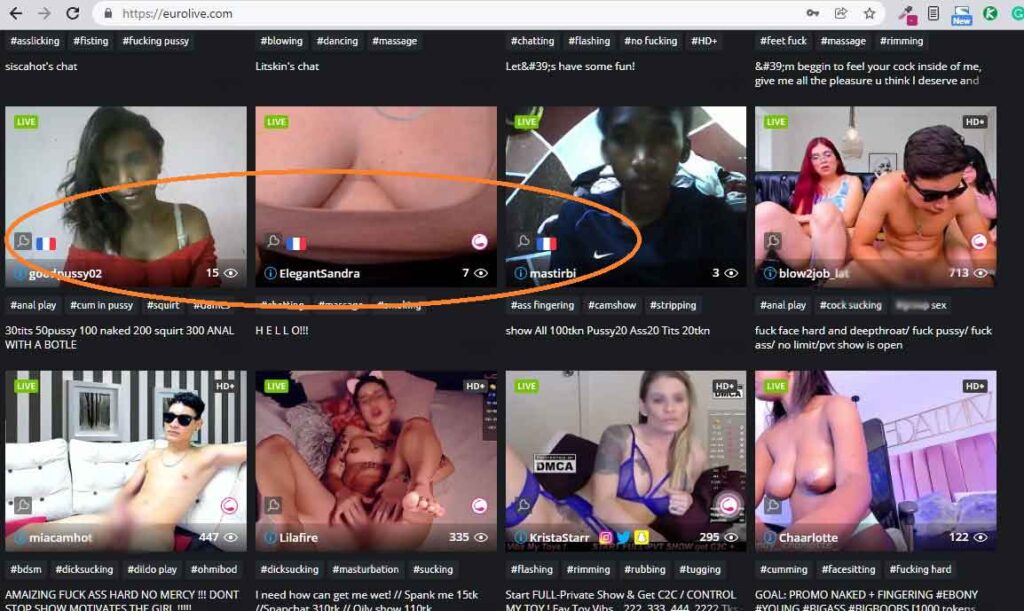 There was no clear way to find out how many models EuroLive had before but Bongacams certainly have thousands of models online all the time. Customers on both EuroLive and Bongacams certainly benefited from the extra new faces available to them in one cam site.
2. EuroLive's new layout
EuroLive has a completely new look, new features, and new ways of buying coins as they have adopted Bongacams' software.
You can now clearly see how many models are online, how many women, couples, men, trannies, and also easily find the new models. Just check out the top menu bar for these categories. If you are into spying or looknig for hot action right away, try the spy mode whcih you pay a small amount per minute (compare to the private show) to peek into someone else's private show.
The "Cateogory" button also help you to quickly locate models who would have hairy pussy or hugh tits, or whether she will do anal or squirt. These information was not available before.
3. Support more languages
EuroLive's web site used to support English, French, Italian and Spanish only. Now, with Bongacams' software, it supports 36 languages! If you speak any one of these languages then you don't have to struggle with the navigation on the site.
English
Русский
Čeština
Eesti
Lietuvių
Български
Latviešu
Polski
Українська
Suomi
Српски
Slovenski
Dansk
Norsk
Español
Svenska
Ελληνικά
Magyar
Slovenský
Română
Português
Hrvatski
Français
Italiano
Deutsch
Македонски
Nederlands
Türkçe
Chinese
한국어
Japanese
हिंदी
العربية
4. Change from coins to tokens and it's cheaper
EuroLive used to charge everything in coins but now it is changed to tokens. It used to be:
| Old EuroLive Package | Price (€) | Cost per coin (€) |
| --- | --- | --- |
| 150 coins | 29 € | 0.193 € |
| 260 coins | 49 € | 0.188 € |
| 370 coins | 69 € | 0.186 € |
| 700 coins | 119 € | 0.17 € |
| | | |
| New EuroLive Package | Price (€) | Cost per tokens (€) |
| --- | --- | --- |
| 156 tokens | 10 € | 0.064 € |
| 312 tokens | 20 € | 0.064 € |
| 984 tokens | 50 € | 0.0508 € |
| 1974 tokens | 100 € | 0.0506 € |
| | | |
The cost per token is definitely lower than coin. It is about 3 times cheaper than before. Whether it really benefits the customers depends if the models have put up the price 3 times as well. Please let me know your experience if you are a EuroLive regular and drop a message below. <3
5. Games and features from Bongacams
Cam2cam: if EuroLive didn't support c2c, now it does. You can now turn on your cam and show yourself to the model.
Tip menu: Eurlive didn't have tip menu before and models have to list their menu on the topic of the room. Now both models and customers have an easier time to set up or find the tip menu.
Spy model: you can now spy into other people's private show at a lower-than-private per-minute cost. You may peek a few seconds and leave any time you like. A good way to watch some hot, hardcore actions
Games: Bongacams chatbots allow many different games to be played in the chatroom. It just needs the models to choose and set up a few games and the room becomes more interactive. Games include wheel-of-fortune, roll-a-dice, slot-machine and Bingo. Try it yourself.
Conclusion
The new functionalities and features are welcomed by both models and customers. The move is certainly a win-win situation for everyone. If you haven't joined Euroliveor Bongacams yet, I recommend you join Bongacams as they are one of the biggest cam sites at the moment and they do have more manpower and resources in case you need any help. In fact, while I am writing this article, EuroLive is down – "under maintenance".