I will post the latest promotion, discount codes, and competition held by Camsoda for the customers here. You may get discounts or free tokens for spending by doing different missions. And if you know of any good deals that are not listed here, please feel free to comment below and share the good news.
Here's what I've found.
Earn 1000 free tokens on Camsoda
I have lost track of when does this competition start. But at the moment, while I am watching the hottest girl on Camsoda, I saw this message under the chat messages about how to win 1,000 free tokens.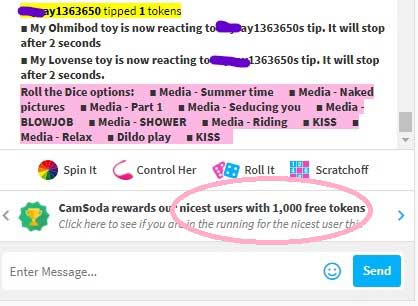 How to earn the 1000 tokens each week on Camsoda
Each week, Camsoda will reward the user with the most "Likes" from the cam models one thousand tokens for free.
This means you have to be "nice" to the models so that they will click the "Like" button to like you and upvote you. The ways to increase your Likes include but are not limited to:
Be polite to the cam models. That's the least you have to do. A "Hi", or "how are you" is better than "open pussy" or "show tits" as your very first thing to say to a model.

Choose something on her tip menu and tip a few items. Needless to say, the higher the tip value the better. It can be buying her Whatsapp, Snapchat, or just tip to see her fantastic ass and nice nipples.

Be useful to the model. Chat with the models or even the other guys to help to kill the dead air, making life easier for the models.

Take her to the private shows for if you want some privacy when play.

Don't be shy and ask the model to click that Like button for you, provided that you have done enough and tipped enough to impress her.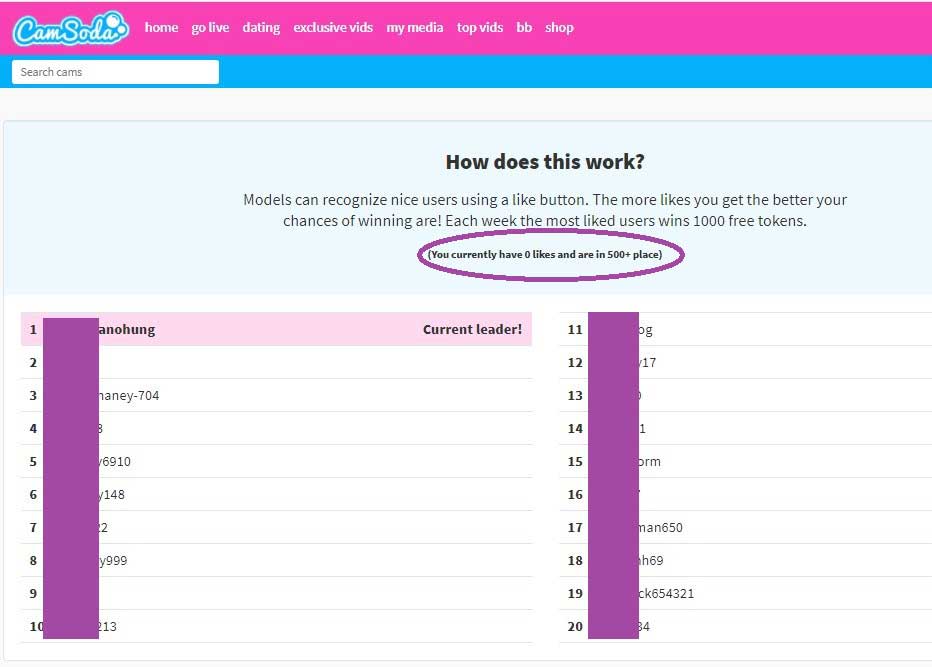 You can go to https://www.camsoda.com/most-liked to check your current status (see screenshot above).
After all, it's just a little something offered by Camsoda to give back to the kind customers. Don't be too serious about the competition.
Not a member of Camsoda yet? See this post about how to join and get the extra 50 free tokens from Camsoda when you join.
Meanwhile, many cam sites also have their own promotions too. Check them out!