Do you ever feel lost in the swarm of icons, symbols, and words that are plain English but they mean nothing when put together on a cam site? Every cam sites have its own conventions. Even if you are a cam-watching veteran you may still feel lost in a new cam site and overwhelmed by different icons and symbols that are used only on that site, or worse, also used on other sites but mean different things.
I am going to explain the various icons, symbols, and wordings using Stripchat as an example.
When you are attracted by a particular cam model and you click through to her chatroom, you will typically see something like the picture above. Let's go through them one by one.
Keys to Stripchat live chat room
The following list goes with the numbering in the picture above.
1. Profile
It's always good to know a bit more about the model before you open your mouth and ask questions that she has already explained or answered in her profile. Not to mention it is safer to check out the model's rules before you got banned and don't even understand why.
2. Photos, Videos
I will skip the photos and videos for now and concentrate on the live chat and show unless she goes offline or goes into a private show. The pictures and videos are always there.
3. Join the fan club
Many models may have a fan club. Joining her fan club gives you a different status in front of her (by showing a badge next to your username on the user list and when you chat.) There are multiple levels of fan membership. If you put your mouse over someone's fan club member symbol, it will show what level of fan club he is at and how long is the subscription. The three levels are soldiers, lord, and the prince with the prince being the most prestigious. Different levels have different benefits. It can be free exclusive content, free spying on her private show, or unlimited PM. Different models set them differently. Check out my Stripchat fan club vs Onlyfans article for more details.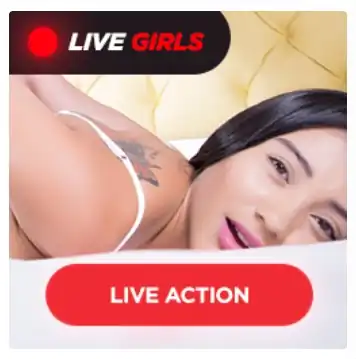 4. Sound
You can toggle this to turn the sound on or off on Stripchat and separate the sound control for other applications on your phone or laptop. A typical setup will be to turn off the model's sound but keep the device's sound on so that you won't miss any important notifications or phone calls.
5. Settings
The gear symbol stands for settings. In Stripchat, you can change the video quality by clicking on this icon. If you don't know what you are doing, then it is better to leave it alone. The "Auto" option is quite a safe option too.
6. Full-screen mode
Click this to turn on the full-screen mode. Her video stream will fill up the whole screen and overlay with the chat on the left. To exit full-screen mode, find the following symbol:

on the top right-hand corner of the screen and click on it, and you will be brought back to the normal view. Having said that, Chaturbate also has a full-screen mode too.
7. Search box
The search box on Stripchat is probably the most useful and powerful search box I have seen among the different cam sites. You can basically type anything: a model's name, a niche, a fetish, an outfit, or an action, Stripchat will search everywhere. No matter whether it's the model's name, category, the model's tip menu, or hashtags. It is great because I am sure you have the experience of picking a model from a particular category, and when you visit her room, she is doing something totally different and was not prepared for the niche you would like. Being able to search from the tip menu will give you a higher chance to get what you want because even if she is not performing that, she is prepared as it is on her tip menu.

8. Private
The word "Private" between "Public" and the number of users in this room does not mean a private show. It means private message, also known as PM. If you see other users ask the model for a PM, that means he wants to have a private conversation with the model. The reason why they have to ask is that not everyone can PM the model. Only Ultimate members of Stripchat can PM the models freely. Other users have to wait for the model to PM him before he can reply and start a private chat.
9. 749 tk left to reach the goal
Most models have a goal set for their room. It is typically a promise to do an action, say, go naked, or cum show if the number of tokens requested has been met. In this case, her goal may be 2,000 tokens and she has received 1,251 tokens already. 749 tokens to go. A fan can help by clicking the green "Complete Goal" button next to it and tipping the required amount without doing the maths while the cock is hard and the hands are busy. Stripchat certainly understands its customers and always tries to make it easy.
10. Wheels of Fortune
It is one of the many games that are available on Stripchat for you to play with the models. The model sets a price for spinning the wheel, say, 30 tokens. You tip 30 tokens and the wheel shall spin. You get the prize which the arrow lands. It can be ass spanking, blowing you a kiss, twerking, or a pussy closeup.
11. Tip menu
The tip menu shows most of the things that she is happy to do at what cost. It is always good to check this out and not just tip 5 tokens and make a request. Most things have a price. If what you want is not on the menu then you'd better ask.
12. Heart
If you like her and would like to add her to be your favorite, then click on this heart symbol. I have already "favorited" the model and that's why it is a solid red heart. If you haven't marked the model as your favorite, then it will just be a heart outline. The number next to it is the number of favorites she has.
13. Bell
Even if you have marked a model as a favorite, you have to separately choose whether to receive a notification when she is online or not. Many people click the favorite button anyway so that the model will appear as "Your Favorite" on the top of the home screen of Stripchat. But it doesn't necessarily mean that you want to receive notifications for all of them. Turn on this for the model you really really wish to see when she is online.
14. Start Private
"To start private" is to start a private show with the model. You start a private show for many reasons. Maybe:
– You don't want to be distracted by other guys' chatting
– You don't want her to be distracted by other guys' chatting and tipping
– You don't want to share her with the others you are obsessed with her
– You want to do cam-2-cam with her and be personal
– You don't want other guys to know that you tipped for that naughty request
15. Send a Tip
Click on the "Send tip" button to send any tip amount you want. It has preset buttons for 20, 50, 100, 200, 300, 500, 1000, and 2000 tokens, or you can enter a custom amount. The red pin next to the "Send Tip" button is where the tip menu is. Click on the tip menu to see what she has to offer and tip for the one you want. If what you want is not on the list, you can always ask.

How to contact the model when she is offline on Stripchat?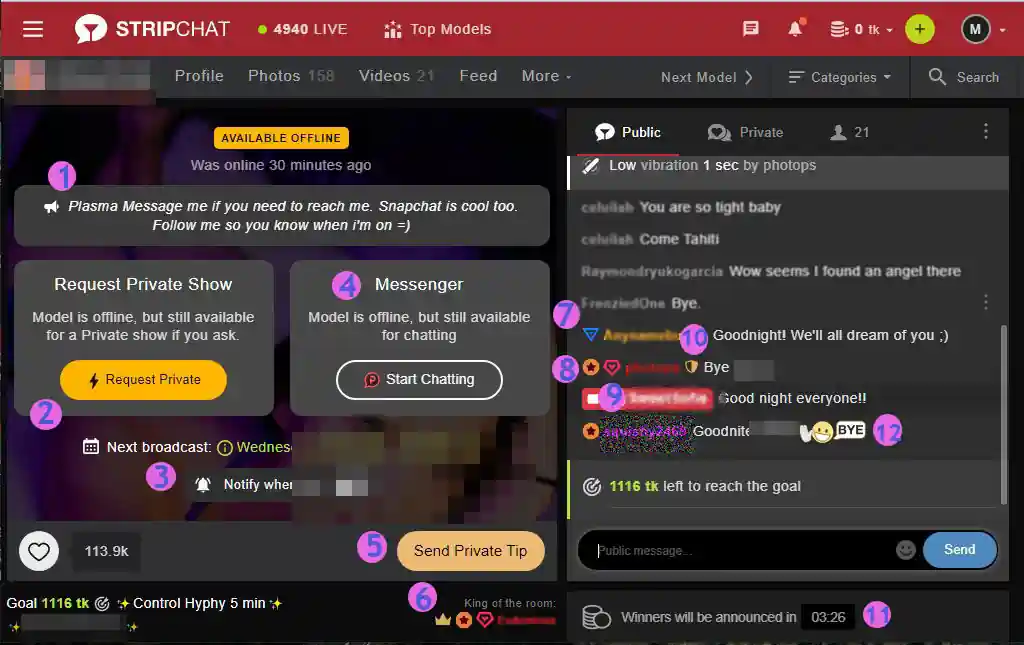 Sometimes when you saw that hot girl on Stripchat's front page and by the time you click through to her room she is saying bye-bye to everyone. Now what? How much do you understand from the picture above? Read on to decipher them one by one.
1. Plasma Message
"Plasma Message me if you need to reach me." This is a message from the model when she is offline. We will talk about Plasma Message at point 4.
2. Request Private
Yes, even though she is offline, she has opted-in to Stripchat so that if someone is interested in a private show, she may accept it if the situation allows. What will happen is that, if you click "Request Private", the model will receive a notification from Stripchat stating that you would like to have a private show. It is up to her to accept it or not, and she has 10 minutes to decide. If she is available, she will log in to Stripchat and start a private show with you as normal. If she can't start the show, you will be charged nothing. You would have spent up to 10 minutes being frustrated and hoping to get to see her and play with her.
3. Notify when the model goes live
Click on this to turn on the notification for this model, so that when she is online next time you will be notified. This way, you won't miss any of her show
4. Messenger
Plasma Message is an app you can download from Apple Store or Google Play store. This is Stripchat's own messenger app for models to chat with the guys when they are offline. It may be a good idea to have a separate app to talk to your sexy model. You may not want her hot replies to pop up on your phone notification when your girlfriend/wife/colleague is looking at your phone.
Models may charge for your text message, pictures, and videos. But yes, you can send her pictures or yourself. I suppose this is how Stripchat tries to compete with fan sites like Onlyfans and FanCentro which help the models to monetize. Each model may charge differently though so check out the price before you send anything.
5. Send a Private Tip
This has nothing to do with a private message or a private show. It is just an offline tip to the model. It is for you to show your appreciation for her even if she is offline. As a model myself, I found it extra special because someone appreciates me even though I am not actively chatting with him. He may be jerking off with my pictures and videos and cum and leaving me a tip with a tip note about his wonderful cum.
6. King of the room
The user who tipped the most in the last 12 hours in her room will be crowned the King of the Room. If you move your mouse over it you will see how much has the King tipped and how much have you tipped so far. If you want to show off to the model to get her attention, grabbing the king title is one way.
7. Soldier Level Fan Membership
The blue triangle is the badge of a fan with soldier level (the lowest). It costs $9.99/month.
8. Ultimate member
A dark red star in an orange circle is the badge for an ultimate member of Stripchat, it is not per model. Ultimate member can PM any model any time he wants and enjoys many benefits. See below for more details.
9. Prince Level Fan Membership
This red badge is for the highest level of fan membership: prince membership. It costs $49.99 and should enjoy the most benefits from the model. The middle-level "Lord" is not shown in this picture. It is a purple badge.

Besides soldier and prince, there is also the lord fan member. Among the three levels of fans, the prince is the highest rank in terms of status, but he has no power, unlike the Knight.
10. Knight
This black and gold shield indicates that this viewer has a knight status in this model's room. This is similar to the moderator in other cam sites like Cherry.tv, Cam4, and Chaturbate. In Chaturbate, if you get acquainted with the model and gain her trust, she can promote you to be a moderator in her room. In Stripchat it is more than that.
Requirements to be a knight in a models' room in Stripchat
You need to be an Ultimate member of Stripchat. See below for how to get the membership.

This is the difficult part. You have to get acquainted with the model so that he/she is comfortable and happy with you. Then either the model initiates it or you may request it. The model is the person who decides who gets to be the knight, not the support or administrator on Stripchat. To facilitate that, you may want to:


Spend on the model every time you see him/her. Some guys don't tip but try to be helpful in the room. They send messages to ask other guys to tip the model or thank other guys who tip and speak as though he is the moderator. I understand he is trying to showcase his ability as a mod but the model may not like to run the room that way. It is best to ask to be promoted if you really want to, behaving as a moderator when you haven't got granted the rights may just be annoying to the model.

Be a regular in the model's chatroom

Talk to the model and be nice so that the model starts to know you better

Be polite to the other people in the chatroom. You may even chat with the other guys in the room to help the chatroom nice and pleasant

Show justice and fairness so that the model can feel that he/she can trust you to help to monitor her chatroom

Ask to be promoted to knight after a few weeks.

Make sure you check with her about how she would like to run the room, the rules for banning people, etc. More tips and guidelines about being a good moderator can be found here.
How to be an Ultimate member on Stripchat
Go to the "My Profile" section and click the "Upgrade" button.

If you are not so sure about this membership, you can get a free 7-day trial if you buy a $49.99 token package. If you do plan to buy tokens anyway then this is a good chance to try it out before you commit to subscribing to the ultimate membership. This gives you 540 tokens and 7-day full ultimate members' benefits.

Alternatively, you can subscribe to a monthly subscription, or an annual subscription without buying extra tokens. It is $19.99/month or $199.99/year. That means it is 2 months free for an annual subscription.
Benefits of being an ultimate member of Stripchat
Be the moderator/knight in the model's room – Only the ultimate member is qualified to be appointed as a model's knight. And a knight can mute users in the chat room for 24 hours.

Invisible mode – Stripchat ultimate member may go invisible and move among different chatrooms and the models will have no idea that he has visited (unless he reveals it to her by sending the model private messages).

Private messages – You don't have to request a model to PM you anymore. You can send any model any private messages at any time.

Anonymous tips – People have different reasons for tipping as an anonymous person. Whatever your reason is, an ultimate member can tip models incognito.

Special badge – You will have a special badge when you appear in a chatroom. The model can see your status and will be more attentive to you.

Emoji – If you like to use emojis in the chat then this is one extra benefit for you. Not to mention the use of simple fun emojis spice up the chat and make you stand out more.

Priority support from Stripchat.
---
I hope this Stripchat guide helps you to navigate Stripchat better. If you have other questions about Stripchat, feel free to leave a message below and I will try my best to answer your questions. Or check out the Stripchat-related posts below.
On a similar note, there are many good cam sites around. Have you tried any of these?