Want strictly ASMR, BDSM, bondage, cock rating, cooking, cosplay, corset, cuckold, domination, Emo, foot fetish, goth, heels, interracial, JOI, latex, leather, mistress, nylon, outdoor, piercing, pregnant, role play, slave, swingers, tattoos, video games, yoga cam shows, and often you don't get what you want in that category of camgirls? Try Stripchat.
Not Vanilla Stripchat
Stripchat tries to please both viewers and models by focusing more on the fetishes that guys want and cam models who can provide.
We know how it is. A guy goes into a camgirl's chatroom that claims to showcase feet fetish and you can't even see her lower body, let alone feet or heels.
Camgirls who specialize in role-play find her room fill with generic viewers and not particularly interested in role-play. Stripchat has a new policy to fix this.
Verified fetish cams

When you click on a category from the left sidebar on Stripchat, it will show you a list of cam models that belong to that attribute. Look out for the blue badge with a white tick. (See picture above) It means the models listed here have submitted at least 30 seconds long video to prove that they can or will fulfill the requirements of the fetish.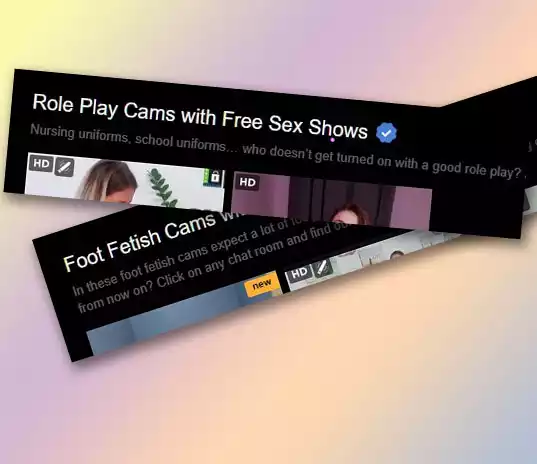 Are you looking for spanking, slapping, pinching, collars, and leashes for BDSM? Or a sexy nurse, maid, or police officer under role-play to make your fantasy come true?
Other non-verified fetish cams
Stripchat may add more different fetishes in the future. By all means, that's not all the kinks that people have. What about the fun balloon fetish? Do you enjoy blow to pop or sit to pop more? The giantess? Or the super cute fuck teddy bear cams?
If you search in the search box of Stripchat, I am sure you will find something for yourself.
Camcontacts' fetish cams and BDSM cam
Camcontacts has a generic fetish section and separately a dungeon section. I've checked both of them and they overlapped a bit but not entirely.
Camcontacts has no free video chat. You need to look at the profile of the model to see what she is like and what sort of shows she can provide. You can also have a text chat with her to ask any questions you may have before you start a show. Another place to look is their viewers' forum. It allows you to talk to other viewers and get girls' reviews and suggestions. I know this is very different from the current trend of cam sites in which nude video chat is everywhere. You get to see almost everything before you commit to a show. But Camcontacts started in 2001 and is still up and running after 20 years. They still have customers! So I believe there is something with the site that keep it going. Maybe Camcontacts picks the best models and disciplines them well. Maybe it has better customer support.
Take a look and see if you can find what you want in Camcontacts.