Who doesn't like balloons? It's colorful. It's fun. Some people find it exciting and sexually arousing too. If that's you, then you are a looner with a balloon fetish. The good news is that it's well-recognized and are plenty of pictures and videos online you can view and enjoy.
However, everyone's fetish is slightly different, not to mention pictures alone are not enough to express the action of inflating a balloon to blowing up one. Balloon fetish is only a group name for one who loves balloon play for sexual pleasure. Different people want it done differently, and it needs to be very precise to help to reach that climax. For example, some may like:
To enjoy the tactile sense of touching a balloon especially if one likes latex.
To enjoy the squeaking noises of the balloons.
To enjoy the curvy shape of the balloon, just like the big round tits or bubble ass. And it's not just when it's fully inflated, one may like to see the balloons being sat on and squashed. That way it creates different curves, and the plastic becomes thinner. The intense feeling of the balloon may get popped soon increases the excitement of the watcher.
To enjoy the smell of the plastic
To be reminded of the various good moments in life when balloons are all over the place for decorating the different events in life.
To see a balloon being inflated. It gives the balloon life of its own. According to Wikipedia, "some may become anxious and tearful at the very thought of popping balloons"
To enjoy the surprised expressions on the girl's face when the balloon pops, is comparable to watching her having good sex.
To enjoy watching a balloon being tortured
As you can see, people who have balloons fetishes can be very specific. A generic video you downloaded from the internet may not be exactly what you want. What should you do?
How to get the exact balloon fetish porn you want
You have two main channels to get the balloon porn you want.
One is to pay for a custom-made balloon fetish porn that suits your preference on one of the clips for sale sites. But you have to be very specific and yet you still can't really make it go the way you want it on a minute-by-minute scale.
The second way is to find a looner cam girl online who understands balloon fetish, then ask for a private show that you are allowed to record. If watching a fit, muscular guy to pop or torture a balloon is your way of playing then there are plenty of fit guys on cam too. This way, you get to direct the show on the go and it will fit your demand in very fine detail.
So, where to find the cam girls or cam guys who understand balloon fetishes? Read on.
The answer to this question is that you may have to look into the different big cam sites. Only big cam chat sites have plenty of models and thus have experience in fulfilling different viewers' demands. I have done a bit of homework for you so this will have you get started. Here's the list: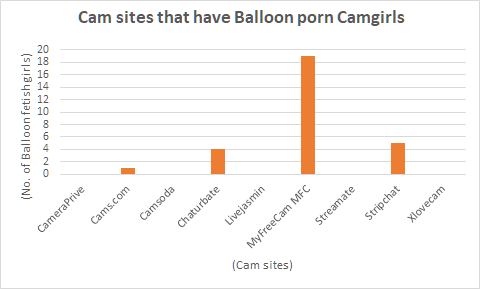 Top cam sites with balloon-popping girls
MFC balloon porn
MFC seems to be the leading cam site with girls who understand how to play with balloons and do balloon porn. Topics and tags for balloon sitting, riding, or popping like b2p or s2p are all over the topics of their chatrooms. No doubt they understand how and what to do to create that intense moment and drive you to the climax.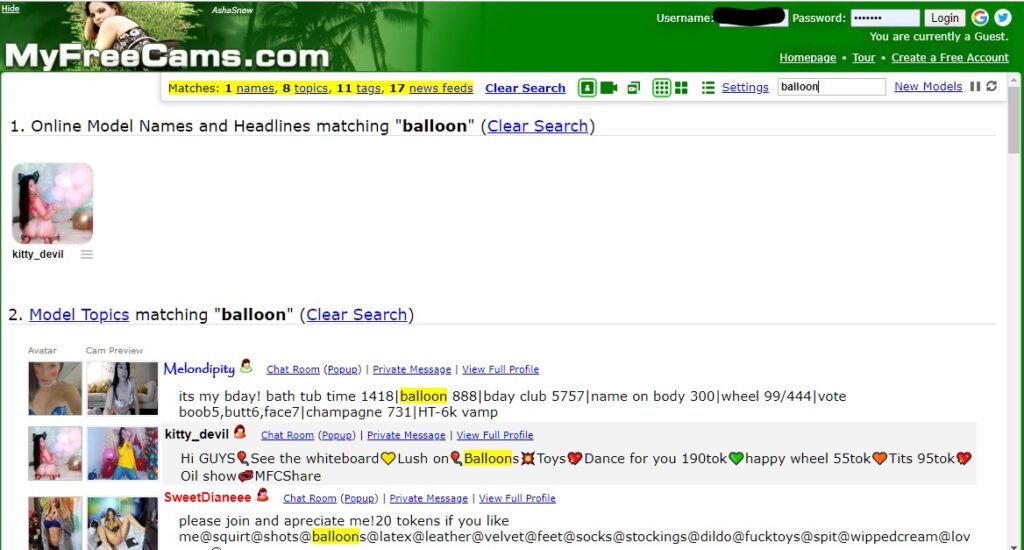 Stripchat balloon cams
Thanks to Stripchat's powerful search, it lets you search for anything. You type in the word or names you want and it will search in the models' names, the models' tip menus (therefore you know you can tip for it and get it), tags, and room topics.
The search in the tip menu even lets you find out the cost and you may compare different shows with different models! That's fantastic! No more visiting each room and asking her the same question. I strongly recommend giving Stripchat a try.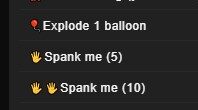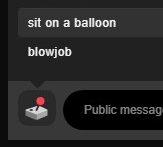 Balloon fetishes on Chaturbate
Chatubate is the biggest cam site by far. Although when I search for balloons it only showed 4 cams. Maybe there are more balloon-specific terms on site. You may try "popping", and "blow up", or anything goes as Chaturbate allows models to use free text with tags so it can be anything. One may have birthday parties on CB and stuff the room full of balloons. Search for "birthday" and you may convert one more model to love playing with balloons on cam. This was discussed in the camgirl forum before about girls trying out balloon play. See below for what they say about it.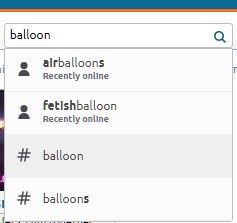 Cams.com balloons model
In the time zone that I was searching for balloon porn on cams.com, I found only one cam. Her model name is "balloons". Although there is only one. It's much more rewarding than the other cams like Livejasmin or Streamate which claim that they show you a page full of girls that fit your search for the balloon, but there is not one single balloon in sight. Whereas with the model "Balloons" on cams.com, the profile picture is her room covered in colorful balloons. No more "Wait a minute, let me see if I can find any balloons in my drawer"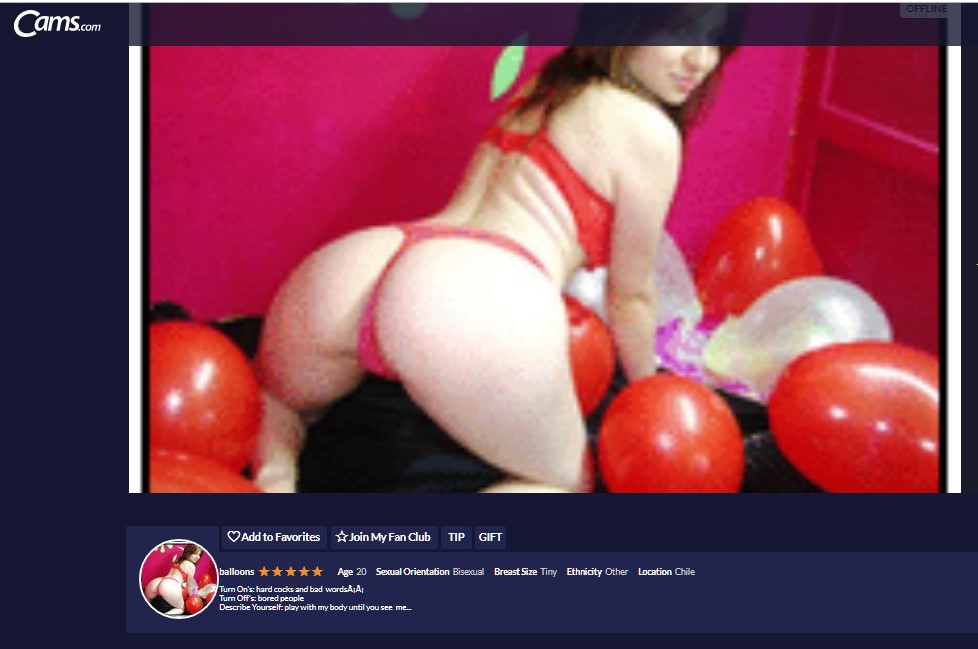 SkyPrivate or CamLust Skype balloon porn shows
Alternatively, if you are already a Skype user, maybe you should consider having a Skype balloon porn show? Both SkyPrivate and CamLust have plenty of girls who will do custom shows on Skype. You can contact her to discuss the show details, how would you like to play, whether it is sit-to-pop or blow-to-pop, etc. Skype show has the extra advantage that Skype camgirls are used to discussing the details of the show before the show starts so that they can have everything they need ready. Unlike the cam girls who are broadcasting live and would rather have a show starts first and discuss the fine details while you are paying by the minute.
Read my review about SkyPrivates and CamLust if you are new to Skype shows.
Cam girls' opinion about balloon porn
From time to time, cam models talked about what shows they do on cam in forums. Besides the pee shows, spitting, playing dentist, and humiliation, balloon show is one of the hot fetish topics.
You will be surprised to hear that those girls who have done balloon shows for the guys to cum found it fun. And those who have never tried it before are happy to give it a go. It's only a few who are scared of the idea of popping balloons hesitate. But if you are not a popper then that's not a problem. Below are some extracts of what some cam girls said about the balloon show on cam.
"I'm terrified of balloons popping, so I only do non-pop which isn't terribly popular. It's a huge fetish and you can always offer something different from the others!
"I LOOOOVE balloon fetish! It's so easy and fun. Just go buy like 100 or a huge quantity of balloons of different colors. You can blow them up and lick them, sit on them without popping just rubbing your ass and pussy on them, put them between your feet and squeeze them, put a balloon between your tits, sit on it and pop it, step on it with your heels and pop or don't pop, etc. There are so many fun and unlimited things you can do. "
"It's fun and easy as s**t to do (except when it pops in you p***y OUCH). Go for it!!!"
"I have "Balloon Parties" every once in a while and people love it! I am on Chaturbate so I put a keno board, then put the prizes in the balloons and the color of the balloon on the keno board. They tip to pop the balloons."
"I like it as well. Wow, I am also going to try this too. I am terrified of balloons popping as well but maybe won't be if I open some more doors and have fun with them."
If you are a cam model and would like to know a bit more about this fantastic fetish, read my Sit-to-pop or Blow-to-pop post to get more ideas.
Conclusion
MyFreeCam seems to be the only porn cam site that has many girls who know how to play with balloons to make you cum. But based on the chit-chat comments of the cam girls, all of them seem to either enjoy it or are willing to give it a go or offer something different if she is scared of popping balloons. So there's no harm to ask if you really can't see anyone with balloons online. Especially if you are a bit more generous with tips many girls will be happy to try.