SkyPrivate, CamLust, CamModelDirectory are all about Skype cam girls and cam models. It depends on when you start to watch cams. If you are a veteran then you are probably more familiar with "Skype cam girls" than CamLust or SkyPrivate. because that's what you search on Google for an amateur model for a naughty sex show. If you are new to camming, then you are more likely to browse SkyPrivate or Camlust for the next model to watch than search for "cam model directory".
A brief history of Skype shows
Skype was introduced in 2003 by the Luxembourg-based company by Skype Technologies. In the beginning, there were only voice calls. In December 2010, video calls were first offered to iPhone users, followed by Android users in Jun 2010. This makes video calls much more affordable and more convenient. Cam girls who are tired of obeying the rules of big cam sites and receiving only 20% to 50% of what the customers pay turned to Skype as an alternative.
That is also around the time when there are more independent cam girls trying to do their own thing, have their own websites, and not let studios get a big cut from their earnings. Skype video calls arrived at the best time as a solution to going independent. The only problem is payment. How to take payment from the customers, and how can customers be sure to get a show after the payment while keeping each others' privacy? It is difficult. This is how SkyPrivate or Camlust comes in to help. Basically, cam models have to
In May 2011, Microsoft bought Skype.
In Mar 2018, Microsoft announced that starting 1 May 2018, no "offensive language" are allowed on Skype Xbox, and Office. It caused some stirs in the Skype cam circle. Skype cam models thought that it is the end of Skype shows and had to find somewhere else to broadcast for private shows. Despite the new rules, models continue to chat and broadcast there. It doesn't seem to stop models from performing a private show. The only impact is that your juicy text "I want to f**k your pussy" will be replaced by "***", but we all know what the words are, and you won't get banned right away for saying or sending "inappropriate" content. So, the show must go on and it has. If you look at the graph below for the global interest in searching for these words and concepts on Google Search, you will find that there was no impact on Skype private shows in mid-2018 when Skype announced the news. In fact, the publicity may have drawn people's attention to SkyPrivate and given it a boost.
Trending of Skype shows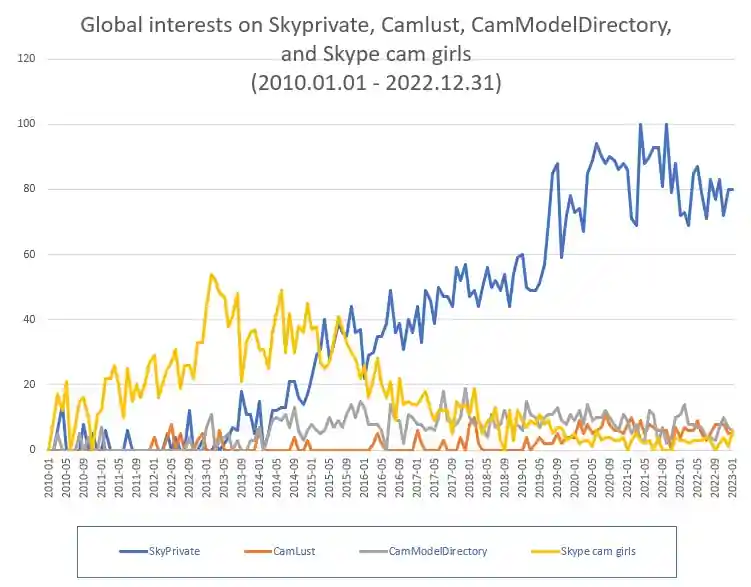 As you can see in the graph above, people used to search for "Skype cam girls" on Google and it has peaked in 2013. The trends went on a bit but they started to drop in mid-2015. And that is also the time when SkyPrivate started to pick up.
CamModelDirectory is around for some time. It probably started off around the period when the Yahoo directory and the Dmoz directory were a big thing, a directory dedicated to models performed on Skype seems to make perfect sense. But somehow it has never become big. It went plateaued from 2014 till now.
Similar to SkyPrivate, CamLust shows a list of models available for video calls and handles the payment. In 2019, CamLust gave it a push. The affiliate program was introduced and CamLust has started to get a share of the market. But that is that, even though it has similar features as SkyPrivate. Maybe it takes time for both the cam watchers and models to find out more about it.
Sex cam sites vs Skype-specific cams
In the above graph, SkyPrivate seems to be doing very well. Since 2013, it has grown continuously and it is still going up. But if you compare it to the world trend for interests in other non-Skype cam shows, you will find that Skype private show is a small subset of the porn cam world. Skype show hasn't taken over the sex cam industry. The whole concept is rather "flat" compares to medium-scaled cam sites like Bongacams and Streamate, let alone Chaturbate or Stripchat. If I include CB and Stripchat on this chart then "SkyPrivate" and "Skype show" will only appear as a flat line at the bottom of the chart. After all, there is no big demand for Skype calls when there are so many chat apps you can choose from and easily access from your phone.
Phone sex sites like NiteFlirt and content creator sites like Fansly and Loyalfans have also tried to include cam in their package. They all allow models to get a much higher percentage of earnings than the generic cam sites like Cam4, Bongacams, and Xlovecam. And yet, the trend data told us that the majority of the viewers and models are happy to stay with the big sites. Maybe it is really the limitation of Skype? What do you think?
Where to find Skype cam girls and Skype gay men?
There are many models who are available for calls, you just need to know where to find them. Here is a list of sites where a big list of models with hot pictures and teaser videos for you to choose from.
CamModelDirectory
SkyPrivate
CamLust (Click to read my review of CamLust)
LiveCamModelShows
MondoCamgirls
SkyPeepz
NiteFlirt: Use their "Phone with cam feature" and you can get Skype show or Discord show.
Iwantphone: Use "Phone with Cam" and you can get Skype or Discord show.
Pillow Whisper