What is CamLust
CamLust is a place where you can find lots of hot models to Skype chat with. If you have already heard of CamModelDirectory or SkyPrivate, then CamLust is similar to them. Camlust does not just have girls, it has men, couples, and transgenders who are available for calls and sex shows. But if you are new to Skype shows then you may read my article about it here.
What is the cheapest per-minute Skype show you can get?
Cheapest Skype cam girls
As you can see from the screenshot above, in the bottom left-hand corner, I've set the price per minute range from the minimum of $0.5 to $1/minute. There are plenty of high customer rating Skype girls that charge $1 per minute only. And that is the minimum, no $0.5 – $0.9. No one charge as low as $0.5 per minute even Camlust has allowed for that. At the moment, it is Friday at 10 pm New York time and I have 42 sexy Skype girls who are available to chat right down, out of the total of 66 Skype women at this price.
Cheapest Skype gay cam
It is the same for Skype boys. Even though I set the minimum price to $0.5 per minute, the cheapest I can get is $1. To my surprise, there are only 3 men online out of 176 at this price. Maybe it's because it's Friday night, or is it too cheap for the guys to be bothered to go online? Let me check on the higher price guys.
I set the filter to $1.5 to $5.0 per minute, hoping to see more gay men online. But the truth is, there is none. Sounds like Skype cam boys are not doing well in Camlust and so no models even bother to leave it on in the background. It's a bit better on SkyPrivate, there are 8 jock men online by comparison.
Cheapest Skype couple cam on Camlust
Again, at $1 per minute, I get only 2 Skype couples online now, even though there are 33 couple cams for this price, and that includes girl-girl, and boy-boy models. I set the price to $1.5 to $5 and I get 1 more.
Cheapest Skype tranny cam on Camlust
Will tranny cam be better on Camlust? The answer is no. No one is online for $1 or below. And when I choose $1.5 to $5 then 3 trannies are online.
The best feature of Camlust
The one single feature I think is the best, is that they let you pay the models without creating an account with Camlust. It is called "Guest payment".
If you like to not receive spammy emails and notifications from typical porn sites, then not creating an account is very attractive. It means you just use Camlust's payment processor partners to pay and Camlust will not see your sensitive details. But having an account on Camlust does help you to navigate and filter the models better. Read on to find out why.
How much does it cost on Camlust
If you have funds in your Camlust account, your experience will be much smoother. Especially when models on Camlust can choose to not show their Skype ID unless you have a minimum account balance. For example, I set mine to $1. That means you need to have at least $1 in your Camlust balance in order to see my Skype ID if you want to contact me directly on Skype instead of using Camlust's internal messaging system. It seems no one uses the internal messaging system. At least I have never been approached that way on Camlust so far. The guys all contact me via Skype. Why do models do that? It is because there are plenty of freeloaders who just want free dirty talk on Skype. We got approached a lot by them if we don't try to filter out the one who really wants a paid show.
Minimum spending on Camlust
To top up your balance on Camlust, you have to buy at least $10. That means you have to spend at least $10 to enjoy the Skype sex shows. As there are plenty of $1/minute models, you can get one or even two shows (a total of 10 minutes) if you time yourself well and cum within the time frame.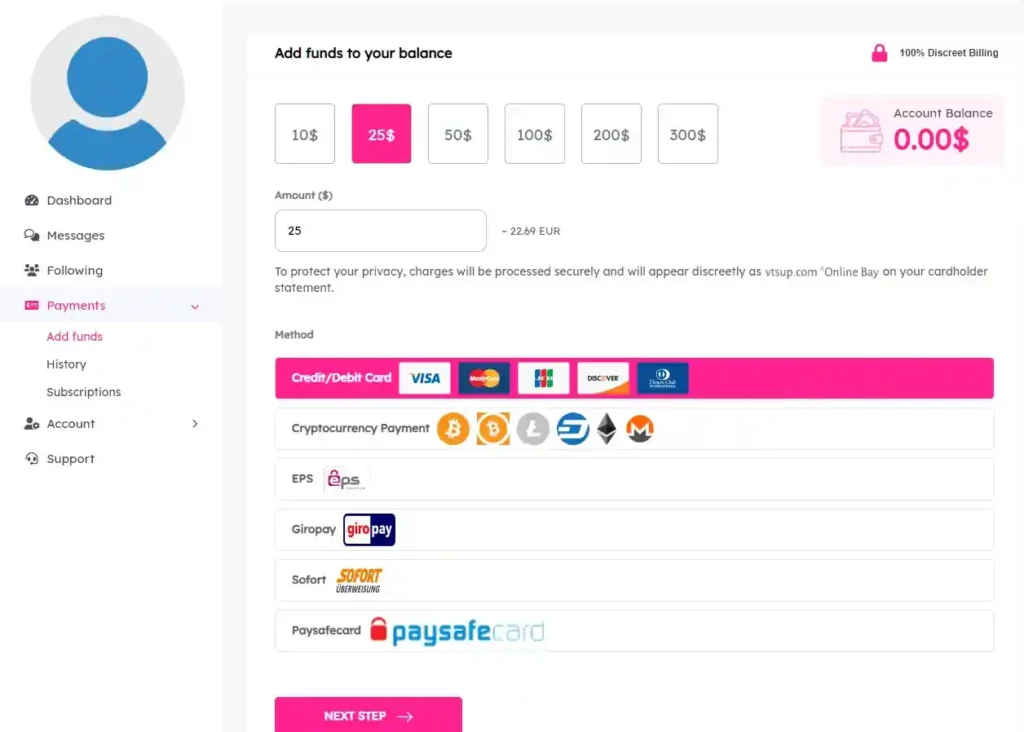 As you can see, by default, Camlust prompts you to buy $25 worth of balance. But you can always change it to $10 to try first.
Besides credit cards, cryptocurrency is supported. If you don't want to use your credit cards, and you are not familiar with other payment methods like Giropay, Sofort, EPS, or Paysafecard, then crypto is a good choice. It gives you anonymity.
For cryptocurrency payment, Camlust supports BTC, BCH, LTC, DASH, ETH, and XMR. You may call me old-fashioned and conservative but I will stay with BTC myself. It's "the" beginning of crypto and it is the backbone. Just buy a month's worth of cam spending in BTC in advance and you are good to go.
Conclusion
Camlust is similar to SkyPrivate in many ways. There are good features like you can pay a model without creating an account with Camlust. If you prefer higher anonymity, then Camlust is better for you.