Is it possible to cam without creating an account with a porn site?
The answer is yes. You can skip the account-creating process totally and go straight to buying a show. But if you simply do not want the porn sites to have your credit card details then there is another way too. You can chat, watch and interact with the models without sacrificing your credit card or debit card details to an adult site.
Pros and Cons of not having an account to watch a private cam show
Reasons for not creating an account
"I don't trust the porn site with my personal details and credit card details". This is a common thought and we know there are multiple ways to get through that. Paying with a top-up card or crypto is a few options.

"I don't want to get caught by wife/girlfriend". It is true that modern web browsers are very helpful and they tend to remember all your login details. If your wife or girlfriend can access your phone or laptop, it's quite easy to see your browsing history and even login as you on the cam site. Check out my "how to not get caught watching porn" article if you are having trouble being caught.

"I don't want to receive their spam". This is true that many cam sites may send you notifications, promotional material, or discounts to lure you back.

"I want to avoid recurring charges". Many people have the unhappy experience that they thought they just sign up and create an account, but it turns out that they got charged every month. Then there is a lot of hassle to cancel the subscription before the recurring charges stop. While it's true that cam sites do have recurring charges, say, for their VIP membership or fan club subscription to a particular model, if we read the screen carefully before we click the submit button, many troubles can be saved.
Disadvantages of not having an account with the cam site
Less choice of models – cam sites that allow guests to watch and interact will also allow models to ignore guests. Models typically can choose to not show their pictures, videos, and profiles to the guests because most models believe that the guest viewers are not serious and are time-wasters.

Can't pre-agree and arrange a show before you buy. As most models do not allow guests to chat, you can't request specific sex toys, props, environments, and sexual activities you would like in your show in advance.

Maybe more trouble if you need a refund. As a guest to the cam site, your payment is done via a third-party payment processing company which may not be able to judge if your complaint is justified for a refund. Telling the cam site support that the model didn't do the pre-agreed fetish or naughty acts seems ok because they will understand. But imagine you have to explain to someone in the help center of a credit card payment processing company (worse if that's a lady) about a model that didn't stuff a Coke bottle in her ass as agreed, and you want a refund? Not so good.
Which cam site does not require an account or keeping your credit card details to start a private show?
The answer is SkyPrivate and Camlust.
SkyPrivate is basically a platform for the Skype models to meet with viewers. Models post pictures and videos there so that people can get a preview of what they will get in a private Skype show.
Camlust is similar to Skyprivate and it's newer. It supports crypto payments if you want that extra anonymity.
How is it done on SkyPrivate?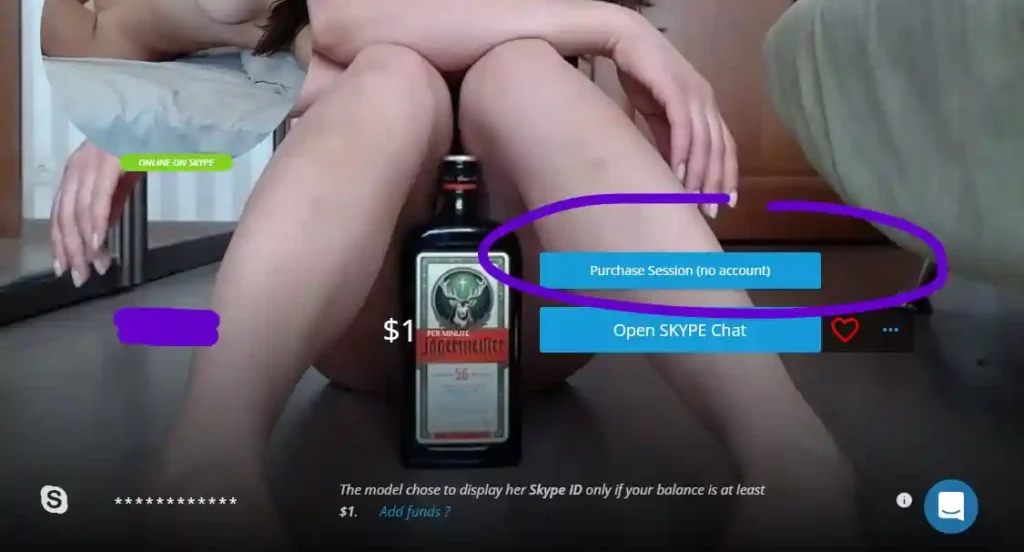 In SkyPrivate, when you found the model that you would like to buy a private show with, you click to see her profile page. On the bottom right part of the screen. You will either find:
Purchase session (no account), or
Purchase session (as a guest)
What do you need to play with Skype camgirls on SkyPrivate
A Skype account (optional).

Have your Skype ID ready.

Your credit card, debit card, or crypto for payment. You will bypass SkyPrivate and pay with a third-party payment processor to handle your card payments and crypto payments.

Skype app on your phone or a working webcam on your laptop.
Why should I have a SkyPrivate account?

Guests can browse the models' profiles, pictures, and videos if the models haven't blocked guest viewers. But many models consider guests to be casual browsers and are not serious about taking a show and so many models may block guests.
A SkyPrivate account is preferred because when you pay for a Skype show with a model, the Skype ID that you have set up on SkyPrivate will be shown to the model. This also protects you when there is any dispute. Maybe you have paid for a 15-minute show but you only got 10 minutes. If you can show your Skype activity log with the matching Skype ID on their record, you are in a stronger position to ask for compensation or a refund.
How to link my Skype ID to my SkyPrivat account?
Login to your SkyPrivate account (create one if you haven't done so)

On the left-hand side, click "Settings".

Choose "Services".

By default, they put your Skyprivate account ID as the Skype ID. If this is not correct, check out your Skype ID on Skype and correct it. If you are not sure of your ID, you can:

Click "Edit".
Click "Find Skype ID".
Enter the email address you used to register with Skype.
Click "Find". And it will show you your ID if you get the email address right.


Click "Save".
Conclusion
SkyPrivate respects people's privacy and understands that most people do not trust adult sites. They are trying to be good and provide you with an option to not reveal your credit card details to them. Of course, crypto payment is another way to keep your privacy. If you like Skype shows, believe in crypto, and take privacy seriously, you should try SkyPrivate.