What is XCams
XCams is a European webcam chat network.  Models are mostly from European countries so you may find models that speak German, Italian, French, Spanish, or Dutch easily.  And needless to say, English too.
Xcams has categorized the models in several different ways.  I do notice that there are women, couples, and trans, but no guys alone. Is it a company decision not to have gay guys? I don't know. I thought Europe is more liberal about homosexuality. So, if you want gay cam, you may want to try Xlovegay, the gay version of XLovecam which is also European-based.
Do I need to register on Xcams/Evelive/Ufancyme to watch the cam? And how to bypass the sign-up page?
In theory, you don't need to provide any information to this live porn site to watch the cam girls. Your access to the cam is very limited though.  You can watch the girls for 15 seconds at a time. Each time when time is up, you will be prompted to buy some more tokens or at least provide your credit card details without buying anything.
So, the answer is, it depends on how hot the girls are. If they are not your type of girl, then you may as well forget this site.  If they are hot, 15 seconds at a time and being interrupted is really annoying. Registration becomes the right thing to do.  You will have a proper account and not just "a guest" with hardly any rights to XCams.
How to bypass the sign-up pop-up page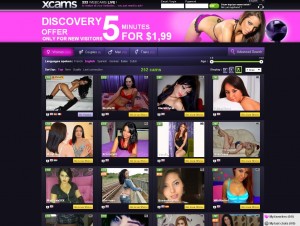 While you are testing out the site and want to watch one girl after another, you may come across the 15 seconds watching limit and got send to a sign-up/create an account page. It may seem there is no way out except to create an account which is not true.
Actually, all you need to do is to click the XCams logo at the top left-hand corner. That will bring you back to the home page where a screenful of hot girls will be displayed. You can hunt around again and watch another girl although it can be very frustrating. You found the one that you really love and you can only watch her for 15 seconds at a time. In this case, I suggest you submit, just create a free account and you can enjoy watching her with no interruption.
Other names of XCams
Just like many other live porn sites, Xcams has different names for the same models. It means if you are already a member of Xcam or one of these, the rest of them are not new to you.
Ufancyme.com
Webcamsex.nl
Evelive.com
Cambabes.nl