Whatever reasons you have to cancel or delete a cam account, it may not be straightforward, they all do it differently. Check out the list below to find the adult cam accounts that you want to delete, and hope you have a better experience with another cam.
List of Porn Cam accounts and how to delete them
Click on the list below to quickly jump to the section you want.

Reasons for deleting the porn cam account
1. "My wife/girlfriend found my porn cam spending from my credit card statements or bank statements."
Many cam sites have payment processing companies that understand the sensitivity of the industry and will appear on your credit card statement with a very discreet and generic company name. If the amount you spent still draws her attention, or she already knows you are watching cam so she can guess those are your porn cam expenses, maybe you should try the following.
Solutions to porn spending on credit card statements
one-off or top-up prepaid cards from convenience stores, or
using crytocurrency like Bitcoin, Ethereum or even better, Lightning (the fastest crypto)
also, read my post on how not to get caught watching porn so easily
Gift cards or reloadable prepaid cards from Walmart or convenience stores can be purchased with cash or credit card. The advantage is that it will appear as innocent spending from Convenience stores like 7-Eleven on your statements, even better if you buy a drink or a bar of chocolate so that the bill is not always the same amount or a round number.
Using cryptocurrency is not as difficult as you think.
If you are not familiar with cryptocurrency, there are many Bitcoin wallet apps that are easy to use. Breez, Muun, Mycelium, and BlueWallet are a few to name. Once you have bought some crypto and stored it on your phone apps or desktop apps, you can start to pay with bitcoin or other types of coins on your phone by scanning the QR code requested by the cam sites' payment gateway. See my post about how to pay with bitcoins with Chaturbate. As Bitcoin price seems to have a repeated cycle to go up, what you bought now may increase its value many folds and help to fund your future porn spending!
If you are already a veteran of crypto, then maybe you should spend some of them from your crypto wallet instead of saving them for capital gain. You can always find another time that Bitcoin drops and top-up your holdings. Read my post about paying with crypto to see what are your options.
2. "I don't like the recurring payments."
I know recurring charges are annoying, no matter if you have actively opted in for it but don't want it now, or you have overlooked and subscribed by accident. Many cam sites may let you unsubscribe or cancel the membership/subscription in one click.
Solution:
Try clicking on your username next time you log in to the cam site. It typically takes you to "My Account" where you can see your membership subscriptions or fan club subscriptions. See if there is a button next to your subscription that you can click to cancel it. Some may demand you to write to the billing support, either from the internal mailing system or you have to email them.
Either way, you do not need to delete the account right away while there may be lots of hot girls and good features like the two-way audio cam to cam or recording a cam show that you don't want to miss.
3. "Too many notifications and emails from the cam site."
No one likes to be interrupted by pop-up browser notifications or excessive promotional emails. Most of them can be cut down and avoided.
Solution: stop pop-up notifications
If you don't want the pop-up notifications, they can be stopped in at least 2 ways. First, you stop it from the browser. Second, you stop it from the cam site.
For the browser solution, it depends on which browser you are using, you can remove them all or one by one. For example, if you are using Chrome on a desktop, you can
Click on the three dots on the top right-hand side of your Chrome browser.
Choose "Settings".
Choose "privacy and Security" on the left.
Choose "Site Settings".
Under "Permissions", choose "Notifications".
You will be given the options to: a) sites have to ask to send notifications b) not allow to send
You will also see two lists of sites that you have visited, with one that you allowed to send notifications and the other one not. By clicking on the 3 dots to the right of the site, you can change whether to block them or let them send the notifications.
You can also directly stop the cam sites from sending you various notifications. It's the privacy and security laws that all sites need to have a way for the viewers to unsubscribe to any of the notifications or marketing material. Just head to "My Account" of any cam site that you are a member of, look for "My notifications" or "Settings". You are bound to find something like that: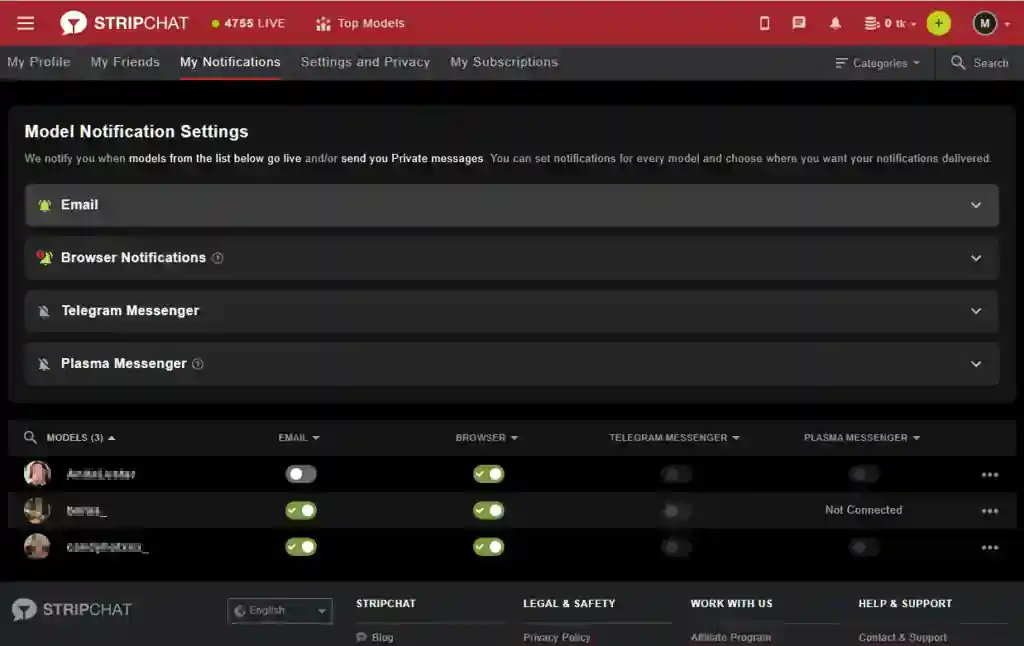 In the example above, Stripchat gives you a very fine selection of what to receive and whatnot, even down to individual models and by what method. There may be a model that you like so much you will want to receive a Telegram message about her being online but not the other 148 models that you have added as friends or favorites.
Solution: stop the spam
To stop the emails from the cam site, scroll towards the bottom of the email you received. You will find something like this:
From: Xcams [email protected]
To: [email protected]
subject: Xcams: Freshly joined and most visited



bring you the best of the best this month, feast your eyes on the Top models.
Check out new girls who recently joined, ready for you:

VISIT Xcams >> And here is a fine selection of girls, based on what You like: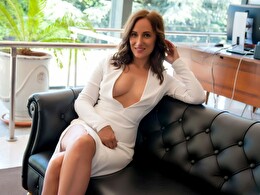 VISIT Xcams >>

Best regards,
The Xcams Team

You have received this e-mail because you are on our Xcams mailing list.
If you have any questions,

contact us


Customer support
DNX Network SARL – 42 Rue de Hollerich L-1740 Luxembourg, +352 208 80 401
You can view our

personal data policy

and our

other legal information


This email isn't displaying properly?

Follow this link


To unsubscribe from the newsletter

click on this link
There is always a link for unsubscribing from their newsletter or notifications. Most countries have privacy regulations that require companies to allow customers to opt out of their marketing campaigns.
Alternatively, just like the Stripchat screenshot above, you will find under your "Account Settings" to stop receiving their emails.
4. "My fetish is not allowed in this cam site."
Many cam sites have strict rules about what is allowed and what is not. If the one you registered with has not got what you want, maybe you should try Stripchat.
Stripchat is one of the sex cams that is more relaxed. For example, you can find a pee cam and you can find models broadcast outdoors. If your niche is very narrow, try searching in Stripchat's search box. It has a very powerful search that searches not just the room topic, but also the models' tip menu, goals, models' names, and tags. It's much easier to look for the fetish or niche that you want.
5. "I don't recognize some of the payments on my credit card bill. I'd better cancel them all."
I have been collecting the sex cam sites' billing company names and you can find them in this post. I hope this helps. I understand it's not always possible to be sensible to write down every spending you made on the cam sites.
6. "Not enough gay men online to chat and jerk."
Smaller cam sites tend to have mostly women and a handful of men online which gives you very few choices if you are looking for gay men to jerk off together. Read my gay jerk-off cam post here, or my comparison of 2 top gay cams Flirt4free men vs Streamen. I promise you won't be disappointed.
7. "The cam girls won't meet up with me in real life.
The majority of cam sites' models are not there for dating. Camcontacts may be the only exception. They have a "Long Term or Marriage" section.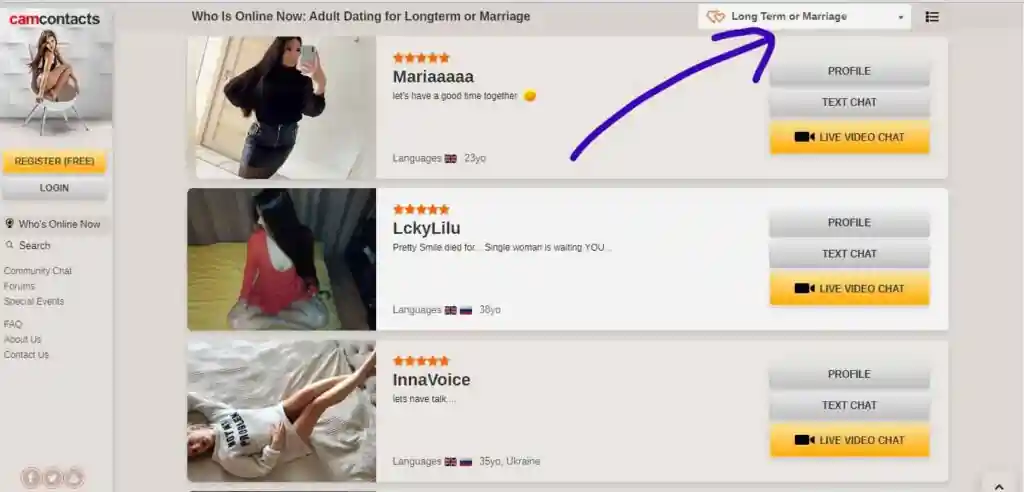 It is for serious camgirls who are looking for their dream man. No hardcore actions are allowed under this category. At the same time, both parties are checking out on one another. You can't expect her to go out with you after a quick chat. Everyone has different boundaries. Hope you find someone here.
---
How to delete the porn cam accounts
How to delete my Chaturbate account
If you do not want an account with Chaturbate anymore, you can always scroll to the bottom of the page and look for "Disable account". You have to log in to see this button.
It depends if you have turned on 2-way authentication, either way, you have to verify that it IS you, the real account owner who initiates the account-closing request before Chaturbate processes it.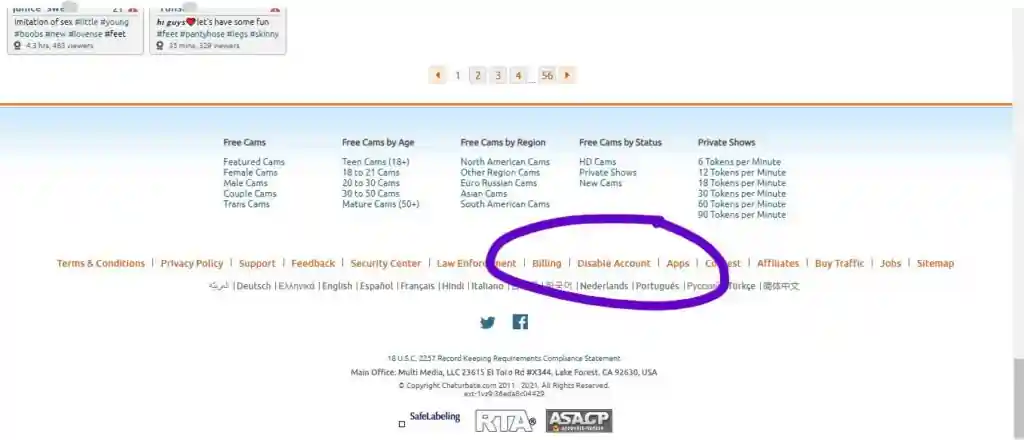 Tired of big cam sites? Have you tried Camera Prive? It has cam2cam with two-way sound, and they even let you have a video call to the model's mobile phone when he/she is offline. Have a look and happy exploring!
How to delete my Camsoda account
To cancel or delete the Camsoda account, you should go to Camsoda and scroll to the bottom of the page where you will find the link to contact "Billing support". Unlike Chaturbate, there is no button for you to click to close your account. You have to write to the support to start the account closing routine.

How to close my CameraPrive account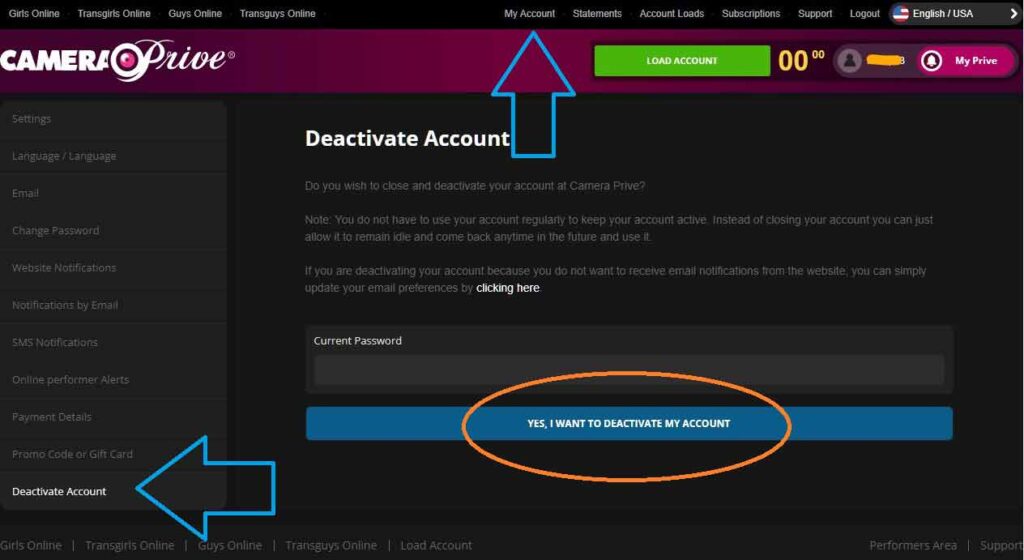 CameraPrive is one of my favorite cam sites because it may be the ONLY CAM SITE THAT ALLOWS AUDIO CHAT AND CAM2CAM by a viewer with a model in the public chatroom. If you haven't noticed it or tried it, give it a go before you cancel the account.
CameraPrive has made it quite simple for you to close your cam-watching account.
Login to cameraprive.com.
Click "My Account" at the top menu.
"Deactivate account" can be found on the left sidebar. You may have to scroll a bit as it's the last item on the menu. Click on that.
As they said, if you are simply not happy with their email notifications and marketing material, you can click the link there to turn them all off.
If you really want to close the account, click on the "Yes, I want to deactivate my account" button and the account closing process will begin.
How to cancel my Flirt4free account
There are multiple ways to close your Flirt4free account:
By phone. You can call them up and the support will walk you through your options and process.
By email. Send an email to the support
Submit Help Request on-site. This may be the simplest because you will already be logged in and you don't have to repeat your username and etc.
Close the Flirtforfree account
Log in to flirt4free.com.
Click the down arrow next to your username in the top right-hand corner.
Choose "My account".
Choose "Submit Help Request" on the left-hand side.
A form will be displayed. Enter your details and under Subject, choose "Reactivate or close account".
Leave them a message that you would like to close your account and click "Submit".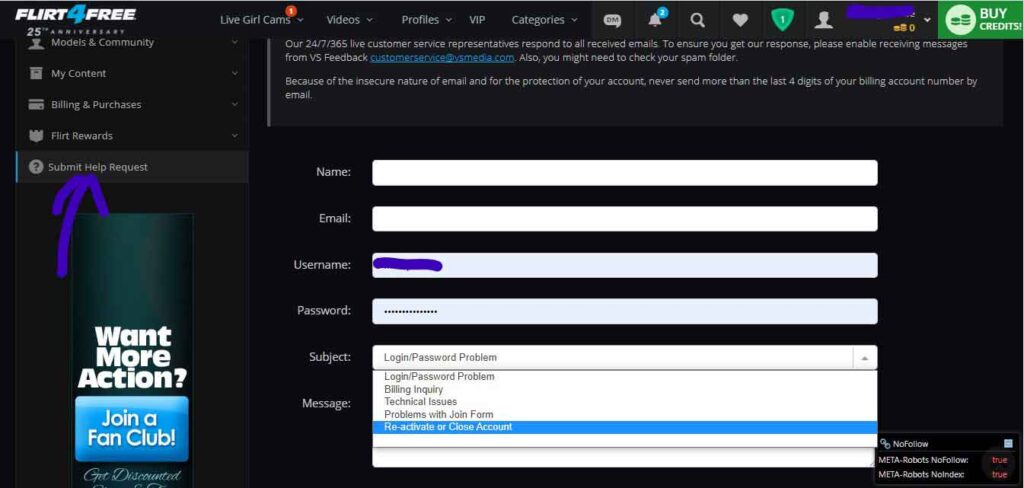 How to delete my Livejasmin account
It is not obvious where to look to delete your Livejasmin account. I've tried checking the bottom of the page where most cam sites seem to put the "Disable account" or "Close account" link there. But it's not the case with Livejasmin.
To close your account with Livejasmin,
Login to Livejasmin
Go to the top right-hand corner and click the arrow next to your user name. The drop-down menu should appear like this.
Click "Settings".

4. Choose "Privacy settings" under "Account Settings" on the left.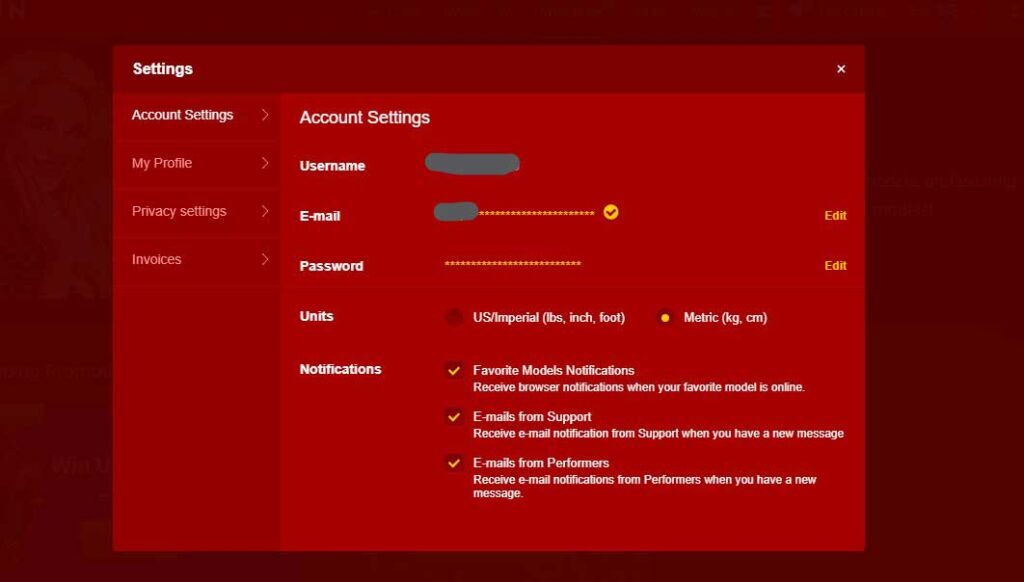 5. When you see the Privacy Setting page, scroll all the way to the bottom.
6. Look for "Forget my data".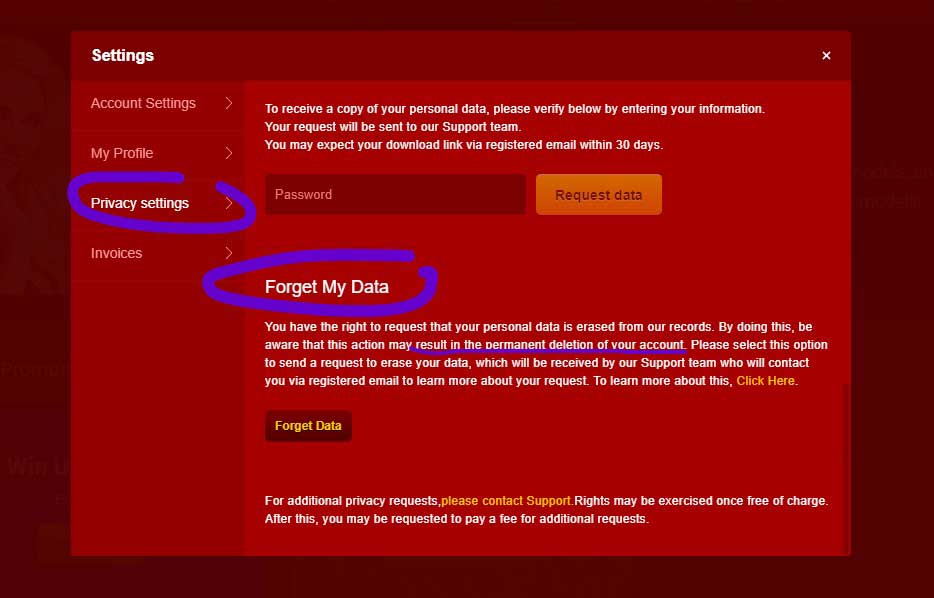 7. By clicking on the "Forget Data" button, you are in the queue for Livejasmin support. Once they receive your request, they will write to you to your registered email so make sure you know which email account you used and look out for their email to confirm your cancellation.
8. According to Livejasmin's support page, once your account deletion request is processed, your personal information in their system will be erased.
"your Subscriber status will change to "Cancelled" and we will erase your personal information stored in our system except as required by applicable law, our legitimate business interests, or any other permitted purpose as explained in our privacy policy."
How to delete my Stripchat account
By comparison, it's quite easy to find the "Delete my account" button on Stripchat.
Login to your Stripchat account.
Look for the downward arrow on the top right-hand account.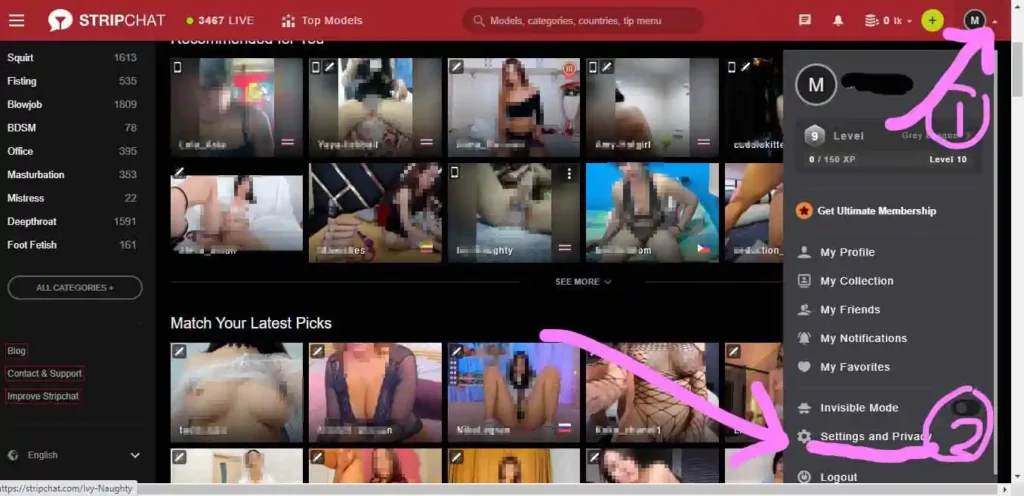 3. Choose "Settings and Privacy" near the bottom right-hand corner.
4. There is a "Delete my Account" button on the top right-hand corner. Click on that.

5. There will be a pop-up box to ask for the reasons why you want to close your Stripchat account.
Tick the box next to "I confirm that I want to delete my account".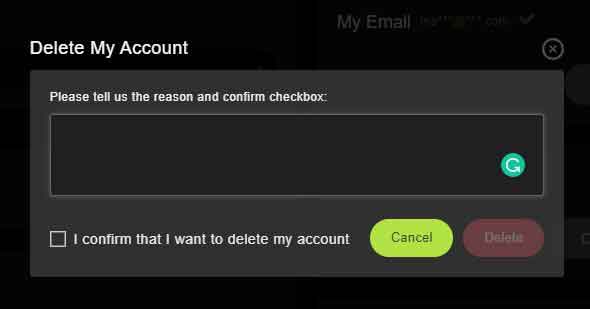 6. Click the "Delete" button and your account closing procedure has begun.
How to delete my Bongacams account
Similar to Stripchat, you can find the "Cancel Account" after a few clicks around your profile.
Login to your Bongacams account.
Click on your username on the top right-hand corner.

3. Choose "Account information".
4. Look for the "Cancel Account" near the bottom left screen. Click on that.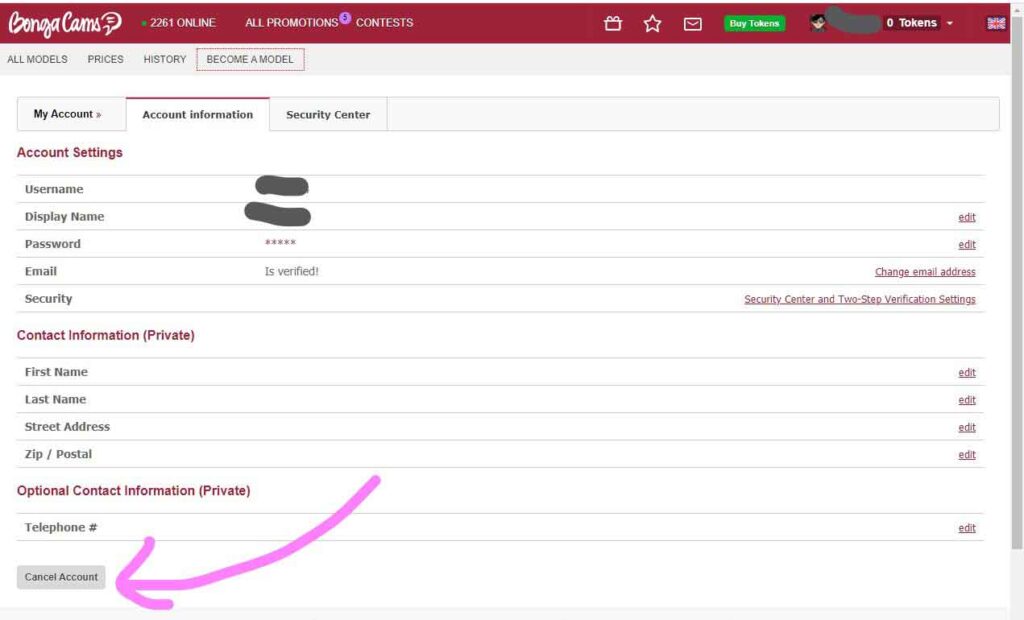 5. Choose a reason why you want to close the Bongacams account and click "Confirm".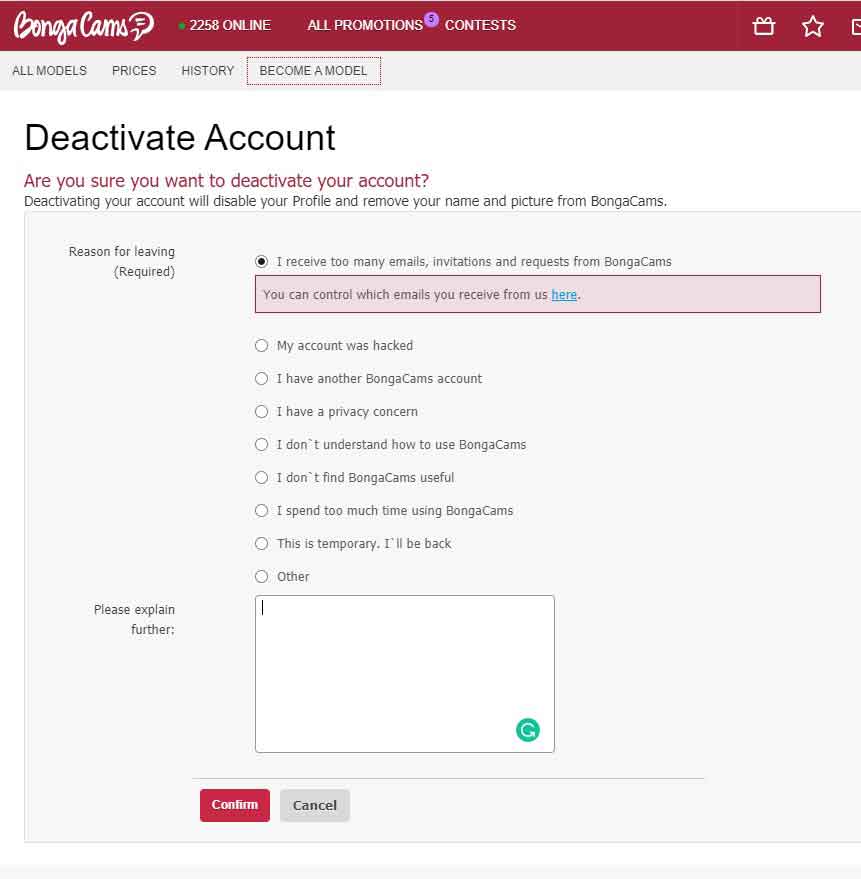 Conclusion
If you have had a bad experience with a cam site and need to close the account, I can understand how you feel. At the same time, it doesn't mean that they are all bad cam sites. If you look around, I am sure you will find something else that you may like.