[Updated: many cam sites have banned broadcasting outdoors or in public]
In 2014, broadcasting outdoors was a thing. There were quite some cam girls in Livejasmin broadcast outdoors. Many cam sites have soon found out the problems with it and have banned it. There are only a few sites that still allow broadcasting in public. Stripchat is one of them. Just look for the category "Outdoor" and you will find some girls who broadcast in the car, in a cafe, in their own shops, or on the street, willing to flash in public.
Find outdoor shows in Stripchat
Outdoor cam is certainly more interesting to watch. Not to mention that it's a common problem for camgirls who have nowhere they can easily broadcast privately. If they have no other job and stay home, there may be family members around, and spending the whole day in their bedrooms grunting and masturbating does not sound right.
Advantages of Outdoor cams
For models who do not have a private space they can broadcast, going outdoors is one solution.

Models are not stuck in the same room and the same background. Viewers can get bored after a while.

When the models broadcast outdoors, viewers have a chance to peek into her private life and see what sort of places she goes to, and what she has for lunch.

It's more exciting to see a model who has to keep her face straight when her sex toy received a few big tips and vibrates in her pussy in public, or she has to flash her tits or ass in a cafe.
Disadvantages of Outdoor cams
Other people on the street may appear on the cam as well and this violates the others' privacy. They have never signed a model release form to appear on a porn cam site.

It is quite limited to what a model can do in public. A quick flash of tits or ass in a cafe or shop is not too hard, but if you want more, the model typically turns to the public toilet cubicle as the ultimate solution.
Stripchat Outddoor Cam
Stripchat outdoor cam is easy to find. As I said, click on "outdoor" on your left sidebar on your desktop, or click the 3 bars on the top left-hand corner of your mobile, and scroll until you see "outdoor". Unfortunately, it seems that many models do not understand what is outdoor, or they have forgotten to remove themselves from this category when they are broadcasting indoors, there are many models simply broadcasting in their bedrooms in the "outdoor" section. To help you start, here is a few hot outdoor cams I found on Stripchat. See if you agree with me.
Niki_li on Stripchat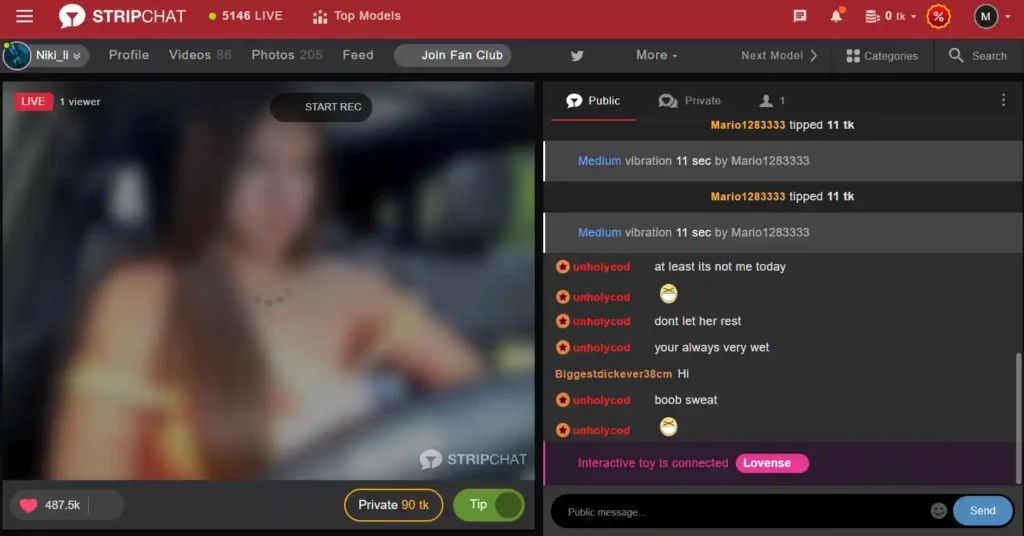 Niki is a big tit Eastern European cam girl. When her cam starts, she typically tries to drive to a nearby shopping mall. When she arrives at the car park, the show has already begun. Tippers have started to tip her toy or request to have her vest removed. So she will spend a bit of the time inside the car at the car park, wearing only bras or even topless (I supposed she has to find a quiet spot where she can strip inside the car without having too many people see her?) The next scene is in a cafe where she has breakfast with her friends who may also be broadcasting on Stripchat under different accounts. In the cafe, tippers will continue to tip her and sometimes you see she has to leave her table because a private show has been requested. I guess she goes to the bathroom to continue with the hot private show.
Selena_Passion on Stripchat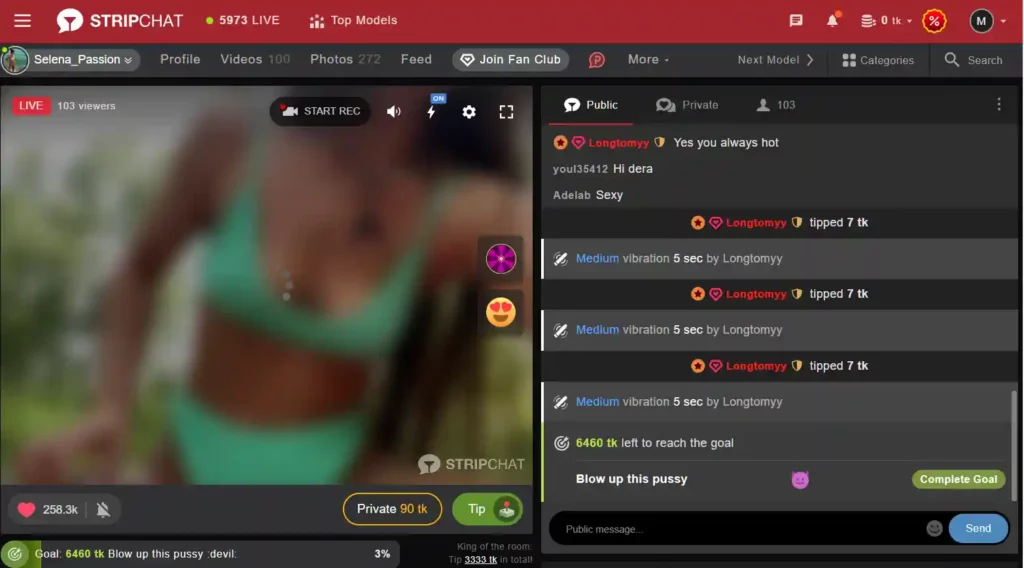 Selena is a real sweetheart. Her smile can melt your heart. Her routine includes getting up in the morning, turning on her cam so we can see her wash and get dressed to go out. Selena also drives. She often drives to a building and walks up several flights of steps during which she may flash or moan when tippers tip her toy. She will make a short stay and continues to drive somewhere else. A lot of the time she may go to the mall and do window shopping. She will pick a few different garments and go to the changing room to change into different outfits for us to see. Needless to say, many tippings go on in between that. And while she is in the changing room more naughty shows can be done.
Selena also drives to the countryside sometimes to chat and do shows. It really feels that she probably has lied to her family that she has a regular job somewhere and so she has to hang around outside until the time is up.
One of the best cam girls on Livejasmin
[Before 2014, not true anymore]
While I was writing the post about broadcasting in public, I came across a tweet by a fellow model in Chatubate. Though she was tweeting about her webcam show in a garden on livejasmin.com.
Softcutelilly is one of my favorite cam models. She is tall, slender, and super sexy. Full stop! I came across her in Chaturbate and I started to follow her on Twitter. Now I realize she is doing cam shows in LiveJasmin too! That reminds me of LiveJasmin one more time. I was thinking of joining them last time but never got around to doing it.
Livejasmin is not the same as JasminLive. They were separated cam sites 10 years ago and now JasminLive is just a white-label called Camlive for Stremate. Livejasmin, however, has also got different sites that have the same models but just under different names. They are not white-labels. Next time if you see jasmin.com, liveprivates.com, and joyourself.com, then you know they are the same.
By the way, anyone remembers the pop song "Hey Jasmin" in 2012? Flo Rida has this video of him in a tea house, feeling bored, checking his phone for Live Jasmin and the tea house became a dancing club where he got to dance with a hot girl later. It is still unclear whether Flo Rida provides free promotion to Jasmin, or whether the company really has the power to pay someone like Flo Rida to write a rap about them – even when it's clearly adult-themed.
Thinking of pop songs about webcam sites, of course, there is also Robbie Williams' Loser video. (See my post about Losers here.) I think I shall be glad to see even pop singers are not rejecting sexy cam chat, knowing that there is always an adult flavor to it.
Oh! What a scatterbrained person I am! I end up talking about pop music instead of cam sites. And I still haven't joined Jasmin! haha. Let's see when will I get around to doing it.