Near the end of 2020 Chaturbate completely changed the way cam2cam works at their site, making my previous Ultimate Guide to Chaturbate Cam2Cam obsolete.
Using the new system is actually easier for both the viewer and the model, though when you are doing cam2cam aren't you both models and both viewers? That is more a philosophical question than a camming one!
If you are looking to have a private show with cam2cam showing yourself, then Skype shows can be more economical. Check out my Skype shows article or go straight to SkyPrivate or CamLust to try it yourself. With Skype you can even choose to toggle your sound and video with easier control.
New Cam2cam for the viewer
As a viewer when you want to display your cam to the broadcaster you need to click on the "Cam To Cam" link which is below the video and between Get More Tokens and Start Private Show.
I've seen it say Cam To Cam but apparently, it sometimes says "Show My Cam", either way, it is the same thing.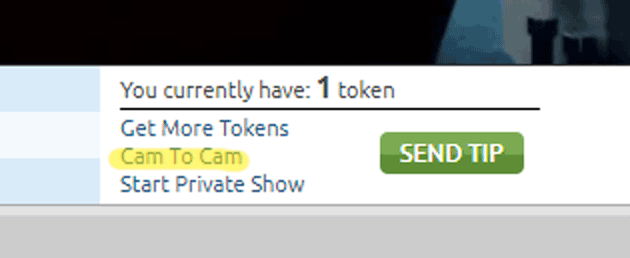 I've highlighted it yellow here but on the real screen, it just blue like all the other links.
When you click the link you may get the Zero Tolerance warning, which seems to happen the first time you do it and occasionally afterward. All you have to do is agree that no underage people will appear on your cam. Make sure your door is locked if young people are in the house!

Once you've agreed you then get to choose your camera settings when a "My Cam Preview" box appears. If you have more than one camera here is where you get to choose, and also control the resolution.
Depending on your cam quality, how fast your computer is, and how much of a good bandwidth your internet connection has, you'll have to choose different options here.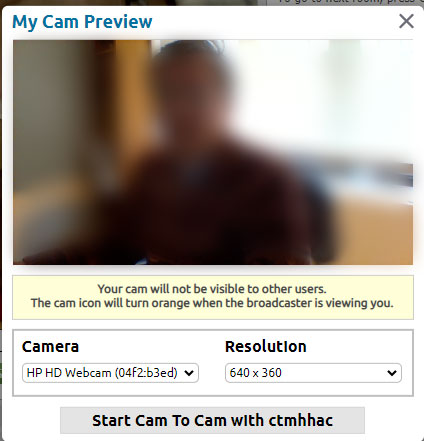 This allows you to get your cam aimed correctly, at your face or your cock as you prefer.
As a hint for successful cam2cam; we cam girls tend to prefer faces so we can see your facial expression but we are ok with cocks too if you prefer us to see how hard or big you are.
Once you are aimed and posed, and don't forget good light makes it easier for us to see you, then click that button that says "Start Cam To Cam with " and then the model's name.
Your cam view will then pop up as a little window in the corner of your browser.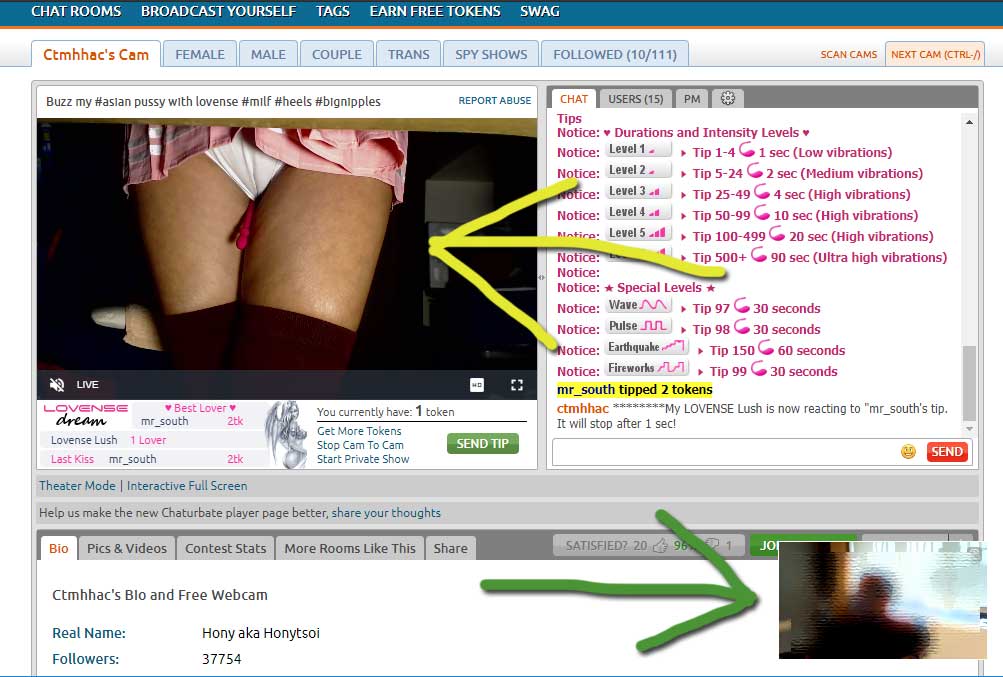 You can see me in the big window at the top, and you get a preview of yourself in the bottom right of the browser. Unfortunately, this webcam preview of yourself is not movable, it stays there and you can't move it out of the way when it overlaps something on the screen you want to see.
If it covers your "SEND" button then try scrolling as the rest of the page can still move up and down while the video preview is stuck in place.
Now that you are broadcasting your cam you have to ask your host to watch you, she doesn't get to see it automatically though she does get a notification that you have started.

It says "Viewer <your name> started sharing their cam". But it is still up to the broadcaster to decide to look at it.

You can tell if she has activated it or not because the little, very very tiny, icon in the top right corner of the preview window changes from grey to orange.

At first, it is grey:

Then when the host views your camera the icon turns orange

You also get a message in chat, which only you can see, that says that the broadcaster is now watching your cam.
On my screen, as a broadcaster, it looks like this, with your cam showing as a small window. I also can't enlarge or move the small preview window.

If a model wants to see the viewer in a larger window she can't do it from this screen, there is no way to move or maximize that preview window.
However, the model can go to the viewer's profile page and from there can see his video full-size.
Viewers get a clue when she has switched in this way because it quickly says "stopped viewing your cam" and immediately "started viewing your cam" again. That is as it switches from one to another of the views.

When a model switches from her own room to view the viewer's profile page she ends up in a "room" with a text chat box, but the viewer doesn't know that and therefore won't see anything she types in that room.
You can close the preview at any time and the broadcast will stop right away. There is also an audio mute and un-mute button but so far it always seems to be muted.
New Cam2Cam for the model
There isn't anything you need to change about the settings, but you do have to watch out for when people in your room want to show their cam.
You have to wonder why this isn't a paid feature, but you can always simply not open cams without a tip or without being in private if you choose to do so.
I'm not finding that many guys who actually want to use this to show themselves to me which I think is a little unexpected. I was expected to be flooded with guys showing, but that hasn't happened so far. Maybe it will become more popular now that it is easier, but perhaps not, time will tell.
As a broadcaster I don't find it that obvious when the message comes along saying that people have started their cam, you have to pay attention to know when they have.
If they are chatting then the grey icon beside their name makes it more obvious.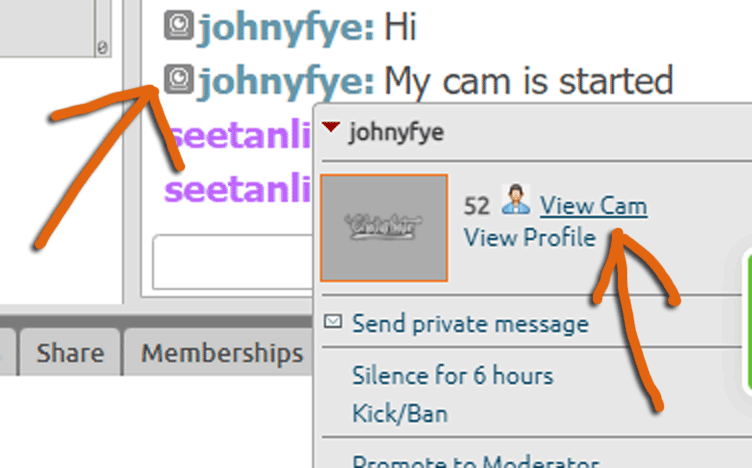 Once you click View Cam on their user information then you get the preview or previews.
If you watch multiple cams at the same time they stack up in the corner of the screen like this.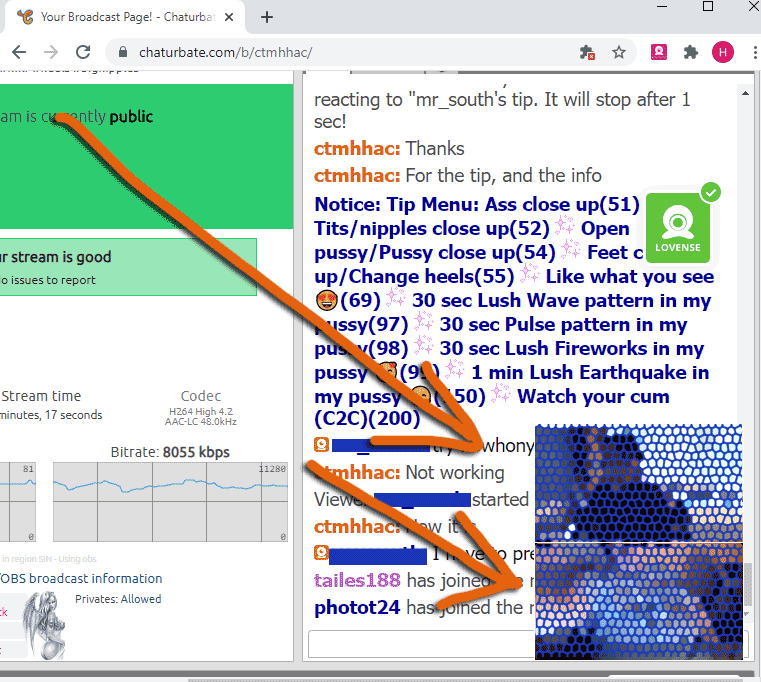 There is nothing you can do to hide those previews, which I suppose is a way to ensure that you are "really" watching their cams. But it does mean the screen gets rather busy, particularly if you have OBS open as well all on one screen.
How does this compare to the cam2cam options on other cam sites? I've not much experience with cam2cam except on Chaturbate but I've noticed that other sites have this kind of built-in cam2cam, normally as a paid feature.
On Stripchat where cam2cam is a paid alternative to a standard private, it is common to charge 50% or double the price of a regular private to allow a cam2cam private. Will that become the norm at Chaturbate now?
Let me know your thoughts or experiences with the new Chaturbate cam2cam in the comments below!