What is Cam2Cam
Cam2cam is short for cam-to-cam which means both sides turn on their webcams so that they can watch one another live.  It was available at least 10 years ago with ifriends.  At that time, not many chat sites have it because webcams are not that common.  It's for the models to broadcast but most viewers won't bother to have one.  With Skype and sites like Chatroulette, more and more people have webcams until it has become a standard peripheral of your pc or laptop.
For more about Cam2cam on other sites read my Ultimate Guide to Chaturbate C2C.
Cam-to-cam is Fun
Cam-to-cam is fun, especially you are playing naughty with the other sex.  With webcams, or more specially, cam-to-cam, cyber sex becomes a lot more complete.  It's not just words, messages or pictures.  People are live and interactive.
How to get Cam2cam
Nowadays, many webcam chat sites provide cam-to-cam function. Eurolive, Camsoda, Flirt4free, Cam4, Chaturbate, Camster, and Bongacams are a few examples.
Go to Camsoda for C2C chat   Try the cam2-cam at Cam4
Go to Flirt4free   Go to Chaturbate
Let's look at the example of Bongacam.

To start cam-to-cam, first, find the "Start your webcam" button in the model's room.  It's near the top right hand corner.
Of course, you need to have a webcam already connected.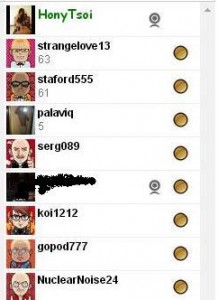 As for the model, in your chatroom, on the right-hand side with a list of your viewers, you will see:
* your viewers' ID,
* what membership they have
* how many tokens they have
* whether they have turned on the webcam
If he has a webcam connected, right-click on his ID and choose "View cam"
The viewer's cam window is small by comparison.
---
Next Question – how to get her to watch your cam
Technically, it's very simple to do cam to cam.  Your next question, however, is – How to be nice to the model so that she will watch your cam.
As a viewer, you probably think:
of course she will want to see my cock and watch me cum. She is horny, right?
I am nice and kind to her and I am charming, she should come and see me.
As a model, the fact is:
If I am busy watching this viewer, I am not paying attention to other people in the room and potentially losing whales.
Everyone asks me to watch their cams, if I do, I won't be doing anything else.
What will work practically
Ask how much tip

she wants to watch your cam for a while or watch till you cum.  Don't just throw in 2 tokens and expects she has to do what you want.

Private chat

– this will almost always work.  If you go private with the model, it is very unlikely that she will object to watching you.  Still, you'd better ask before you start the private chat.
You may try to be extremely

nice to the model.  Kind words, good manners,

friendly and all that.  But don't forget that the models are here to earn some money to pay for the bills.  Tokens are a lot more appreciated than sweet words.  Unless you have already tipped her a good sum over the session and asked for a favour, most models may not entertain casual cam-to-cam requests.
After all, it is fun to do cam-2-cam.