Cams.com is heaven for C2C lovers
What is c2c or two-way cam?
See my previous post about cam to cam here, specifically for c2c on Chaturbate and c2c on Bongcams.
What's good about cams.com's c2c?
1. You don't have to ask/beg – A common problem with cam2cam is that you have to ask, or even beg the model to click through to watch your cam.  If you are new to the model, you have almost no hope of a "yes".  She will say, "I'll watch you in private (show)."
2. Your cam is stuck on her screen and she *WILL* see it – Another problem with other chat sites is that even if she agrees to click through and watch your broadcast, your window will either be moved out of the way if she is actively talking to somebody else.  The worst case is, her chatroom window covered your broadcast window so despite you seeing her username in your chatroom, it doesn't mean that she is really watching you.
With cams.com, however, it isn't a problem.
It's because it's a pay service to the viewers, but a low-fee service.  We are talking about $0.99/min.
How to start cam-to-cam
1. Find a model that you like and go into her chatroom.
2. At the bottom right-hand corner of the video stream, there is a button "cam2cam".  Click that and you will be prompted the cost per minute.  It won't start automatically.  You have to click again on the "Start Cam2cam" button to really broadcast yourself to her.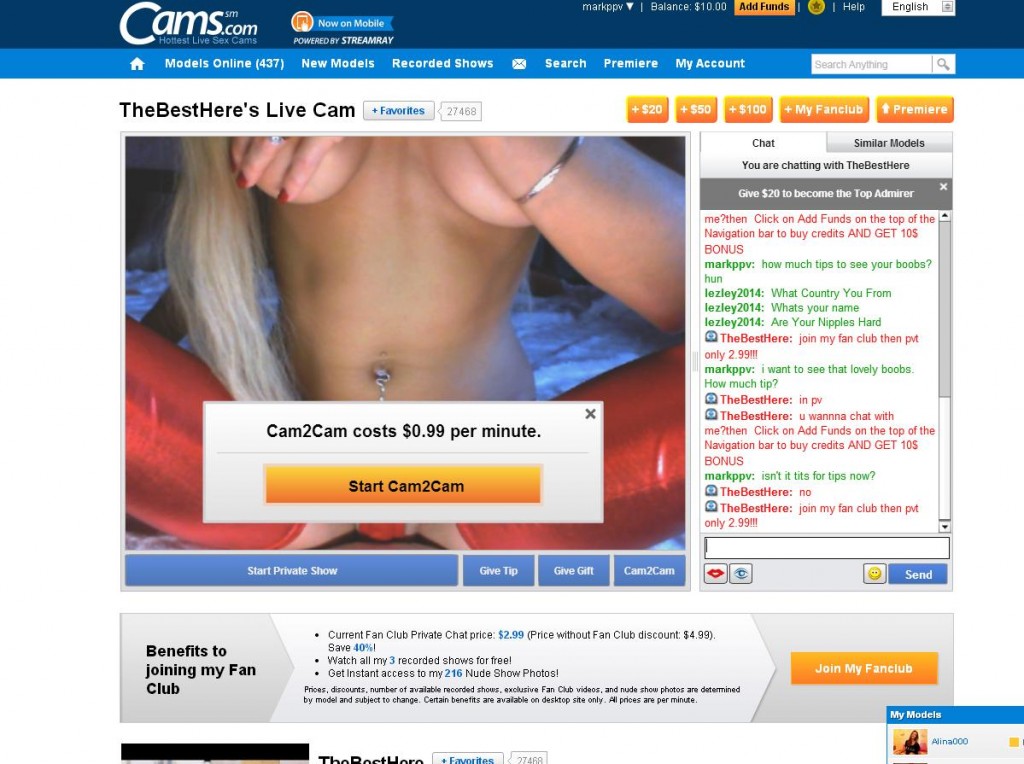 3.  On the model's screen, there is what she will see:
On the model's text chat box, a system message "HornyBillyxxx is sending a webcam" is highlighted green.
Then, his cam will appear both at the top and the model's video. The model can adjust the volume of the viewer' broadcast but she CANNOT move the viewers' cam out of the way.
Pros for viewers:
1.  As you can see, your cam just pushes through in front of the model's face.  You don't have to ask, beg or negotiate a price/tip.
2.  If you always cum by having your favorite girls watching you, then $0.99/min is cheaper than a private show.
Pros for models:
Models get to earn some extra money.
Cons for viewers:
It's not free. It costs $0.99/minute but still, it's a cheap and efficient way to make her watch you.