What is XloveCam
XLoveCam is very European-oriented.  Most of the models speak French or German and/or other European languages so if you are European and tired of chatting in English then XLovecam certainly offers you a chance to speak your mother tongue to the girls.
General Information of XLoveCam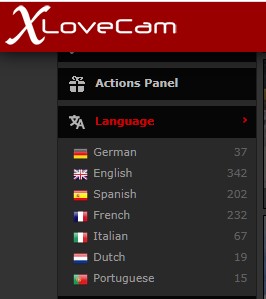 As you can see, Xlovecam has a wide range of cam girls.  There's a good distribution of French, Spanish, and English speaking models, over 200 in each group.  Then followed by a decent number of cam girls who speak Italian, German, Dutch, or Portuguese.
Payment method
Xlovecam provides credit cards and bank transfer for topping up.  [See how they appear on your credit card bill here]
Summary of Xlovecam
Read my first impression here. [read post]
Other European cam:
XCams aka Evelive.com, Cambabes.nl and Webcamsex.nl
Eurolive (mostly French, Italian, and Spanish)
Livejasmin (they got Spanish, German, French, Italian, and English speaking models)