Promotions and Bonus from Cams.com aka Penthousecams
Top tips #1
When you sign up with cams.com or Penthousecams.com, after your account is created and a password is sent to your email, DO NOT RUSH TO BUY CREDITS. Read the banners at the top of the screen or check the email they sent you.
First of all, after you click the "Active Now!" button in your confirmation email, you will be taken to the site again and they will ask for your credit card details. Look around on this page and see if there is any promotion like this: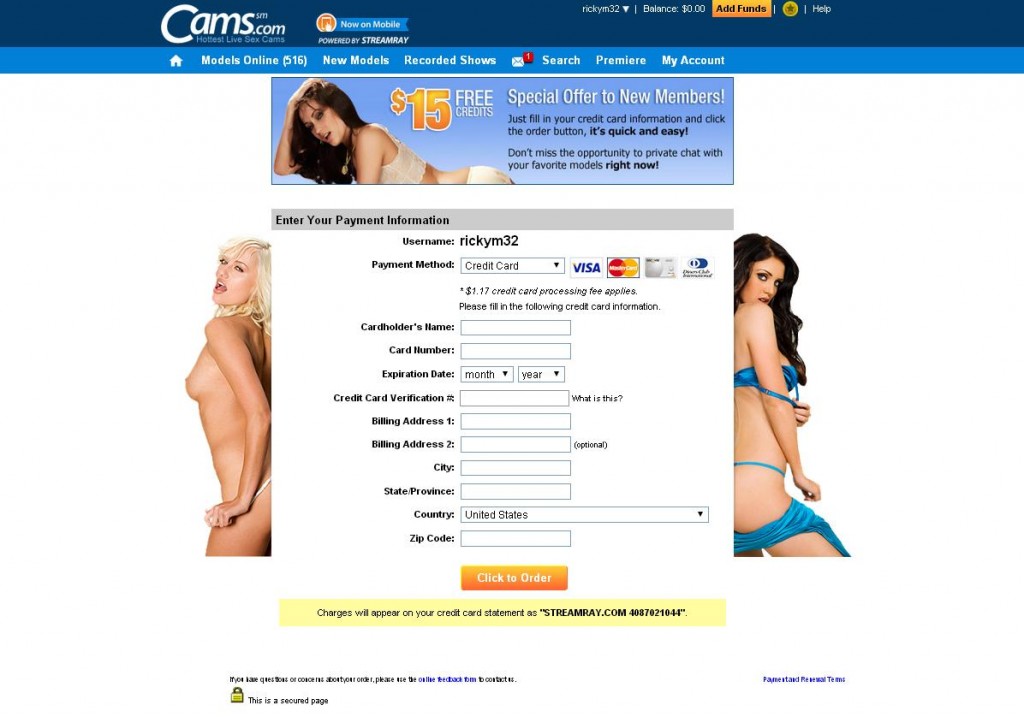 In this case, cams.com / Penhousecams.com offers $15 free credits to any new member. All you need is to provide your credit card details and you don't have to buy anything. Well… except, as they say, the $1.17 credit card processing fee. You pay $1.17 to get $15 credits. It's a good deal! It used to be only $10.
Top tip #2
ok. Cams.com has changed the game. If they don't give you the free credits when you give them the credit card details but NOT buying any credits, your next chance is to buy credits and get 100 FREE CREDITS on your first purchase.
Do calculate the price per credit yourself. Credit package sizes may change from time to time. A small package is more expensive per credit but then you don't want to spend too much just to find out if the cam site is good or not. You can always buy the bigger and cheaper packages later.
Related post: Other discounts from cam chat sites