Last week, I tried to sign up with Camcontacts and have submitted all my age verification documents but I heard nothing from them.  And my account is still marked not ready to broadcast.  So I think I'd better not to wait. I should sign up with another cam site to try.  Who shall I try?  The next big site comes to mind is cams.com.
Cams.com is one of the old webcam chat sites on the net. It started in 1999 and is growing and growing.  The guy Lars has brought it to its peak and he sold it .. probably retired.  But I just heard that Lars is back.  The management has changed once again. New management, new plan equals new promotion.  Cams.com is going to boom and pick up once again.  I shall take the ride.
so…
How to signup… Let's see.
First, go to http://models.streamray.com.  Click the "Get Started" button.  Then you will be brought to a signup pge where you will:
choose your model account id
click the "check availability" link to see if your chathost id is available.  It's better if you use the same id if you already have fans who followed you.
enter a password.
enter an email address that you can receive email.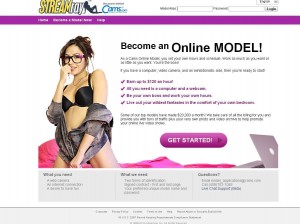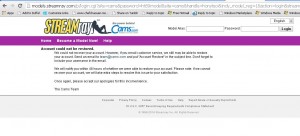 If you are distracted or take too long to signup… (God knows how long is too long), they will lock the model ID as taken, when you finally click SUBMIT to signup.  This is what you will see on the screen – a puzzling message  saying that "account could not be restored". Please write to their team to restore your account.  And that's what I did.
Now.. let's see how long it take to get a response or reply.  Signing up as webcam chat model is never as easy or as simple as you think, as you hope.  Why can't they make it simpler!!!