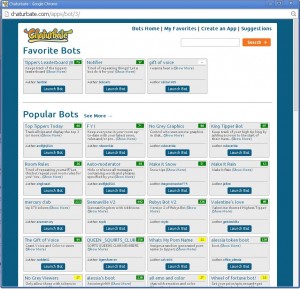 We all know that Chaturbate.com is a sex cam chat site.  How do they differentiate themselves from the rest of the webcam chat sites?  The answer is: the use of chat apps and bots in the chatroom.
It's clever to let third parties to think of an idea, write up the apps or bots then submit to their site, all for free.  Chaturbate pays nothing to get these.  If the app is successful, more and more models will use it and presume the app helps the cam girls to earn more too. And so is Chatubate.  If the app is not successful, people will forget about it and try something else.
By allowing third parties to write and submit apps and bots to be used in the chatroom, it also gives a totally new and different experience to viewers.  It's not just within the site as a whole but individual chatroom may configure differently and have different results.
In February, Chaturbate ran a "Limit Cam Feature" App contest.  The result has come out and is rather controversial.  (See full apps contest result here.) The winning app is called "No Grey Viewers" and earned the author 10,000 tokens!
"No Grey Viewers" App
What is this app about? Basically it means if the viewer has no token, he/she cannot see the model's cam.  Except if he has just emptied his pocket and tipped the model, he can continue to enjoy the cam until the model start a new session.
Many viewers seem to object to this principle because we all know that there are many so called "blue", especially the light blues hold on to their last 1 or 2 tokens to stay blue so as to get the model's attention and the status in the chatroom.  This winning app is just going to encourage this even more.
One good suggestion by joeythew is that, the app should discourage viewers from holding the last token for the rest of their Chaturbate life in the site.  For example, the app may block someone who hasn't spent a certain amount of tokens over a period of time. So, there is no good if the viewer has 100 tokens in their account if he never plans to spend it.
The chat apps and bots idea in Chaturbate is really interesting.  I can see it can do a lot of good and also a lot of bad (like this grey viewer blocker) that pisses off any casual viewers.  There are many different kinds of people in this world and they are changing all the time anyway.  Yes, lots of greys just demand without tipping but there are also lots of funny, interesting greys who help to ease the dead air of the chatroom too.  And I have converted Greys who stay grey for some time to buy the 100 and tipped me.
Models can choose to not letting the Greys chat already, do you think anyone with no tokens shouldn't be able to watch as well?  Do tell me what you think!